Washington Capitals goaltender Braden Holtby has been a difference-maker for the team over the course of the last few seasons. Behind his leadership and show-stopping play between the posts, the Capitals have dominated not only the Metropolitan Division but also the National Hockey League.
And though he carries a heavy workload during the regular season, and is among the busiest goaltenders in the league, he found himself taking it a bit easier this summer.
As for training, he said that he is "trying new things every year," but overall, he found that training could be "not very effective if you're not with your team or with your coaches."
Relationship with Mitch Korn
Of course, a lot of the 28-year-old's confidence and success can be attributed to long-time role model and goaltending coach Mitch Korn. Since Korn's hiring in June 2014, Holtby has gone from a dark horse for a roster spot to one of the league's elite netminders.
"Obviously I knew a bit about him before, but you never get to know a person until you're working with them," Holtby said of Korn. "Ever since day one, there's very few people that have his passion and knowledge and is open-minded to anything…you don't really see that from guys that have had that much success or years in the league."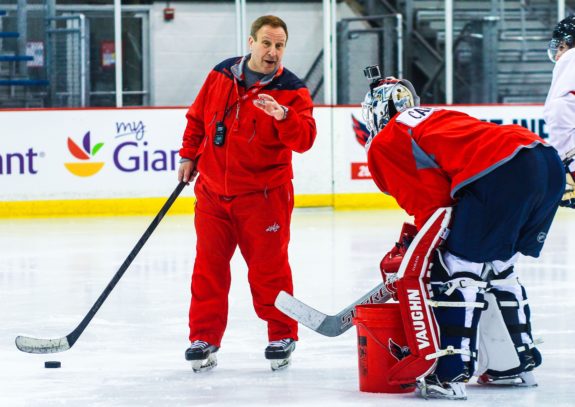 Korn will serve the Capitals in a new role this season as the director of goaltending, and former associate goaltending coach Scott Murray will be taking over the goaltending coaching duties this season. While the star goaltender knows that both coaches are different, Murray brings a similar coaching style to the table, and Washington is "very fortunate" to have them in the organization.
"I don't think anyone is Mitch, but philosophies are again, generally the same," Holtby said. "The thing with this level is seeing what you have as a goaltender and seeing how you get the best out of it. You're not revamping styles or anything like that. You're grooming things, looking for trends, looking at little ways to get better, and Scott is just like Mitch in that area."
Holtby's Leadership Role
Holtby has become one of the most influential voices on the team and he has a lot of wisdom and advice to bestow upon his teammates given his experience.
For Washington, heading into this season, there are questions surrounding whether or not the team has the depth to continue their dominance over the rest of the league given the departure of some key players this offseason. Holtby doesn't believe there is too much pressure surrounding the Capitals because the team's overall goals and expectations for the season have not changed. Not only that, there is always room for improvement, despite any kind of regular-season success.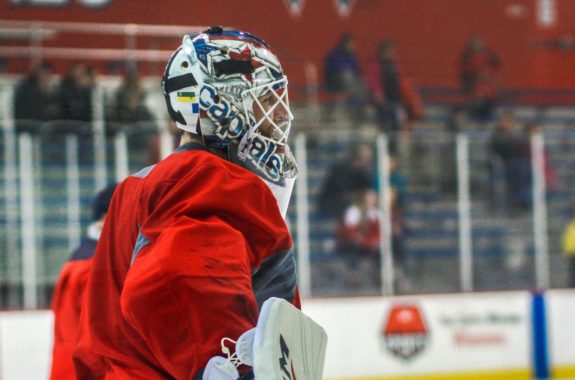 "We expect more of ourselves every year," Holtby said. "You have to know yourself. You have to know your ceiling and how to get there. And if we can push it further and further up, that's the goal."
The expectations on young players and prospects joining the team are that they can quickly transition to the NHL and make a difference right off the bat, especially on a team like the Caps. However, Holtby believes the veterans also have a responsibility to help the youth grow: "That's on our leadership crew to make sure that [play] doesn't waiver and the guys coming in have the same philosophy, that this year you're here to help the team to play your best game and try to get your best game."
Prospects Pack Promise
The Capitals will be relying on their prospects to jump up and fill the voids on the main roster. And, with big names like Marcus Johansson, Justin Williams, Karl Alzner and Nate Schmidt gone, there are big skates to fill. It can be hard for new NHLers to adjust to the speed and playing style that the league has to offer, but Holtby believes the coaches are great at mentoring and teaching the prospects to make that transition easier.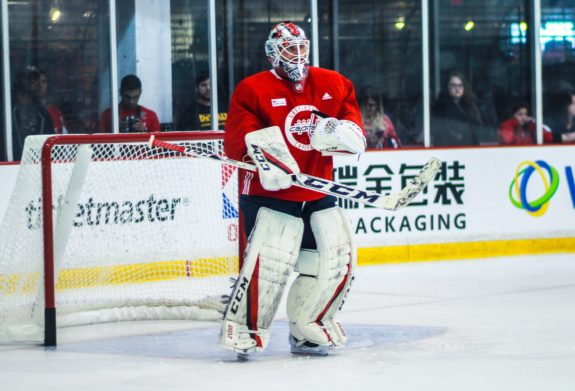 "Our coaches do such a good job with [prospects] to get them up to speed with our terminology and our system, which is pretty fluid," Holtby said. "You obviously talk through things one-on-one in terms of how the player works and what his tendencies are and what he wants to accomplish and is comfortable with doing."
As for the responsibilities that fall on the shoulders of the prospects, Holtby believes they should remain confident in their skills.
"You're here, obviously someone thinks you can play here," Holtby said. "That's the line you have to cross. You realize that you belong here and that you can accomplish something and you can expect more out of yourself every day and not just wait around for the older guys to do it. Do it yourself, that's why you're here. You're gonna get better and really make a difference on this team."
Sammi Silber covers the Capitals beat for The Hockey Writers and is an NHL contributor with Sporting News. She has also contributed to USA TODAY College, Huffington Post, FanSided and the Nation Network. Silber has written four books and recently worked on graphics for the film, The California Golden Seals Movie.