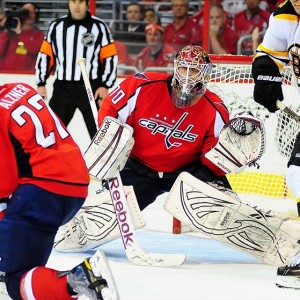 Braden Holtby has been having a phenomenal season, no doubt. He just set the record for the most wins ever by a Washington Capitals goaltender with 42, surpassing the previous record of 41 jointly held by himself and Olaf Kolzig.
Last season, leading the league in games-played with 73, Holtby notched 41 wins. This season through 56 games, Holtby has 42 wins, the Capitals' record, and the all-time record of 48 wins set by Martin Brodeur in 2006-07, is within sight.
With such a prodigious win total, it's not too outlandish to consider Holtby for not only the Vezina Trophy, but the Hart Trophy as well. While it isn't common to see a goaltender win the Hart, it has been done by two netminders within the past fifteen years, both hailing from the Montreal Canadiens.
Comparison to Carey Price
Most recently, last season the Hart Trophy was awarded to Carey Price. The Canadiens' goaltender had quite a season. Was it that much better than the one which Holtby is having this season?
| | | |
| --- | --- | --- |
| | Carey Price 2014-15 | Braden Holtby 2015-16 |
| Games Played | 66 | 56 |
| Wins | 44 | 42 |
| Save Percentage | 0.933 | 0.922 |
| Even-Strength Save Percentage | 0.942 | 0.930 |
| Power-Play Save Percentage | 0.942 | 0.949 |
| Short-Handed Save Percentage | 0.881 | 0.876 |
| Shutouts | 9 | 2 |
| Goals-Against-Average | 1.96 | 2.22 |
The biggest disparity we see here is in the shutouts, with Price having a seven game advantage. The goals-against number has a fairly noticeable difference as well with 0.26 of a goal. The save percentage gap isn't quite as noticeable with just .011 separating the two.
What you notice in Holtby's favor, is the wins per game. With ten less games played, he has just two wins less than Price did all of last season. With 13 games remaining in the 2015-16 season for the Caps, it's a good bet that Holtby will surpass the 44 wins which Price garnered last season.
The argument you'll get from many hockey fans, and not without some merit, is that wins aren't as attributable to a goaltender as they are to the entire team. Just as in baseball, where wins aren't considered as valuable a stat for a pitcher as earned-run-average might be. Fair argument, however without a netminder of Holtby's skill in between the pipes, there is no way that the Capitals clinch a playoff berth as early as they have.
You also need to look at the defensive corps in front of Holtby as well. The crew that the Caps have is nothing to sneeze at, for sure. However, when conducting a comparison with the likes of Price, the Canadiens have a recent Norris Trophy winner on their squad in P.K. Subban. That type of skill on defense almost certainly helps lower Price's goals-against-average.
With Holtby holding down the fort in net for the Caps, they are having a franchise-best season. Will it lead to a Hart Trophy for the netminder? Probably not. It will more likely go to an offensive player like Patrick Kane. Does Holtby deserve consideration, however? Definitely. And the Vezina Trophy will be added to his mantle after this season concludes.
***
Can't get enough hockey? Want to talk about it with our writers, and fellow fans? Join The Hockey Writers Group on Facebook today!
Scott is a published writer and editor in the sports, fitness and business fields. He currently covers the Washington Capitals for The Hockey Writers. Based in the New York metro area, he is a Villanova University alumnus.