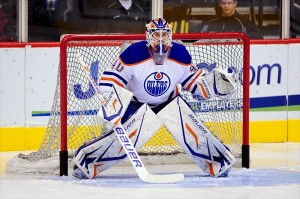 The Edmonton Oilers season thus far has been, in a word, ugly. The team has been ravaged by injuries, have suffered inexplicable goalless droughts, endured insane trade rumors on almost a daily basis, and saw their hopeful number one goaltender take a huge step backwards. The Western Conference seems better than it's ever been, and the Oilers may already be out of the playoff picture before American Thanksgiving.
But then, perhaps in a last ditch attempt to salvage something in this dismal season, news broke that the Oilers had signed much maligned free agent goaltender Ilya Bryzgalov. The guy who likened Edmonton to the North Pole, and was bought out by the Philadelphia Flyers, an organization that mirrors Bryzgalov in his inconsistency and supposed instability. Oilers management decided they would look beyond what the 24/7 cameras told us, believing that the skill Bryzgalov showed while in Phoenix was still there. A risky move, perhaps. But it only costed them Ladisalv Smid in a trade, that garnered a decent return.
A Turn Around?
Losers of six of seven games in the month of November, the Oilers really looked hopeless. They were shutout on home ice three games in a row. Before last night, they had scored a total of 12 goals in eight home games all season. Last Saturday, visiting the Calgary Flames, the Oilers were down 2-0, and looked like they were on their way to being shut-out yet again. But a four goal third period rally gave them a much needed victory.
And then there was yesterdays game against the Columbus Blue Jackets. The Oilers exploded for seven goals on home ice and Devan Dubnyk got the shut-out. Nail Yakupov was buzzing all night, picking up a goal and assist, while David Perron had two goals and four points on the night. It was a full team effort, the defense was strong, and Dubnyk only had to stop 14 shots on route to his fifth win of the season.
Goalie Controversy?
Now it's only been two wins. And Edmonton can't face Columbus every game, a team they have owned over the past little while. But maybe Bryzgalov's signing did something for this team. Okay maybe not the team, maybe just one guy. The one guy who needed more than anyone else to find himself. The only guy who's job is now on the line.
The Oilers signed Jason LaBarbera as the team's backup, which in retrospect was a mistake. He was never going to challenge Dubnyk for the starters job, and despite being a serviceable back-up over his career, he wasn't going to be able to shoulder a big load for a defensively inept team. Dubnyk had no one looking over his shoulder. And that wasn't a good thing. Some goalies need to know the net is theirs and only an injury could take it away. Other goalies thrive when challenged. Perhaps the arrival of Bryzgalov signaled something in Dubnyk's head. His job was now in jeopardy.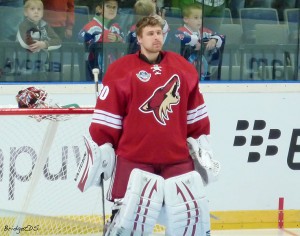 No one knew more than Dubnyk himself that he wasn't performing. He knew there was a chance there could be some kind of trade or signing that would bring in another potential starting goalie. Before Bryz, there wasn't one. Labarbera wasn't that guy. Richard Bachman wasn't that guy. None of the prospects were ready. Dubnyk was on his own. But not anymore. Dubnyk needs someone to push him a little, and Bryzgalov is that guy.
Welcome Back, Bryz
Coach Dallas Eakins insists he wants to ride the hot hand, so there's a good chance Dubnyk will get the start against the Florida Panthers. The Oilers don't have back to back games until the end of the month against the Predators and Blue Jackets where it's likely each goalie will get a game. Perhaps we will see Bryzgalov against the Blackhawks next Monday. In the meantime, enjoy a Bryz interview. The league is a funnier place with him in it.
Marcy, a former hockey player, is a hockey correspondent on CTV News and TSN radio. She began her career as a Sports Journalist in 2009 and has been part of The Hockey Writers since 2010, where she is currently a senior writer and editor.