Ask New Jersey Devils General Manager Lou Lamoriello about an appropriate time to evaluate his team and he'll usually give you a benchmark of 20 games or so.  So somewhere between watching the "Boston Beards" win the World Series and trimming the schedule down to "Movember," here we are at the 20-game mark.  After an inauspicious 1-5-4 start in their first ten contests, the Devils have followed with a 6-3-1 run, in their last ten.  That of course leaves New Jersey posting a record of 7-8-5 (19-points) thus far.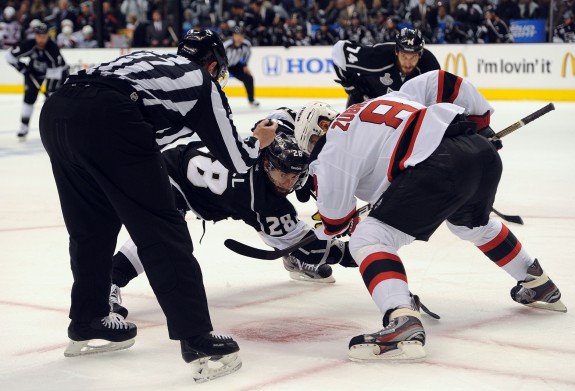 Last year at the abbreviated quarter point, the Devils were 8-3-1 (19-points), sitting atop the Eastern Conference and trailing only the wire-to-wire Chicago Blackhawks, in overall points.
This year the Devils seem to be holding true to, if not exceeding preseason forecasts.  I don't mean to sound Pollyanna about it, the Devils do have their work cut out for them as they embark on a tough West Coast trip but there were some who had them in the same category as teams like Buffalo, Florida, Edmonton and Calgary and they're not.  What has held true though for the Devils' is that they are a team that is led by their veteran players, stout goaltending and they still have trouble scoring consistently, especially on the power-play.
Watch this week's Player Spotlight as @MSGNetworks goes behind the mask with Cory Schneider: http://t.co/rzf0CqCiKa

— New Jersey Devils (@NJDevils) November 18, 2013
On the season, New Jersey has 42-goals or 2.10 per game, ranking 26th, as of this writing.  Only ten of those have been scored in the nine games that  the tough luck Cory Schneider has played on the young season.  New Jersey's power play rates 21st, at 16.2%, with eleven tallies with the extra attacker.
Conversely, on the other side of the coin, the Devils have surrendered just 45 goals or 2.25, good enough for 7th best in the league.  The Devils penalty kill ranks third, at 86.8%.  The penalty kill is even better at "The Rock," where the Devils are first, at 92.9%.
It may just be the special teams play that makes or breaks the Devils going forward (not to mention shootouts).  I say that because the advanced stats say the Devils have a Fenwick For percentage of 53.2%, ranking them 8th, behind Chicago, St. Louis, Los Angeles, Minnesota, Pittsburgh, Vancouver and San Jose.  That percentage factors in 5-on-5, close scoring contests, making them a solid possession team.
Player wise, the Devils have been led by Jaromir Jagr, who has acted as a de facto captain, in the absence of Bryce Salvador.  Jagr paces the club with seven tallies, nine helpers, 16-points and his 18:06 average ice-time, is right around the 18:20 he played, between Dallas and Boston, last season.
Additionally, up front, new acquisitions Michael Ryder and Damien Brunner did give the Devils an early jolt.  Adam Henrique has picked it up of late, so too has Dainius Zubrus.  New Jersey will be helped out drastically by the return of Patrik Elias.  There's also the spark provided by Cam Janssen and his potted pair of goals.
Back on the blue line, another vet enjoying a fountain of youth is Marek Zidlicky.  Zidlicky is second on the club with eleven points.  Andy Greene has picked up right where he left off from last season.  Adam Larsson appears to be hitting his stride with fellow young defenceman Eric Gelinas.  Gelinas has given the Devils an added element and an extra jump with his powerful shot.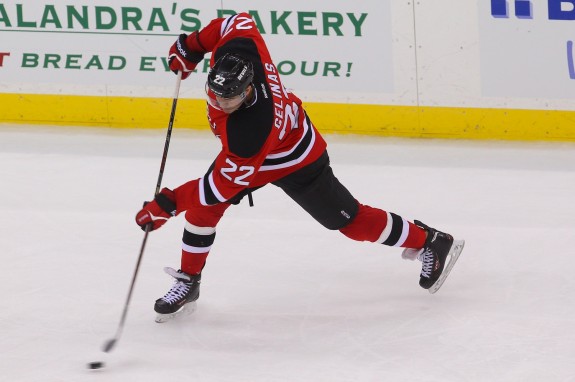 Between the pipes, one could argue the Devils netminders could sue for lack of support.  One can't do much better than Martin Brodeur and Schneider, who each boast a 1.98 goals against average.  Brodeur has a pair of shutouts, while Schneider has one in his lone victory of the campaign.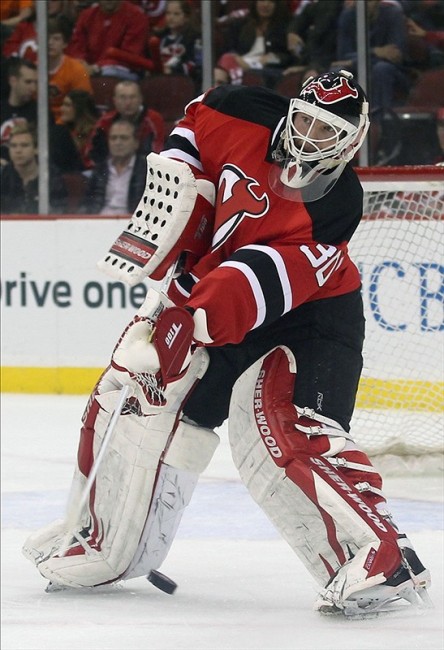 Additionally, down on the farm, the AHL Albany Devils are 9-6-0-1 (19-points) and currently place sixth in the Eastern Conference, just two points behind the Springfield Falcons, for the Northeast Division lead.
Keith Kinkaid made 25 saves as the #ADevils shut out @WolfPackAHL 3-0 — Recap: http://t.co/yJKcZ83mVQ | pic.twitter.com/WnpJqnaWYz

— Albany Devils (@AlbanyDevils) November 16, 2013
Moving forward, New Jersey will need to improve their output on special teams, keep their vets healthy and harness the energy provided by their call-ups thus far.  That and some goal help for Schneider.
Check out our partners at TiqIQ for the best deals on New Jersey Devils tickets for all 2013-14 games.
Michael Gwizdala covers the New York Islanders for The Hockey Writers. Michael is also an Associate Producer at WNYT NewsChannel 13. Additionally, Michael was once a Media Relations intern for the AHL Albany River Rats. Michael is a graduate of The College of Saint Rose in Albany, NY.