Since 1981, the Edmonton Oilers have drafted a grand total two goaltenders who have gone on to see regular duty as an NHL starter. One happens to be a member of the Hockey Hall of Fame in Grant Fuhr and the other, ironically enough, is none other than Devan Dubnyk. While the latter was given more than a fair shake to see if he could carry the load as a No. 1 in Edmonton, he was ultimately unable to deliver when it mattered most.
To his credit, Dubnyk rebounded rather nicely and resurrected his career with a season he won't soon forget in 2014-15. With that said, the fact this franchise has developed two NHL-calibre starting goalies in nearly three and half decades is nothing short of mind-boggling. While the Oilers current struggles in-goal have been well documented, not surprisingly, there isn't much currently in the system to be overly excited about.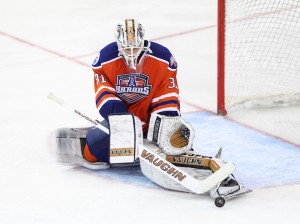 Brossoit Is Likely Not The Answer
There are those within the organization and fan base who are hoping former Edmonton Oil Kings standout Laurent Brossoit will eventually turn into a legitimate starting goaltender, but that is far from a sure thing. While he has made improvements to his overall game since being acquired from the Calgary Flames as part of the return for defenceman Ladislav Smid, the 22-year-old is nowhere near ready for the National Hockey League and could actually have a tough time reaching those lofty expectations.
So with the lack of organizational depth in the goal still an ongoing issue, many have linked the Oilers to Russian prospect Ilya Samsonov heading into the 2015 NHL Entry Draft. In the eyes of most, the 18-year old puck stopper is not only the top-rated netminder but apparently as close to a "sure thing" as you will find when it comes to a goalie in this year's crop of prospects. Sound like a match made in heaven.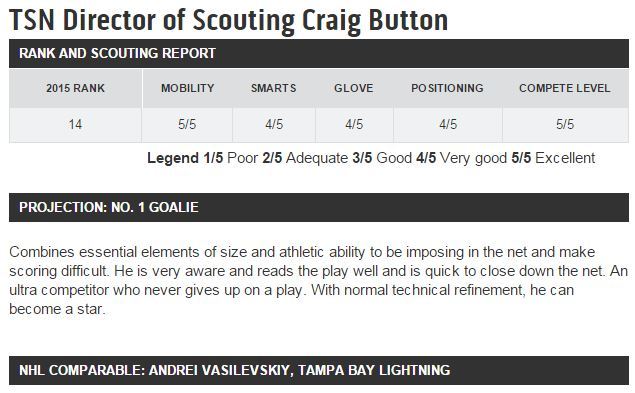 Samsonov Appears To Be Clear-Cut No. 1
It is no secret TSN's Craig Button is a big fan of the kid but no matter where you look, the reviews are all fairly similar. McKeen's Hockey has him listed as their top prospect among goaltenders and describe him as "unflappable with excellent rebound control..nice balance of poise and compete – perhaps his best attribute  – never giving up on a play". A similar theme can be heard from Director of European Scouting Goran Stubb: "He has good size and covers the net well. He plays at the top of the crease and effectively squares to the shooter. He shows good instincts, is well-balanced and can make acrobatic saves."
Recent history tells us goalies are rarely selected in the first round and with the possible exception of Button's yearly list, you will almost never see one included in whatever list of  "final rankings" you end up looking at. Yet when it comes to Samsonov, that does not appear to be the case. Even on lists which have him slated going in the second round, it comes down two issues…being Russian and the fact he already has a three-year contract with Mettalurg Magnitogorsk in the KHL.
While not an ideal situation, it should by no means be a deal-breaker when comes to deciding on whether or not an organization uses one of their picks on him. Also, let us not forget, if a team does decide to use a first rounder on him and he does not end up coming over to North America to play, that team would get a compensatory second round pick at a later date. While not exactly a fair trade-off, it could possibly make taking the risk a tad more palatable for an organization that is not a 100% sold on the idea.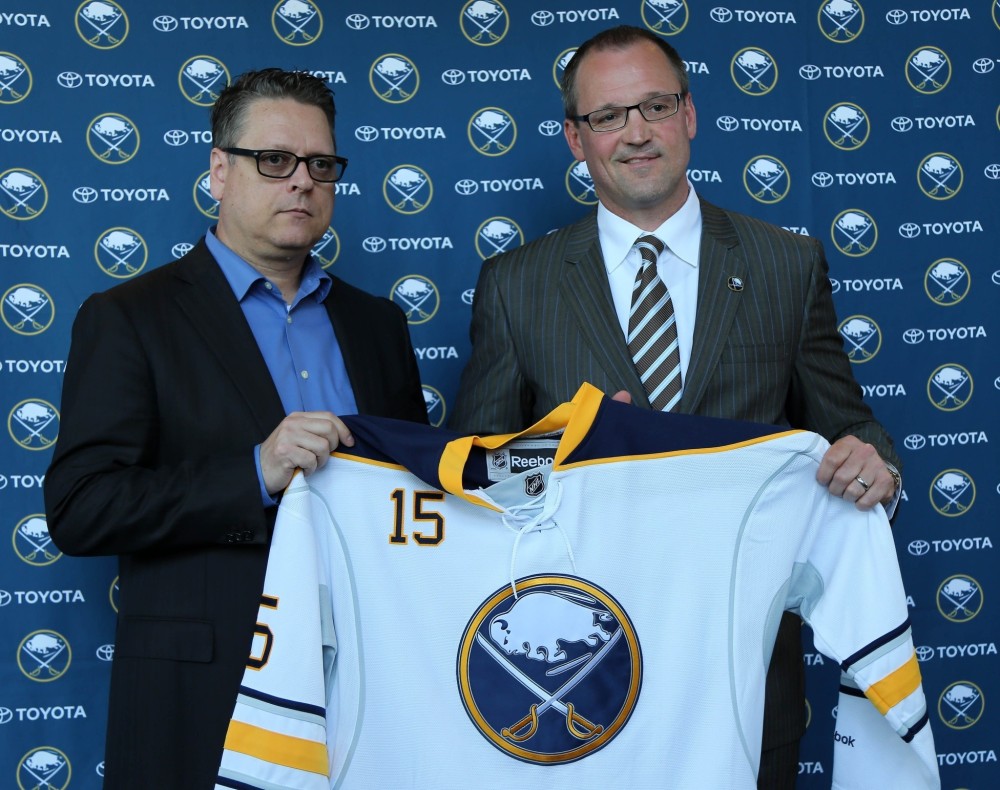 Sabres Will Surely Have Interest
As far as Edmonton is concerned, the need for an elite goaltending prospect is obvious but the decision won't be easy. Obviously, the Oilers will be taking Connor McDavid first overall but as we all know, they also own the Pittsburgh Penguins selection at No. 16. While rumours have been swirling for weeks about what Peter Chiarelli might do with the pick, taking the big netminder would certainly be an option but the same holds true when it comes to a defenceman or forward.
At that stage of the draft, there is still a ton of talent on the board and chances are Bob Green and company won't be recommending they use that pick on a goalie. With Ilya Samsonov's situation being what it is, some seem to think he could still be available for the Oilers to grab at No. 33 but don't count on it. The Buffalo Sabres will also be taking a long hard look at the youngster and with picks at No.2, No. 21 and No. 31, chances are Edmonton will need to look in a different direction in round number two.