The phrase "Nero fiddles while Rome burns" may not be historically accurate. Still, the meaning is familiar to most… that someone in power to deal with an issue has chosen to occupy himself with other, less urgent matters.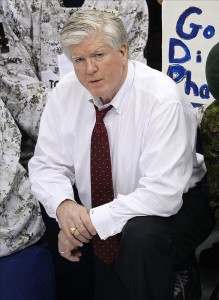 Followers the Maple Leafs might see Burke in the role of 'Nero', and the fortunes of the team as 'Rome burning'. Not so much for the supposed distractions of his trip to visit troops, or to participate in Toronto's Pride activities as free agency opens, but more for the fact that the NHL team is really little improved since he came to town. Not everyone sees it that way, of course. Some take a long view, account for the dearth of talent and prospects left over from John Ferguson Jr.'s regime, and acknowledge that while there have been missteps, Burke has bolstered his farm system with a number of young players who may carve out NHL careers. That's not completely unfounded. The Leafs held down a playoff spot until the last week of February last season, and the Marlies played their way into the AHL Finals. Compared to previous seasons, those are improvements. Some will say that had James Reimer not got his noggin' in the way of Brian Gionta's elbow, had Ron Wilson been better at managing his goalies, had Joffrey Lupul not been sidelined in early March, it's very possible the Leafs would have held onto a playoff spot because the goaltending would have been better and the first line would have continued its fine play. Of course, that's supposition, and we'll never know if that would have been the case.
The fact remains that the Leafs missed the playoffs for the seventh consecutive season, and fourth time under Burke. Perhaps that shouldn't be a surprise. After all, few teams are able to quickly turn things around from 'nothing', and the Leafs were in terrible shape when Burke took over. Granted, Burke himself made a lot of noise about how it didn't have to take 5 years, but Brian Burke says many things which later seem incongruous with what actually occurs. The point is the Leafs were not good enough as a team, didn't possess the depth to compensate for injuries, didn't achieve the most basic of goals: qualifying for the post-season.
At any rate, the focus is now on 2012-13. Will this team be better? In the 3 seasons prior to Burke's hiring, the Leafs finished with point percentages of .549, .555 and .506. In Burke's 4 seasons: .494, .451, .518 and .488 – not the right direction. Prior to 2008-09, the roster was a veteran one, though generally in decline after a number of attempts to find success in the post-season. Brian Burke has turned that roster over completely. Still it's fair to say that the numbers suggest that while the 'old guard' was in decline, the 'new guard', ie. players Burke acquired with a view to improving the team's results, has not proven successful.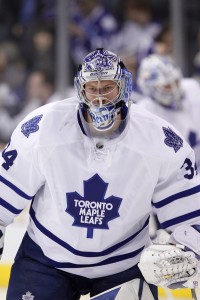 Following the 2011-12 season, the general manager addressed the media and fans as he has every year, and acknowledged that once again, the team had fallen short. One problem identified was goaltending.
"Positionally we have to look at the goaltending, it wasn't good enough this year. I think that James Reimer is the real deal; I think we can still plan on him being a number one guy, but we have to look at if we can bring in a guy that can bring us more options and more performance right from the get-go next year."
Remember that going into 2011-12, the general manager declined to bring in a veteran goalie, choosing instead to use Reimer and Jonas Gustavsson in tandem. It's arguable whether some of the free agent goalies of 2011 would have helped (Brian Boucher? Jose Theodore? JS Giguere?), but there was no doubt that going with the two youngsters was anything but a sure thing. Reimer would have had to repeat his stellar play from the spring of 2011, and Gustavsson would have to have been better than he'd shown.
But goaltending is not the team's only need. At the 2012 draft, there was much speculation Burke and company would, if possible, draft one of the centres available. It may have been much to expect a Galchenyuk, Grigorenko, Faksa or Forsberg could step in right away to help the team, but with a seeming wealth of good young centres available, and the Leafs lacking highly-skilled pivots, the fit seemed right. Yet, the Leafs drafted highly-thought-of defenceman Morgan Rielly, and then used their second round pick to draft another blueliner in Matt Finn. Loading up on more defenders? This is a team that had Phaneuf, Schenn, Liles, Gardiner, Gunnarsson, Franson and Komisarek in the NHL, and a handful more defenders in Holzer, Blacker, Mikus, Gysbers and Percy waiting their turn. If the Leafs were loading on the blueline, perhaps trades were in the works to fill some other needs?
As the end of July approaches, Burke has made a number of moves, but no real blockbuster trade materialized. How is this team improved?
In net, little has been accomplished. Burke traded Gustavsson's rights away (for nothing, as he did not sign with Winnipeg, but with Detroit), and unless one of the rumoured deals for Roberto Luongo or Jonathan Bernier materializes (or some other as yet unknown trade), it seems the Leafs will have a tandem of Reimer and Ben Scrivens. Scrivens  was great for the Marlies on their way to a Calder Cup final, and he acquit himself well in 12 NHL appearances last year. But, as of July 23, even Scrivens had not been re-signed. No disrespect to the two netminders, but it's difficult to believe that two still young, relatively inexperienced (83 NHL appearances between Reimer and Scrivens) goalies will be a significant improvement over the past few years. Behind Reimer and Scrivens are a clutch of even younger goalies, none ready for the NHL.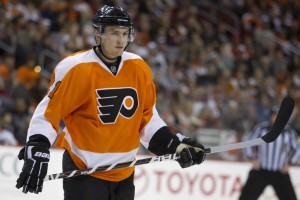 On the blueline, Burke traded former first-round draftee Luke Schenn to Philly for James van Riemsdyk. Many in LeafNation like this swap, one that had been rumoured for a long time. Schenn was dropped into the NHL without benefit of playing in the AHL, and some say his development was hurt by this. His play seemed to decline as seasons passed. And, in fairness, the blueline corps in general was guilty of unsteady, often mistake-prone play, despite looking, on paper at least, as one of the team's strengths. But the question now is if the Leafs' defence corps was suspect in 2011-12, how will the deletion of Schenn and apparent promotion of Korbinian Holzer improve the situation? Holzer may indeed be ready for NHL duty, but surely he alone cannot elevate the play of 6 other veterans. Further, Cody Franson, who seemed a steal when Burke acquired him from Nashville, was restricted to only 57 games, and is currently unsigned. Barring trades, it would seem highly unlikely that any of the veterans or sophomore Jake Gardiner will lose their roster spots otherwise.
Among the forwards seems to be where Burke has made the most alteration. Yet, it's not easy to decipher whether there is overall improvement there or not. Ostensibly, van Riemsdyk will provide a little more offence, which frankly wasn't really a big problem for Toronto last season (10th overall in goals for in 2011-12, 4 players with 20 or more goals). But, the Leaf roster is lousy with wingers, and while there's a number of nominal centres in the fold, really none would be considered among the league's best offensive weapons. Mikhail Grabovski has shown he can be an effective second-line man; Tyler Bozak is likely more suited to the third line; neither Tim Connolly nor Matthew Lombardi were able to stand out as top-line pivots; Dave Steckel and newly-signed Jay McClement are intended bottom-6 faceoff/penalty kill/defensive forwards. As a result, the team wants to 'experiment' with van Riemsdyk centering Phil Kessel and Joffrey Lupul. Other than buying out Colby Armstrong, not much else has changed. There's hope that Matt Frattin will play with the same energy and find some scoring touch, and Nik Kulemin will return closer to his 2010-11 form. Sure Clarke MacArthur looks like he'll chip in 20 goals, Mike Brown and maybe Colton Orr will try to add toughness. But, with so many veterans, where will the opportunities come for Nazem Kadri, Joe Colborne or any other of the Marlies? The best management can come up with is an experiment with the first line and the same collection of guys who seem to score but can't help out defensively.
Is Burke relying mostly on coach Randy Carlyle to devise a more defensive system? Perhaps that's the plan. While Carlyle was unable to turn around the team's fortunes last year, the benefit of a full training camp and evaluation may assist the coach in creating a system that best exploits the capabilities of his players. The fact is that as while specific areas were recognized as problems, the team's defence as a whole was atrocious in many instances, and cost potential wins. However, even the most optimistic fans will have a hard time buying the idea that lack of the right system is what's kept Toronto out of post-season play.
The bottom line for LeafNation? This is, for the most part, the same roster that was unable to hold on to their playoff spot. The subtractions of Gustavsson, Schenn and Armstrong, replaced by Scrivens, Holzer and van Riemsdyk seems very unlikely to be enough to improve the Leafs. Don't misunderstand: no one suggests all the Leafs had to do was say "we like this player" and bam! there he'd be in blue & white. It's not easy to simply sign player X or trade your underperformers for someone else's all-star. But, Brian Burke was brought to Toronto to take a struggling franchise back into the post-season. Now four seasons into the books, he's failed to meet that objective, and one has to wonder if the remaining 2012 off-season will see the kind of player-moving activity that sends a clear message – Leafs in the playoffs, come Hell or high water. Without a trade, something in the way of a significant upgrade at key positions like goal and centre, LeafNation will be staring at another long and fruitless schedule for their favourite team, and that high water will be needed to tame the burn they'll be feeling.