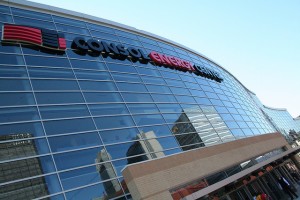 The Pittsburgh Penguins' home sellout streak spans five seasons and two arenas. They've got the highest local television ratings of any team in the NHL or NBA. They've spent to the salary cap ceiling in each of the last five years and the franchise's value has more than doubled since ownership last changed hands in 1999.
Unlike the league's true deep pockets, though, the Penguins won't float through another NHL lockout unscathed.
The likelihood of said work stoppage seems to be increasing every day. The NHLPA, led by Donald Fehr, is at odds with an owners group led apparently by a collective sense of greed.
The owners submitted their first formal offer to the players' union a few weeks ago, and the first salvo was an eye-popper: a proposed player salary rollback of 14 percent, from 57 percent of league revenues to just 43 percent under a new deal, among other concessions.
In a summer in which the league has happily bandied its $3.3 billion 2012 revenues to potential advertisers, it's difficult to take the league's cries of payroll poverty seriously.
Players took significant pay cuts in 2005, but don't expect such generosity again. The league's proposed rollbacks would have shaved some $450 million off of payrolls last season.
Insane though it is, some of the very owners who asked for those concessions handed out contracts totaling 52 years and $410.4 million in the same month to just four players in Sidney Crosby ($104.4 million), Shea Weber ($110 million) and Zach Parise and Ryan Suter ($98 million apiece).
In spite (or perhaps because) of such expenditures, owners have predictably cried poverty out of one side of their mouths while selling their fans on $100-plus million players from the other.
Yahoo! Sports has a great periodical feature from"The Player," an anonymous current NHL'er, who most recently offered a rebuttal to the league's first offer.
I would caution anyone following this process to abandon any traditional ideas of what is "fair" or "unfair." In a negotiation of this magnitude, both sides will be looking for the best deal possible for their collective membership. Period. The owners will try to take whatever they think they can get, as is their right, and so should we.
Unless the chasm between the sides closes significantly between now and October, another work stoppage seems imminent.
In recent seasons, Pittsburgh's biggest cost has been player salaries. Forbes SportsMoney provides a good look at Pittsburgh's cost structure. Of the club's $110 million 2012 revenue, more than $68 million (62 percent of revenue) was paid to player salaries.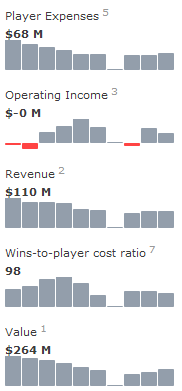 Add the additional costs of day-to-day operations and payments to be made on the $321 million CONSOL Energy Center, and Pittsburgh's $200,000 operating loss in 2012 comes into focus.
This is not to say an end to the home sellout streak or other significant drops in revenue will cripple the team and its ability to spend to the cap ceiling. Penguins co-owner Mario Lemieux hardly lacks the cash, and partner Ron Burkle is a multi-billionaire.
The team does too well in times of labor peace for its ownership group to let it flounder into the red during a work stoppage, but that's no reason to suggest the Penguins would happily tolerate another lockout in order to reduce their current $60-plus million payroll.
The graphic at right shows how the Penguins' costs and revenue streams have corresponded over the years. While revenue and franchise value have steadily climbed since 2007, player payroll and operating income have increased and decreased, respectively, in proportion to the expenditures of the franchise.
There's no question the Penguins have become a more lucrative franchise with strong gross revenues and improving value. They've also become proportionally more expensive to operate, though the expense of player salaries has manifested itself in three-straight 100-point seasons and the third-longest active postseason streak in the NHL.
Pittsburgh will stay healthy by continuing to post yearly gains in revenue, not through another gutting of player salaries that stands to damage the league.
It's hard to gauge how much another lockout might affect the goodwill of fans towards the team. The Penguins are obviously much stronger financially than they were in 2004, when the team was worth just $101 million, revenues were hardly above $50 million and the threat of relocation hung over Mellon Arena.
That doesn't mean another season of lost hockey won't damage the brand.
During the 2005 lockout, merchandise sales, among other revenue streams plummeted:
NHL merchandise sales in '04 "were down a whopping 59 percent" from '03, and December's [2004] $6.9M in domestic sales of licensed goods represented an 85% drop from December '03, according to SportScanInfo data cited by Eric Fisher of the Washington Times.
Like the Penguins, the NHL as a whole is far stronger today than in 2005. But merchandise is just one piece of the NHL revenue pie that will be harmed much more by a lockout than by the current state of player salaries.
Pittsburgh will have little financial problem surviving a potential lockout, and the city's sports love affair will be plenty strong enough to bring fans right back to the team. However, for a club whose salary structure is in line with the league's richest teams but whose net income doesn't suggest deep pockets, it appears Pittsburgh stands to benefit most from a revised CBA that stands parallel to the terms of current agreement.
Whether the team feels that way, or would go against the grain of salary rollbacks to make such a position known, is yet to be seen.
Info from this story courtesy Forbes, Yahoo! Sports, The Globe & Mail and Sports Business Daily
James was a Penguins contributor at THW and SB Nation Pensburgh and owns the Pittsburgh sports blog Slew Footers.