Last month, I documented some of the NHL's best late round picks of the 2000, 2001, and 2002 NHL Entry Draft. Players such as Henrik Lundqvist, Kevin Bieksa, and Brooks Laich were just some of the names that made it out of the late rounds of the NHL Draft and established themselves at the professional level. However, the  2003-2007 NHL Draft classes had just as many hidden gems as players such as Joe Pavelski, Dustin Byfuglien, and Matt Moulson flourished when they were given a chance at the NHL level.
Here the rest of the players (Round Five and onward) that round out this series:
2003 NHL Entry Draft
Lee Stempniak (5th Round, 148th Overall by St. Louis Blues) – Lee Stempniak has stumbled around in the NHL as he has had stints with four different teams, but the right winger has turned out to be a pleasant surprise. Stempniak can round out any team's bottom six forward combination and has shown this on a number of occasions as he has tallied 40 or more points in three of his seven NHL seasons. Stempniak can also contribute with some physical play, but the native of West Seneca, New York is best known for his offensive talents and ability to get the puck to the net.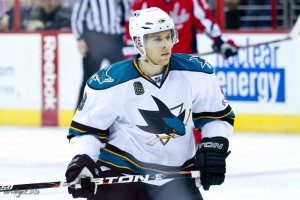 Joe Pavelski (7th Round, 205th Overall by San Jose Sharks) – For a seventh round pick, Joe Pavelski turned out to be a true steal for the San Jose Sharks. Pavelski has scored 305 points (134 Goals, 171 Assists) over the course of six NHL seasons and has established himself as one of the key offensive elements of a strong San Jose team. The pivot's presence has also been essential on the Sharks' power-play as he has scored more than a third (111 PPP) of his NHL points on the man-advantage. For the last five seasons, Pavelski has registered at least 200 shots on goal per season and continues to be an essential part of a San Jose core that includes offensive dynamos such as Joe Thornton, Logan Couture, Ryane Clowe, and Patrick Marleau.
Tobias Enstrom (8th Round, 239th Overall by Atlanta Thrashers) – Enstrom has been a key part of the defense for the Atlanta Thrashers and Winnipeg Jets over the years and has greatly excelled in terms of offensive play. Enstrom has recorded 204 points (32 Goals, 171 Assists) in five seasons with the Thrashers and Jets and has not recorded less than 30 points in any NHL campaign. The native of Nordingra, Sweden might not be the biggest or most intimidating defender for the Jets, but Enstrom is not a stranger to blocking shots and pushing the play up the ice into the opponent's offensive zone.
Dustin Byfuglien (8th Round, 245th Overall by Chicago Blackhawks) – Over the last two seasons, "Big Buff" has been racking up the points as he has enjoyed consecutive 53-point campaigns, but the 6'4″ defender is also known for his physical play. Byfuglien has scored 30 or more points for the last five seasons and has also recorded 100 or more hits in each of the last three seasons. While Byfuglien's 215 career points (87 Goals, 128 Assists) and 1209 shots on goal make him one of the better late round selections of the 2003 NHL Draft, his dual-position eligibility (D/RW) makes him a flexible option for any NHL team. Aside from his prowess on defense, Byfuglien showed that he could be a dominant forward after registering 16 points in 22 playoff games as a right winger en route to helping the Chicago Blackhawks win the Stanley Cup.
Matt Moulson (9th Round, 263rd Overall by Pittsburgh Penguins) – Matt Moulson has been one of the best forwards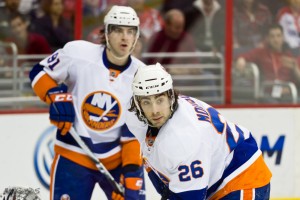 on Long Island over the last three years as he hasn't missed a game in an Isles sweater and has scored 30 or more goals in each of the last three seasons. Moulson's point totals have increased over the last three years and the forward continues to build some great chemistry on New York's first line alongside John Tavares. Moulson has been a staple in New York's lineup and seems to be doing pretty well for a forward that was selected with the 263rd overall pick in the 2003 NHL Draft.
Jaroslav Halak (9th Round, 271st Overall by Montreal Canadiens) – Jaroslav Halak became one of the best goalies to come out of the 2003 NHL Draft class and he did so in impressive fashion with the Montreal Canadiens. Halak compiled a 56-34-7 record in Montreal and was stellar for the team in the 2009-2010 Stanley Cup Playoffs. Halak's strong play continued in 2010 in Vancouver as the goalie helped the Slovakian Olympic Team to a fourth place finish in Olympic hockey and won 27 games with the St. Louis Blues. Even though Halak played 11 fewer games in '11-'12 than he did in '10-'11, he finished only one win shy of matching his previous year's numbers in the wins column and finished with a 1.97 GAA and .926 Save Percentage. While Halak might not have been projected to be a surefire success in the NHL, the goalie has moved up the ranks through hard work and constant improvement of his craft.
Brian Elliott (9th Round, 291st Overall by Ottawa Senators) – Brian Elliott might not have had a great 2010-2011 campaign, but the goalie rebounded in 2011-2012 and proved that he belongs in the NHL. Elliott showed steady improvement in Ottawa from 2008-2010, but the goalie's poor performances in Ottawa and Colorado during the 2010-2011 NHL season gave him little room for error in 2011-2012. However, Elliott turned his fortunes around with the St. Louis Blues and recorded a 23-10-4 record with a .940 Save Percentage and 1.56 GAA. While Elliott and the rest of the St. Louis Blues benefited from the tutelage of Ken Hitchcock, Elliott's hard work and drastic improvement illustrated that he still has a place in the NHL.
2004 NHL Entry Draft
Kris Versteeg (5th Round, 134th Overall by Boston Bruins) – In his five NHL seasons, Kris Versteeg has been a part of four different organizations, but that hasn't prevented the left winger from racking up points every season. Over the last four seasons, Versteeg hasn't failed to tally less than 44 points in a single campaign and has had a significant impact wherever he has played. The left winger's offensive talents helped the Chicago Blackhawks capture the Stanley Cup during the 2009-2010 NHL season, but the forward has always been a contributor in the playoffs that does not waver in the face of a challenge. Even though the Florida Panthers were ousted in seven games by the conference champion New Jersey Devils, Versteeg was one of the Big Cats' best offensive weapons in those seven games and will continue to be an important part of the Florida offense for the next several years.
Mikhail Grabovski (5th Round, 150th Overall by Montreal Canadiens) – Even though Grabovski did not pan out in Montreal, the forward has played very well for the Toronto Maple Leafs. Grabovski has reached the 20 goal mark three times in the last four seasons and has recorded 50 or more points in each of his last two campaigns. Grabovski isn't shy when it comes to putting shots on goal and it is safe to say that the pivot is finally coming into his own in the NHL.
Troy Brouwer (7th Round, 214th Overall by Chicago Blackhawks) – Troy Brouwer might not be a player that overwhelms an opponent with great offensive talents, but the right winger has always been a physical presence since his arrival in the NHL. The right winger has recorded 33 or more points in each of the last three seasons with the Blackhawks and Capitals, but the gritty forward has always made his presence felt by throwing around his body. For the last three years, Brouwer has not recorded less than 189 hits in a single season and his propensity to dole out hits to the opponent goes well with his steady offensive production. While Brouwer might not be an offensive dynamo, the forward has always played at a level that would make him useful to any NHL team.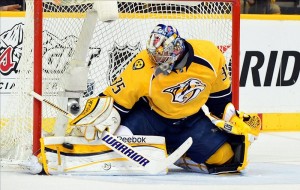 Pekka Rinne (8th Round, 258th Overall by Nashville Predators) – What else can be said about Pekka Rinne? Ever since taking on a hefty workload during the 2008-2009 NHL season, Rinne has been one of the NHL's most outstanding netminders. Rinne has received multiple Vezina trophy nominations, but more importantly, he has been a rock for the Predators over the last several years. Rinne's workload has increased drastically over the last few years, but the goalie keeps responding year after year as his single season win totals have steadily risen over the last four years. Rinne is widely considered to be among the elite goalies in the NHL and has had a tremendous impact on the Nashville organization. For an eighth round pick, it is safe to say that Rinne was truly one of the biggest gems of the 2004 NHL Entry Draft.
Mark Streit (9th Round, 262nd Overall by Montreal Canadiens) – Streit has turned out to be one of the best offensive defensemen in the NHL and has been racking up points ever since the 2005-2006 season with the Montreal Canadiens. Streit has recorded 261 career points (59 Goals, 202 Assists) with the Canadiens and Islanders and has always been a threat on the power-play. The defenseman's ability to move the puck and quarterback the man-advantage have made him a great asset for the young New York Islanders, but the native of Bern, Switzerland has also imparted his knowledge on the Isles as the team's captain. It might not be hard to find a stay at home defenseman in the later rounds of the NHL Draft, but Streit has turned into a steady option that could provide the right mix of leadership and offensive skills to any NHL team.
Jannik Hansen (9th Round, 287th Overall by Vancouver Canucks) – Jannik Hansen has gradually been making a name for himself in the NHL over the last few seasons. The right winger's point totals have been climbing over the last three years and he has shown why he deserves to have more ice-time with the Sedin twins. Hansen is no stranger to working hard in the corners and keeping the forecheck going, but the forward is becoming more and more mature as the NHL seasons come and go. Hansen's speed, physicality, and scoring ability could make him a dangerous option in the upcoming years and hockey fans should expect to see the winger rounding out Vancouver's top six forwards in the next couple of years.
2005 NHL Entry Draft
Darren Helm (5th Round, 132nd Overall by Detroit Red Wings) – Darren Helm has been a good find for Detroit as he has provided stability to the Red Wings' bottom six forwards. The speedy pivot's offensive numbers might not be outstanding, but Helm brings energy and a grinder's mentality to the bottom half of Detroit's offensive lineup. Helm might record point totals near the mid-20s or 30s, but his ability to throw around the body and get shots to the net cannot be overstated. Even though Helm ended his previous season with Detroit on a disappointing note (lacerated wrist), fans should expect the center to rebound for the upcoming hockey season and continue his solid overall play.
Sergei Kostitsyn (7th round, 200th Overall by Montreal Canadiens) – Much like his brother Andrei, Sergei Kostitsyn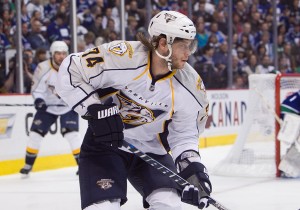 has turned into an offensive weapon. Both Andrei and Sergei were drafted by the Montreal Canadiens, but wound up with the Nashville Predators during the 2011-2012 NHL season. The younger Kostitsyn seems to have found a home in Nashville as the forward has recorded 93 points (40 Goals, 53 Assists) over the last two seasons with the Predators. As long as Kostitsyn keeps producing, he will be a fixture for any team's top-six forward rotation and will be a dangerous and difficult opponent to defend against.
Patric Hornqvist (7th Round, 230th Overall by Nashville Predators) – Patric Hornqvist has been quite the steal for the Nashville Predators as the forward has turned into one of the team's most reliable scorers. Hornqvist has recorded 43 or more points in his last three NHL seasons and has put up at least 230 shots on goal per season in that span as well. For a seventh round pick, Hornqvist has played himself into an important role with the Predators and will continue to be a vital part of Nashville's offensive machine.
2006 NHL Entry Draft
Andrew MacDonald (6th Round, 160th Overall by New York Islanders) – Andrew MacDonald's numbers might not indicate that he is an elite offensive defenseman, but he has been a pleasant surprise for a young defensive core in New York. Over the last two seasons, MacDonald has registered 46 points (9 Goals, 37 Assists), but he has also sacrificed his body when need be. MacDonald has registered almost 100 or more blocked shots in each of his last three seasons with the Islanders and is proving to be one of the more steady d-men on the Island. As long as MacDonald and Travis Hamonic remain together on the Isles' middle defensive pairing, A-Mac should continue to see his stock soar upwards.
2007 NHL Entry Draft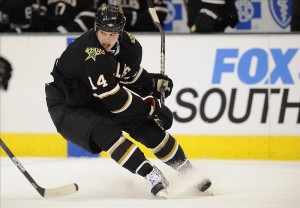 Jamie Benn (5th Round, 129th Overall by Dallas Stars) – Jamie Benn has been one of the most reliable scorers for the Dallas Stars as the pivot has increased his point totals in each of his three seasons in the NHL. Benn has recorded 160 points (70 Goals, 90 Assists) in his NHL career thus far and seems to be figuring into Dallas' long term plans. The forward has already established himself as a top-six forward for the Stars and a player that should be getting top line minutes. While Benn might not have been drafted too deep into the 2007 NHL Entry Draft, he should still be considered a steal based on the amount of production that he has given the Stars over his short career.
Carl Gunnarsson (7th Round, 194th Overall by Toronto Maple Leafs) – Carl Gunnarsson might be buried on the Leafs' bottom defensive pairings, but the defenseman has shown that he has what it takes to succeed in the NHL. The d-man's point totals might not be through the roof, but Gunnarsson has shown that he can contribute by throwing his body around and blocking shots. Even though Gunnarsson is still in the process of developing, the defenseman has proven that he can handle the workload of an NHL defensemen.
In his third year with The Hockey Writers, Toli covers all things related to the New York Islanders. Focusing on the Islanders, the NHL Draft & draft-eligible prospect goalies, and hockey history, Toli can be contacted on Facebook by searching/messaging Toli Metter and on twitter by searching @ToliMetterTHW.