In the lifespan of most National Hockey League clubs, the previous team plan has to be thrown into the ocean and a new one drawn up. Even when things go incredibly well, players get old or expensive (or both) and a new course is charted by the team's leadership.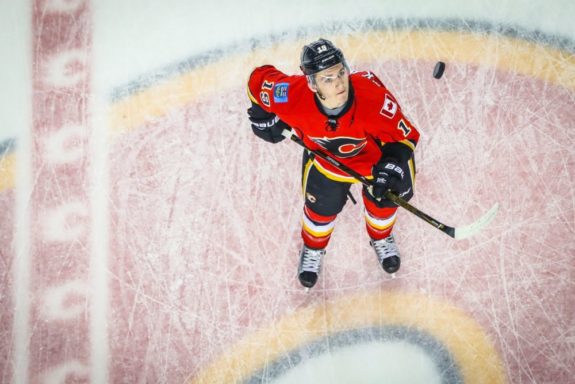 The Calgary Flames embarked upon a rebuild following the 2012-13 season. Their recent on-ice success, emerging as one of the Pacific Division's best teams through the first chunk of the 2018-19 season, suggests that perhaps their rebuilding process has reached its conclusion.
The Flames' Gradual Decline
The Flames nearly won the 2004 Stanley Cup Final, which was followed by the 2004-05 lockout and a dramatic shift in rules and playing style within the NHL. The 2003-04 Flames, as built by general manager Darryl Sutter, were a meat-grinder of a hockey club, designed by Sutter to take advantage of any wiggle room within the rules to win games in the trenches. When the Flames reconvened in 2005-06, they found themselves with a skilled top end of their roster but lacked the speed and depth to compete with hockey's big guns. Sutter spent years trying to recapture the magic of that 2004 team, mortgaging the team's future prospects and draft picks to upgrade his team at the margins.
Sutter's efforts didn't work, with the Flames making the playoffs in four consecutive post-lockout seasons but failing to win a single playoff round. Sutter was dismissed from his post in December 2010 and replaced by assistant GM Jay Feaster, who was tasked with succeeding where Sutter failed: getting the Flames to post-season success. With an even-older roster than Sutter had to start with and fewer young assets, Feaster didn't have a ton of success either. By the time the lockout-shortened 2012-13 season began the writing was on the wall: it was the "do or die" year for the club. If they didn't make a big push, it was likely time for a teardown.
The Flames got off to a decent start, but three losses on a three-game California road trip in early March signaled to the management group what had become obvious from the outside: it was time to rebuild. The team began actively exploring trade options for captain Jarome Iginla and the rebuild began in earnest on March 28 when they traded Iginla to the Pittsburgh Penguins for college forwards Ken Agostino, Ben Hanowski and a 2013 first round pick.
The Teardown Year
Several dominoes immediately fell once Iginla was shipped out. With a few pieces of the roster around due to their playing style or familiarity with Iginla, Feaster made a couple moves to start clearing the deck of big contracts or veterans that might have better chances to win elsewhere.
Prior to the trade deadline, Jay Bouwmeester was shipped to the St. Louis Blues for Swiss goalie Reto Berra, AHL defenseman Mark Cundari and a late 2013 first round pick.
In the summer, Alex Tanguay and Cory Sarich were flipped to the Colorado Avalanche for David Jones and Shane O'Brien.
Feaster's efforts to fill the roster with functional players was stymied by Sutter's tendency to trade away picks and prospects during his tenure. The lack of internal depth options meant they had to trade their own draft picks to grab inexpensive depth players, leading to pick-for-player trades that landed them T.J. Galiardi, Joe Colborne and Kris Russell. Prospect Roman Horak, himself acquired in a draft pick swap, was packaged to land depth defender Ladislav Smid from the Edmonton Oilers.
As the teardown continued into the 2013-14 season, the Flames were sliding down the standings. New president of hockey operations Brian Burke, brought in to fast-track the rebuild, spent his first few months with the Flames conducting a top-to-bottom assessment of the hockey operations set-up. On December 12, the axe fell: Feaster and assistant John Weisbrod were turfed just nine months into the rebuild, with the rationale that they hadn't gotten enough value for the team's key assets. In the spring, Burke hired Arizona Coyotes assistant GM Brad Treliving as the new Flames GM.
The Build Up
As much as Feaster was victimized by his circumstances (and the mess left to him by his predecessor), Treliving was aided. While Feaster hadn't gotten a ton of value for the likes of Iginla, Bouwmeester and Tanguay, he had managed to get rid of some hefty contracts – a situation Burke termed "shoveling out the barn." Feaster's regime streamlined the scouting process, making evaluating potential picks and making a draft list much more concise, while Burke added several draft picks during his brief period as interim GM.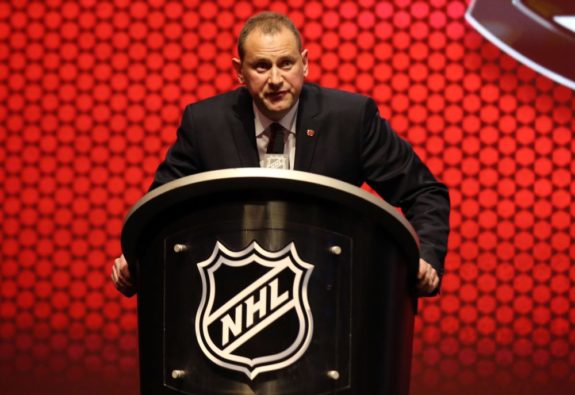 As a result, Treliving came into the job with as close to a clean slate as most new GMs get. Feaster's work gave him cap space and some decent prospects to work with, while Burke's swaps gave him additional picks to utilize. The roster and cap flexibility aided the Flames in developing players from previous regimes into genuine assets:
Burke signed college star Johnny Gaudreau, a 2011 pick, and Treliving was able to give him a chance to play in the NHL right away.
Due to the lack of established options depth forward Micheal Ferland got a chance to play big minutes, developing into a top six player.
The success of some of their young players gave the Flames time to let 2012 pick Mark Jankowski marinate in college, rather than rush him into the pros too soon.
Mikael Backlund, a 2007 pick that had seen fits and starts in his development, broke out in a big way due to increased ice time and the team's ability to find him complementary linemates.
The accumulation of assets – both adding picks and seeing young players develop into tradeable commodities – allowed Treliving to make some big trades to add key pieces: Dougie Hamilton in 2015, Mike Smith and Travis Hamonic in 2017, and Elias Lindholm and Noah Hanifin in 2018. The trend of improved drafting under Feaster continued for Treliving's scouts, with one player from each of his first four drafts establishing themselves as NHL regulars at the time of this writing and several others having gotten cups of coffee at hockey's highest level.
In every rebuild, luck is a big factor. While the Flames were able to give their prospects a chance to play, their prospects managed to gel quickly with their veteran teammates and the club managed to find success with a young roster fairly quickly. As a result, the Flames were able to make their young players core pieces rather quickly and not expend a lot of assets filling their roster with too many outside acquisitions.
Is The Rebuild Complete?
When a team waves the white flag and begins a rebuild, it's a declaration that the way the team was constructed was no longer sustainable or competitive. In the Flames' case, their lack of depth and deficit spending to attempt to compete made it difficult for them to draft or develop well, or to acquire inexpensive depth. The team was top-heavy with aging skill players and didn't have many prospects waiting in the wings for a chance.
The current Flames are a much different, deeper team. Their core is primarily skilled young players under the age of 25 that are signed for the long term, with the exception of captain Mark Giordano (who somehow manages to continually defy the aging process). Roughly half their active roster is comprised of players their staff drafted and developed (or found as undrafted free agents and signed). They have maintained salary cap flexibility while signing core players to lengthy extensions – the next challenges for them is re-upping Sam Bennett and Matthew Tkachuk long-term.
The only caveat on the team's development success is in net. Simply put, the team lucked out finding Miikka Kiprusoff and really has struggled to draft and develop goaltenders for the past several decades. Their current depth chart contains the 36-year-old Smith, the relatively untested David Rittich, and untested prospects Jon Gillies, Tyler Parsons, Mason McDonald and Nick Schneider. For all their success at revamping their forward and defensive ranks in creative and sustainable ways, their failure to cement a plan in net is the main thing holding them back.
The Flames are a drastically better team than they were in 2013, but their murky goaltending contingent is keeping them from becoming bonafide contenders and totally finishing off their extensive rebuild.
Ryan Pike has covered the Calgary Flames and the NHL Draft extensively since 2010 as a Senior Writer for The Hockey Writers and Senior Contributing Editor of FlamesNation.ca. A member of the Professional Hockey Writers Association, he lives in Calgary.