The Pittsburgh Penguins were mostly healthy early in 2016-17, but over the last few weeks, the players have begun dropping like flies.
On Thursday against the Winnipeg Jets, the Penguins lost not one, but two defensemen — Olli Maatta and Justin Schultz. Maatta broke his hand and has already undergone surgery. He will be out 4-6 weeks.
As for Schultz, he is in the concussion protocol, and there's no telling when Schultz will be ready to return. The good news is he doesn't have a concussion history, but it will likely be at least a week or two until he gets back on the ice.
With two holes to fill on the blue line, many expected 23-year-old Derrick Pouliot to receive another chance to play at the NHL level. The former eighth overall pick entered 2016-17 as the team's seventh defenseman, but he's struggled to carve out a role even with blueliners in and out of the lineup for Pittsburgh.
As it turns out, Pouliot won't be given the opportunity to play in the NHL again. Instead, the Penguins recalled veterans Steven Olesky and Cameron Gaunce on Friday. Does this mean Pouliot is done in Pittsburgh?
Regressing Each Season
Pouliot was thrust into duty when Pittsburgh's blue line was in similar shape two years ago. He made his debut in 2014-15, scoring two goals and seven points in 34 games. But he wasn't particularly responsible in his own zone, posting a minus-11 rating.
Since then, the numbers have pretty much regressed. Pouliot played 22 games last season and didn't score, tallying just seven assists. He posted better possession numbers and a plus-4 rating, but he also played fewer minutes (17:33 in 2014-15 versus 15:27 in 2015-16).
https://twitter.com/brianmcnulty11/status/832627126134267904
This season, Pouliot has dressed for just seven contests. It's a small sample size, but his Corsi For Percentage is below 47.0 percent, by far the worst of his NHL career, he hasn't scored a point, and he owns a minus-3 rating. And it's not like the Penguins have asked him to do more — his average ice time has dropped another minute this season.
Coach Mike Sullivan has attempted to shelter him, and he still can't hold his own at the NHL level. In a game against Toronto back in December, Pouliot turned the puck over behind his own net in overtime, which led to the game-winner. The following week versus Columbus, he let winger Scott Hartnell, not a guy known for being particularly fast, skate right by him for a breakaway goal.
Pittsburgh sent Pouliot back down to the AHL two games later, and he hasn't returned since then. It now appears the Penguins prefer to start journeyman defensemen such as Oleksy, Gaunce and Chad Ruhwedel over the 23-year-old, which can't be a good sign for his future in Pittsburgh.
Remaining Patient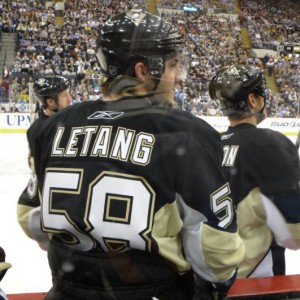 In today's instant gratification world, it's really hard to be a young struggling athlete. The internet has enabled fans the ability to follow minor league hockey and every amateur league more closely than ever. There really are no more surprises when it comes to prospects and young talent.
And every year, the NHL sees 18, 19 and 20-year-olds come up and excel. Sidney Crosby and Evgeni Malkin did it. Connor McDavid and Jack Eichel did it too. This season, it's Auston Matthews, Patrik Laine and a couple others.
But, not every player is as good as those superstars. Some athletes take longer to develop, and that's perfectly fine and normal. Furthermore, it's very common for defensemen to take longer to develop than forwards.
Admittedly, Kris Letang had more early NHL success than Pouliot, but Letang wasn't a true number one until he turned 23. He wasn't an All-Star until he was 25.
Look at Schultz. Sure, the change of scenery and moving from the lowly Oilers to the Penguins helped, but he is just now fulfilling his full potential at age 26.
There's still time for Pouliot to develop. He went through two injuries early this season, which hurt his progress. Perhaps he won't be the next Letang like everyone originally expected, but there are still reasons to believe he could turn into a reliable NHL caliber defenseman.
Gaining Momentum in the AHL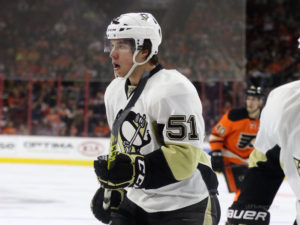 In all, Pouliot went 16 straight games without a point if one combines his games at the NHL and AHL together, but since the New Year, he's played much better. Pouliot has three goals, five points and 19 shots on net in the last eight games.
He's possessing the puck much better, which is considered one of his biggest strengths, and Pouliot has also been stronger in his own zone. He owns a plus-4 rating in the past eight contests. While it sounds like Pouliot might deserve another chance with the Penguins, the organization realizes how fragile a young player's confidence can be and has chosen to keep Pouliot in the AHL.
"We've had him up and down a fair amount here over the last year-plus," Sullivan said according to The Pittsburgh-Tribune Review. "We just felt as though, in the discussion that we had, that he's really gaining some positive traction down there, and we didn't want to disrupt that."
That's not a bad decision at all. Despite the organization being in win-now mode, Pittsburgh has continued to put the development of its young players first.
Is Pouliot Done in Pittsburgh?
Absolutely not. His entry level contract is up at the end of this season, but that doesn't mean the team should part ways with him at the trade deadline. If anything, he might come cheaper because of his previous struggles.
Penguins general manager Jim Rutherford has proven that he isn't going to trade anyone just for the sake of making a deal. If the right trade comes along that will help Pittsburgh win now, Rutherford will do it even if it means giving up Pouliot. But again, Rutherford isn't going to dump the former eighth pick for nothing.
Due to his inconsistencies, Pouliot might not have much value on the market right now anyway, so including him in a deal could prove to be difficult. Therefore, despite his struggles, it's still too early to count Pouliot out in Pittsburgh.