The Detroit Red Wings and Swedish-born players: a match made in hockey heaven. Under the guidance of Director of European Scouting, Hakan Andersson, Detroit has been able to draft some of their more prominent players out of Sweden. A long list that includes Nicklas Lidstrom, Henrik Zetterberg, Niklas Kronwall, Johan Franzen and Gustav Nyquist. The past ten years, however, have not been as kind to the Detroit-Sweden connection.
Three weeks ago, the Wings traded prospects Mattias Backman and Mattias Janmark for veteran winger Erik Cole. While it is possible Janmark would have made the jump over to Grand Rapids next season, the consensus among Red Wings fans was that Backman had no future in Detroit, because he decided to leave the Griffins in late December. It appears somewhat of a trend in Detroit – unhappy, Swedish-born players leaving the AHL. The issues cited by the players tend to involve difficulty transitioning to the style of play in North America and a lack of ice time. What I would like to discuss are a few of the Swedish-born prospects in Detroit's system that have come over to play in Grand Rapids, only to head back overseas before making it to Detroit's roster.
Mattias Backman – 5th round, 146th overall, 2011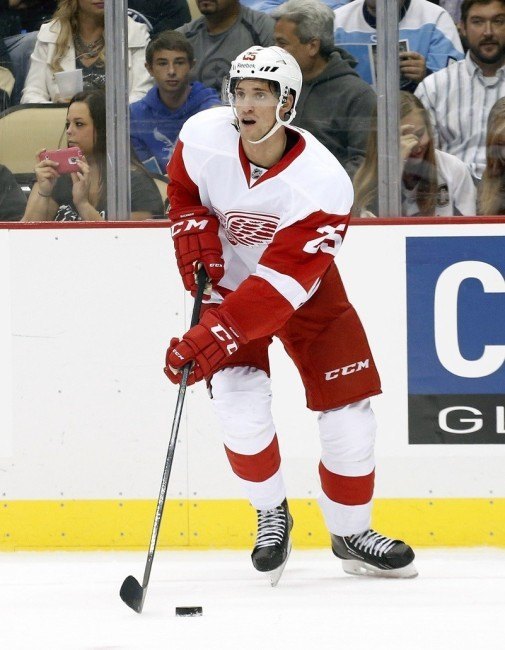 [Related: Erik Cole Acquisition a Solid Move for Red Wings]
Backman is the most recent Swedish-born player to leave Grand Rapids and return home. He had difficulty cracking a crowded Griffins' blue line, up against the likes of Xavier Ouellet, Ryan Sproul and Nick Jensen. In mid-December, he spoke with MLive's Peter. J Wallner:
"I play almost four years in Swedish league and played on national teams, so it's kind of weird you don't play here," Backman said. "In my opinion, the Swedish league is much better than here. But it's like different hockey, so it's hard to compare. You have to get used to the smaller rinks."
Backman played in just 18 games for the Griffins this season, scoring four points in total. Since returning to Linkopings of the Swedish Elite League, Backman has 17 points through 25 games. Whether his push for more ice time had merit or he is just playing with a chip on his shoulder, Backman has found success back home.
[Related: Backman Leaves for Sweden]
Adam Almquist – 7th round, 210th overall, 2009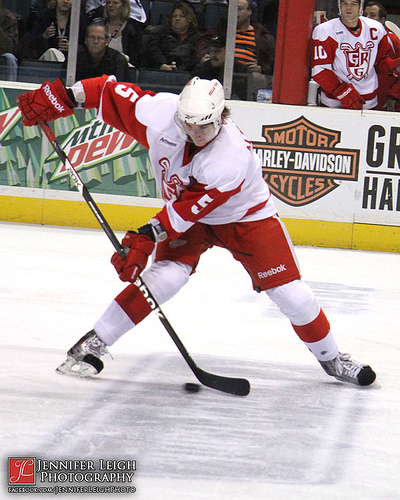 I will be the first to admit that Almquist is not quite like the other players on this list. He spent two full seasons in Grand Rapids, scoring 84 points through 121 games. Almquist even received a call-up to Detroit, where he played in two games, scoring a goal in one. His inclusion on this list is to show another side of these situations – where a prospect seemingly did all he could to appease management. I use the word seemingly, because Almquist's lack of physical conditioning was most likely the reason he did not factor into Detroit's plans on defense. George Malik of Kukla's Korner offered this explanation:
"Every indication suggests that the one thing Almquist has not been able or willing to do is to assuage the coaching, player mentoring and management staffs' concerns regarding his ability to compete at the NHL level in terms of strength and fitness."
I understand the concerns about his conditioning. Personally, I think it was just a matter of bad timing – Detroit's defensive corps was already crowded, and the team did not seem high on Almquist. The reality is that there was simply no room for him on this team. I think he recognized his situation and decided that a move overseas might be the best thing for his career at that point. Instead of Sweden, Almquist elected to go to the KHL, where he has just four points in 21 games with the Cherepovets Severstal this season.
Dick Axelsson – 2nd round, 62nd overall, 2006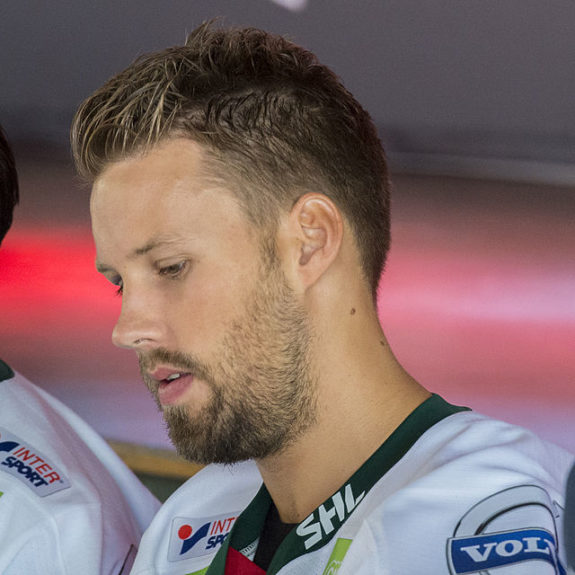 There was a lot of hype around Dick Axelsson when the Red Wings drafted him in 2006. Described as a good skater who possessed great offensive instincts, he projected as a second-line winger. While the on-ice talent was certainly there, Red Wings' management felt that Axelsson's attitude was holding him back. Former assistant general manager Jim Nill had this to say about Axelsson:
"He's still young enough yet," Nill said. "He's got a lot of maturing to do. He's 23 now. He's gotta mature and want to become an NHL player. He's got the skill to do it. If he doesn't want to change his ways, then he won't play."
Axelsson played in just 17 games for Grand Rapids, scoring five points. When it became clear to Axelsson that he was going to have to earn a call-up to Detroit, he requested that he be returned to Farjestads. Since returning to the SEL, Axelsson has played for Farjestads, MODO and Frolunda, putting 119 points through 191 games. He made a move over to the Swiss National League this season, where he has scored 33 points in 45 games with Davos.
Daniel Larsson – 3rd round, 92nd overall, 2006
At a time when Chris Osgood's career was winding down, Jimmy Howard and Daniel Larsson battled for Red Wings' back-up spot. While both goaltenders were given almost equal time playing in goal for Grand Rapids during the 2008-09 season, Detroit elected to go with Howard as their back-up goaltender in 2009-10. Larsson spent the year in the AHL, splitting time with Thomas McCollum before returning to Sweden for the 2010-11 season. In a roughly translated interview with Swedish newspaper Aftonbladet, Larsson had some bold words regarding Detroit's goaltending situation:
"I will never go over there and play hockey farm team again. But I swept the carpet with Jimmy Howard during my first year in the AHL and Chris Osgood is more or less over. I will take the chance if they are willing to let me see what I can do in the NHL."
Larsson spent two seasons as a Griffin, posting a GAA of 2.76 and 2.85 and save percentage of .907 and .903 in each respective year. His numbers improved upon returning to his native homeland, where his GAA has stayed within a range of 2.20-2.63 and his save percentage .903-.921.
Johan Ryno – 5th round, 137th overall, 2005
Some may claim that Johan Ryno never really wanted to play in North America, including the man himself. Ryno played in just twelve games for the Grand Rapids Griffins during the 2007-08 season before heading back to Sweden. Two years later, he played in the preseason for Detroit, but ultimately decided to head back home once again. Former Griffins general manager Bob McNamara made it clear Ryno would have to play in Grand Rapids if he ever wanted to play in Detroit.
"I felt like he was a guy that could help us. If we wants to play in the NHL, at some point, he's going to have to make the decision to stay in North America," McNamara said. "At the same time, he's got to want to do it, and you can't force something on somebody because that usually doesn't work out."
Despite having some offensive success in Grand Rapids, scoring seven points through twelve games, Ryno never really seemed to enjoy his time in the AHL. There were some questions regarding his mental and physical toughness. Since returning to Sweden, he has seen steady offensive success playing for AIK, Oskarshamn and Leksands in the Swedish Elite League.
Should the Wings Look Elsewhere at the Draft?
I don't think so. Despite some bumps in the road, the Red Wings have shown little hesitation looking to Swedish players at the draft. They selected two Swedes in the 2014 draft – Christoffher Ehn and Axel Holmstrom. When I look at the prospects who left Grand Rapids, I feel as if a few carried a sense of entitlement with them. I think there is an inherent risk when any team drafts a player from overseas – they can always go home to find comfort and familiarity. The road to Detroit is not an easy one, but it is one that Red Wings' management expects them to take.
Subscribe to our Red Wings stories to get email updates every time a new story is published.
I am a writer from Windsor, Ontario who has covered the Detroit Red Wings for The Hockey Writers. I have had the pleasure of doing so since February of 2015. Previously, I have written about Red Wings prospects for Hockey's Future. I am always up for chatting about the Red Wings and hockey in general, so leave me your comment and/or tweets. Follow me on Twitter at @BrandonPeleshok.