A lot of New York Islanders fans have finally reached their breaking point with general manager Garth Snow.
Things reached a boiling point as fans loudly and raucously chanted "Snow Must Go" during the Isles 4-1 lopsided loss to the Columbus Blue Jackets Tuesday night. They surrendered a whopping 51 shots on goal. It was another frustrating game for the Isles faithful — the team's fourth loss in the last five games and the sixth in the last eight games. At the time, they sat three points out of a wild card spot in the NHL's Eastern Conference.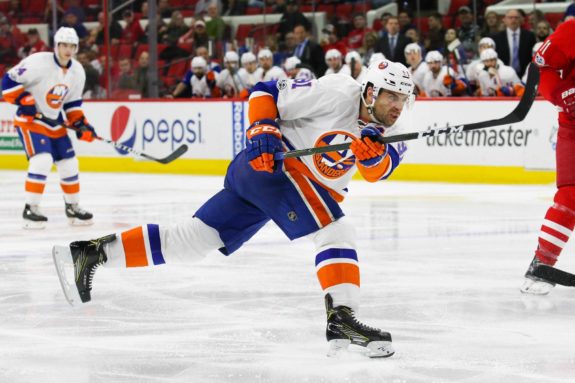 Instead of wearing paper bags on their heads to show his displeasure with Garth Snow, one person made the decision to put that message on a billboard. That's right, a 10-foot, 6 inch by 22-feet, 9-inch strategically-placed billboard at the corner of Flatbush Avenue and 6th Avenue in Brooklyn, NY. It's about a half mile from the Barclays Center, where the team plays.
An Idea is Born
The idea for a billboard was born Wednesday afternoon after many angry Islander fans on social media were commiserating and scheming for a way to make a statement. After forming a group chat arranged by James Duffy, a Brooklyn native who grew up in Baldwin, NY (on Long Island) about 15 minutes from Uniondale, they eventually decided on a billboard.
They figured the roughy $3,000 price tag for it was achievable through donations. Duffy, a 20-year-old that's well-connected among Islander social media platforms had the GoFundMe page up and running by 5 p.m. Wednesday evening. They pushed out the plea for donation via several Islanders social media accounts. From there it took on a life of its own, spreading like wildfire.
Help us send a message and tell ownership that "SNOW MUST GO" on a poster board within a half mile of the Barclays Center. #SnowMustGo #Isles

Snow Must Go Board, Flatbush + 6th https://t.co/2lVWrPrG3c

— Chris Ho-Ward (@Chrishowrad) February 14, 2018
"Within 20 minutes, I knew we were going to soar past our goal," said an excited Duffy. "We were getting about a donation per minute for the first hour and a half."
Duffy's eyes grew wider as the donations raced in. At first, he felt the reality of the moment. "Wow, this is really gonna happen. We're really gonna do this," he said. "Then there were the implications of actually doing it."
A little over an hour later, they had reached and shattered their goal of $2,750.
Can You Hear Me Now?
According to the page's description, the billboard is a "highly visible unit located in a busy commercial neighborhood [that] captures the attention of motorists and passersby." The billboard is near several subway stations and not far from the Barclays Center, the current home of the Islanders.
The message to Islanders owners Jon Ledecky and Scott Malkin is clear. Per the plea for donations, "Fans will no longer tolerate the culture of losing surrounding this franchise. Help us send a message and tell ownership that "SNOW MUST GO" on a poster board within a half mile of the Barclays Center."
A "Snow" Ball Gaining Traction
After reaching the $2,750 goal in the first hour of posting, the movement doubled its goal and added a second billboard. They quickly reached that goal, too. It will be on Atlantic Avenue, about a mile from Barclays Center.
Both messages will have the same message and if things go as planned, they'll be on display starting Feb. 26 and run for four weeks. According to Duffy, "The billboard company has been extremely helpful every step of the way."
Sending Another Message
According to an initial post, any funds raised above the amount was to be donated to Islanders' forward Anders Lee's Kancer Jam, a fundraising event for the Cohen's Children Medical Center on Long Island slated for later this month. "It was another point to show that we're here to support the team and its players," said Duffy. "The Islanders have always been a franchise that does right by the community. Anders Lee is a great example of that."
Lee has since posted via his Twitter account that he will not accept the funds. It was a swift, decisive move on his part that makes sense to stand by his team and his general manager.
— Anders Lee (@leeberr09) February 15, 2018
Duffy says he understands Lee's position and respects it. The decision was made for any excess funds raised to be donated to the American Cancer Society.
S'no Joke List of Donors
The comical list of unofficial donors on the GoFundMe page read like a who's who list of former Islanders and broadcasters. Some of the notables include:
John Tavares "Either Snow goes or I go"
John Spano Sent from Prison "Sanjay Kumar Venmo'd me his $2.50"
Nino Niederreiter "Jay Pandolfo and Marty Reasoner…nuff said"
Derian Hatcher "Now we can call us even"
Rick DiPietro's contract "made a $5 donation… the buyout is working!"
Cammi Granato "I've liked the Islanders since Mike Milbury invited me to try out for the team. They never should have let that nice man go. Good luck!"
Matt Moulson "Because he traded me"
Mike Bossy "I cry myself to sleep every night. Snow must go!"
Mike Milbury "Even I question why Ho Sang is not called up."
J.F. Berube "I hated the three goalie system" and "You ruined my career, now it's payback time!"
2006 Dysfunction Junction
Snow became general manager of the Isles on July 18, 2006, succeeding Neil Smith, after only 41 days on the job. The 36-year-old literally went from the role of backup goaltender to general manager overnight. It was a bizarre sequence of events that also included the resignation of popular former Islander, Pat LaFontaine. He was a senior advisor to Charles Wang, the then-Islanders owner.
Smith was the architect of the Rangers 1994 Stanley Cup-winning team. On June 8, 2006, he had been named GM, LaFontaine named Wang's senior advisor and Ted Nolan named head coach.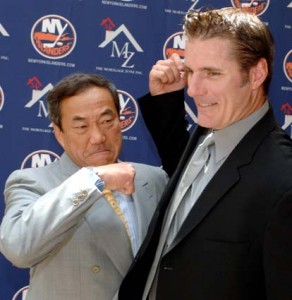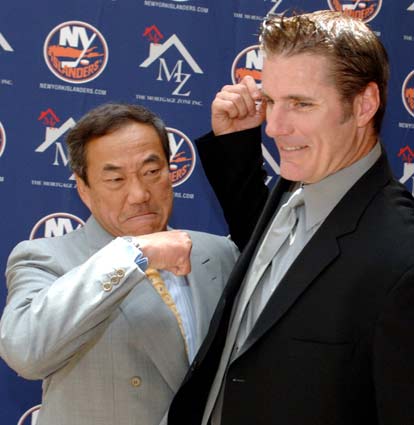 In a statement, Wang wrote, "I spoke with Garth at length throughout the spring about the general manager's position, and he really impressed me with his passion and his knowledge. When the job opened up, the choice was an easy one. Garth knows the league as well as anyone, has an eye for talent and understands how our staff works as a team. Most importantly, Garth is a man of integrity, someone I trust will work hard, be creative and represent the Islanders with dignity."
Snow Job
With Snow at the helm, the Islanders have missed the playoffs in eight of 12 seasons. They've only advanced past the first round once, losing in the Conference Semifinals in 2016.
"I think it's about accountability. If anybody works a job for 12 years and is working at a sub-par level, that person should lose their job. In any field. I think Islanders fans in general believe that Garth Snow is not working up to the highest standards of his job. And that's not just this season. The larger issue is that this team is only in this position because of the past 12 years of failed rebuild that ended up with a mediocre team in 2018." –James Duffy on Garth Snow
Snow's career in management has had its moments. He was named NHL Executive of the Year for 2006-07 by Sports Illustrated and received some praise for the franchises draft picks in 2008 (Josh Bailey) and 2009 (John Tavares and Calvin de Haan). His Griffin Reinhart trade to the Edmonton Oilers for a first and a second was incredible, leading to young phenom and likely Calder Trophy winner Mathew Barzal and Anthony Beauvillier.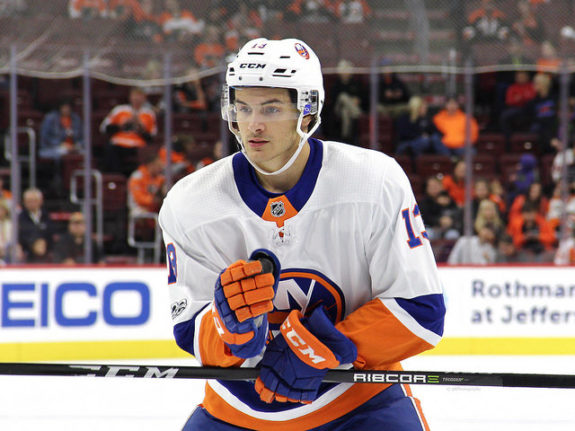 He also traded Ryan Strome for Jordan Eberle straight up, dramatically upgrading their right wing position.
Forever an Isles Fan
Duffy's frustrations were palpable during our call. He thinks there's been a tolerated culture of mediocrity under Garth Snow, where the team is happy to finish in the middle of the standings. "Enough is enough," said a riled up Duffy. "We need to start winning and building teams that can win 50 games in the regular season and make deep playoff runs."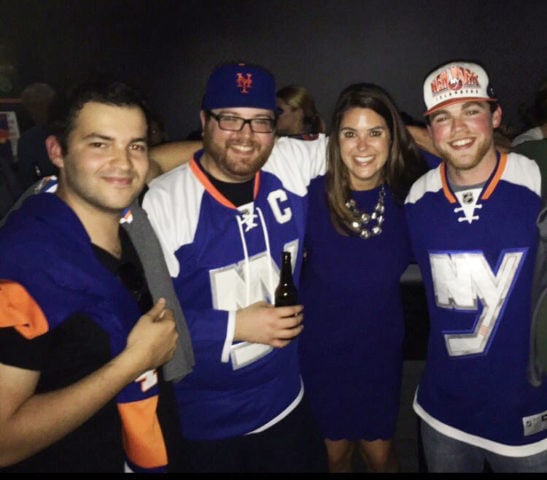 "No matter what happens and what becomes of this protest effort, I know myself and everyone involved, we will still be ardent supporters of this team," said Duffy, who had just rooted on his team to a 3-0 win over the crosstown rival New York Rangers. "We're diehard fans who believe that the team and the franchise are better off if we set a new direction with a new management team."