The New York Islanders have finally landed a big-name player and were able to sign him long-term. The addition of Bo Horvat is a win for the franchise, which has struggled mightily to bring in highly sought-after free agents and trade targets. Fans who may have been on the fence regarding the deal were pleased by yesterday's massive announcement that the Islanders and Horvat have agreed to an 8-year, $8.5 million AAV contract extension. The news is great for the Islanders, as ownership has now made it clear they are willing to spend the money required to build a Stanley Cup contender. Taking a deeper dive into the contract extension, we look at similar contracts and how the eight-year deal will impact the club for years to come.
Horvat Is Not Just a One-Trick Pony
With a salary of $8.5 million per year, Horvat cashed in big; however, that's not to say that this is a substantial overpayment from the Islanders. Horvat possesses a well-rounded set of abilities and is far from a one-dimensional offensive forward. His experience as a captain also gives the Islanders some added long-term leadership.
---
Latest News & Highlights
---
The former Vancouver Canucks captain is responsible defensively and plays in all situations. He is an effective penalty killer, even bringing a scoring threat to opposing teams when shorthanded. Horvat has scored 11 shorthanded goals over his nine-year career, including a career-high three and counting this season. On the other end of special teams, Horvat is very effective on the power play and has the skill set to play in the bumper position. He has 67 career power-play goals, and with 11 already this season, he's on pace to surpass his career-high 13 PP goals from last year.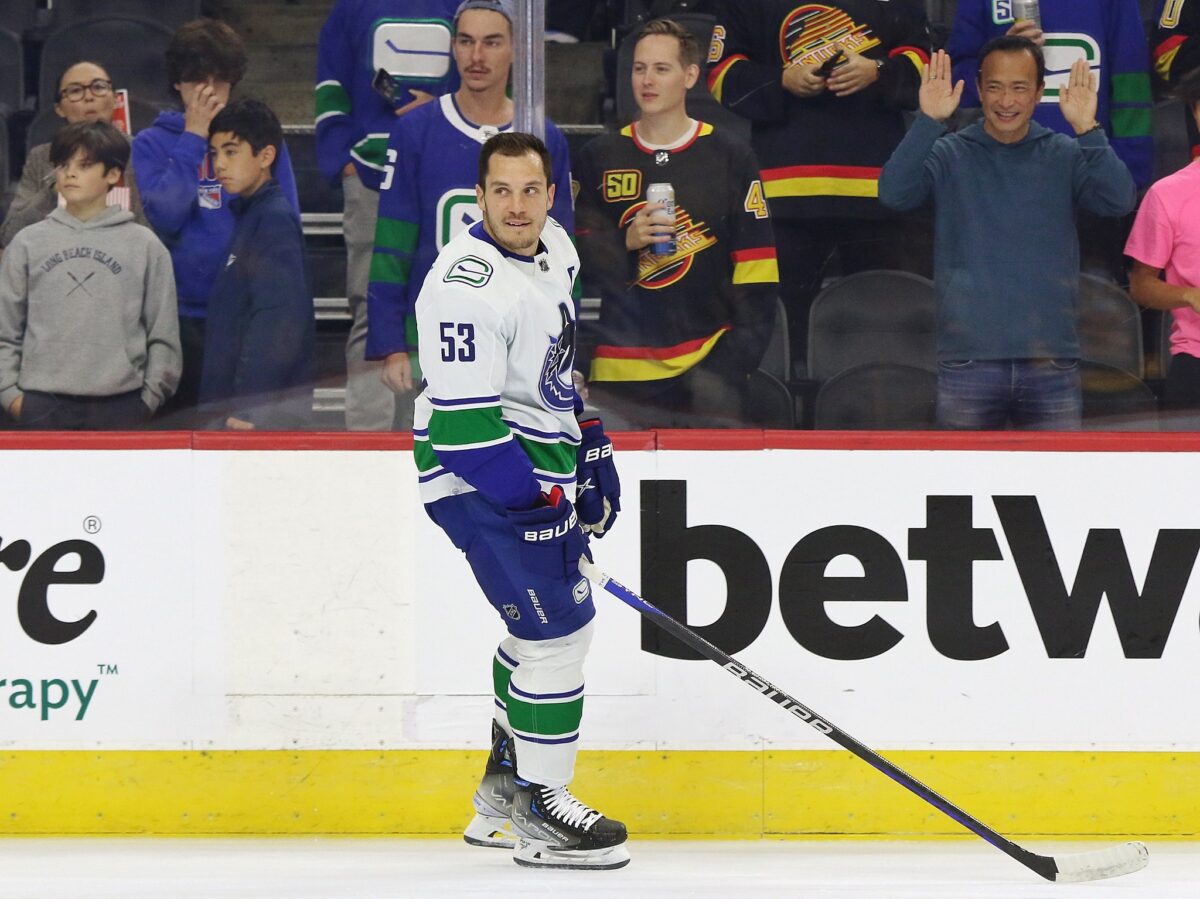 Ranking 18th in the league this season, Horvat also gives his team an opportunity at puck possession from the faceoff circle, winning 56 percent of his draws. The 6-foot, 215 lbs center also has boasted a Corsi for percentage above 50 percent going back to the 2017-18 season, meaning that more often than not, his team has possession of the puck with him on the ice.
Related: 5 Islanders' Predictions for Remainder of Season
With 31 goals on the season, he tied his previous career-high set last season in 21 fewer games played. While taking into consideration his career goals per game average (G/G) of 0.32 and this season's elevated scoring rate of 0.63 G/G may be an anomaly for his career trajectory. Whether or not Horvat can continue to produce at the rate he has been this season remains to be seen. Regardless, he will undoubtedly be around the 30-goal mark for seasons to come.
Similar Contract Comparisons to Horvat
With his $8.5 million AAV, Horvat's name will rank among the highest-paid in the league once his new deal kicks in. Four other star centers carry an $8.5 million salary. They include the New York Rangers' Mika Zibanejad, Edmonton Oilers' Leon Draisaitl, Nashville Predators' Filip Forsberg, and Tampa Bay Lightning captain Steven Stamkos. But, of course, the timing of each of these contracts also plays a massive role as the salary cap changes from season to season, as does the price of a top center.
Mika Zibanejad
Zibanejad signed an 8-year, $68 million contract on Oct. 10, 2021. Nearly identical to Horvat's goals-per-game average, the Ranger's center averaged 0.33 G/G with 200 goals in 604 career games before signing his big-money contract. The 6-foot-2 center plays in all facets of the game, as he eats up ice time while on the power play and the penalty kill. He had 66 career power-play goals and nine shorthanded goals at the time of his contract signing. In addition, his cap hit equaled 10.4 percent of the cap ceiling when the contract was signed.
Leon Draisaitl
The Oilers inked Draisaitl to his 8-year, $68 million contract on Aug. 16, 2017. Draisaitl's cap hit represented 11.33 percent of the cap ceiling at the time of the signing. The German superstar signed his long-term pact with Oilers following his three-year entry-level contract. The contract has turned out to be of great value for the club, as Draisaitl has averaged 0.46 G/G while playing alongside the best player in the world, Connor McDavid.
Filip Forsberg
On July 8, 2022, Forsberg signed his contract extension with the Predators. The $8.5 million cap hit equals 10.3 percent of the total cap ceiling. Before signing the contract, the Swedish forward scored 220 goals in 566 career games, an average slightly above Horvat and Zibanejad at 0.38 G/G. Forsberg has spent most of his time playing on the left wing for the Predators, although his identical contract makes him suitable for comparison to Horvat's contract.
Steven Stamkos
Stamkos signed his identical 8-year, $68 million contract on June 29, 2016. The cap hit at the time was equivalent to 11.64 percent of the cap ceiling. The Lightning captain had piled up 312 goals in 569 career games, averaging 0.55 G/G before cashing in on his big deal. Stamkos is also a significant presence on a dominant Lightning power play, notching 108 PP goals before the signing.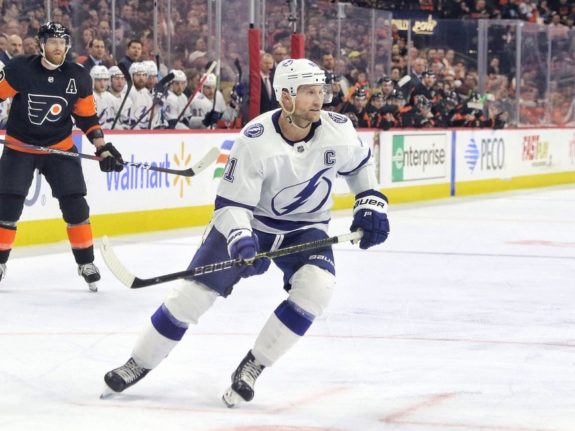 Below is a table showing the comparisons between each player when signing their respective contracts. ** Draisaitl's stats are based on his career numbers, as he had only played 191 career games before signing his contract.
| | | | | | | |
| --- | --- | --- | --- | --- | --- | --- |
| Player | Goals | GPG | PP Goals | SH Goals | CF% | FO% |
| Bo Horvat | 201 | 0.32 | 67 | 11 | 51.7 | 53.8 |
| Mika Zibanejad | 200 | 0.33 | 66 | 9 | 54 | 49.6 |
| Leon Draisaitl** | 283 | 0.46 | 110 | 8 | 56.1 | 52 |
| Filip Forsberg | 220 | 0.38 | 58 | 6 | 58.5 | 31.3 |
| Steven Stamkos | 312 | 0.55 | 108 | 3 | 57.1 | 50 |
*Stats at the time each player signed their respective contracts
Horvat Signing Bodes Well for Islanders' Future
While looking at some similar contracts across the league, Horvat's numbers are certainly not out of line. The Islanders will feel the effects of the salary cap ceiling in the coming years. Islanders general manager Lou Lamoriello still may be able to work some magic and shed a large contract, such as Josh Bailey's $5 million AAV, ahead of the trade deadline. While the Islanders' latest addition will not provide the scoring Draisaitl and Stamkos do, his all-around game and leadership make him invaluable to the franchise. Nonetheless, having the one-two punch of Horvat and Barzal up front will go a long way toward the team contending in the Eastern Conference for years to come.
---
---