The "12 Days of Christmas" is a classic holiday song first published in its current form in 1908. In a nod to the classic carol, join The Hockey Writers as we count down the 12 Days of Hockeymas. Each day, we will provide you with a piece of hockey content or history as we eagerly await the start of the 2020-21 NHL season.
Ilya Sorokin is considered a "mega prospect."
New York Islanders' general manager (GM) Lou Lamoriello was finally able to lure the Russian netminder to North America, signing him to a $925,000 contract for the remainder of the 2019-20 season, and then to an extension with a $2 million cap hit for the 2020-21 season.
Sorokin has done everything he can outside of the NHL since being drafted in the third round (78th overall) by the Islanders at the 2014 Draft. From championships to personal awards, the 25-year-old
Mezhdurechensk native has decorated himself as the most attractive goaltender who hasn't played in the NHL. Here's a look at 10 of Sorokin's greatest accolades that should have every Islanders fan excited to see him in blue and orange.
Playoffs Best Goals Against Average
Getting drafted to the NHL wasn't enough for Sorokin. The Islanders' prospect was determined at a young age to be the best. After a stellar 2015-16 regular season (we'll get to that a little later), he carried CSKA Moscow in the playoffs, all the way to Game 6. Despite coming up short, the young Russian netminder played outstanding.
Up against veterans like Mikko Koskinen and Vasily Koshechkin, Sorokin took home the honors of having the best goals against average (GAA) through 20 playoff appearances at just 20 years old in the 2016 KHL playoffs. Sorokin would also claim the playoffs best GAA later in the 2018-19 playoffs.
KHL Best Goaltender 2015-16
In the same year he posted the best GAA in the playoffs, Sorkin earned the award for KHL's Best Goaltender at the highest level overseas. Again, just 20 years old, he posted a whopping .953 save percentage (SV%) and a 1.06 GAA, which was enough to award the young goaltender with being the league's best in net.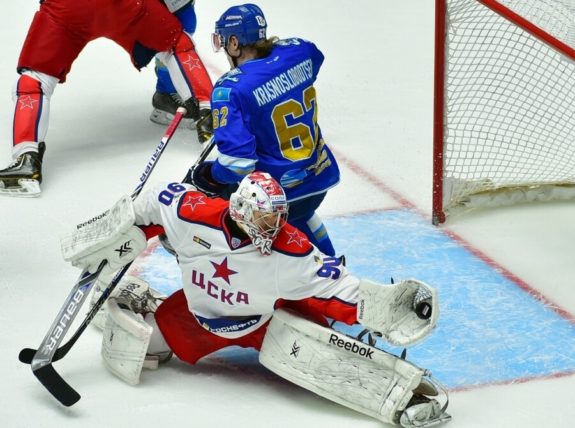 Still, Sorokin and CSKA couldn't claim the Gagarin Cup (KHL's version of the Stanley Cup) in 2016, as Metallurg Magnitogorsk claimed Russia's ultimate prize in seven games.
Weekly and Monthly Awards
Sorokin was able to earn the already mentioned awards partly because he was able to learn from his past and stay consistent in some long stretches.
Between 2015 and 2020, Sorokin earned the KHL goaltender of the month award in seven different months over five seasons. He would also claim an equal amount of KHL goaltender of the week awards. What's most impressive, though, is that of the seven times he was the KHL's best goaltender of the week, four of those honors were in the hunt for the Gagarin Cup, proving that Sorokin plays best when it counts the most.
"He's already gone through what guys like Samsonov and Vasilevskiy have yet to do," Pelino said. "We beat CSKA in Game 7 in 2016 and I think that was the turning point for Sorokin. When we lost to them in the finals (with Avangard Omsk) last year, he was the biggest reason why. He's mentally strong, he can steal wins for his team. If he can adapt to the demands and the lifestyle of North America, there's no doubt in my mind he can be a top-five goalie in the NHL." (from ''He's the real deal': Ilya Sorokin according to those who've seen him rise,' TheAthletic, 07/22/2020)
World Junior Classic Silver Medal
It wasn't just in the KHL that Sorokin found an abundance of success.
Sorokin medaled in four world championships for Russia, once in the World Junior Classic, and three times at international levels for Russia's senior team. The year before being drafted to the NHL, he helped Russia claim the silver medal at the World Juniors. In three appearances, he posted an 0-2-0 record with a 2.66 GAA.
Olympic Gold & International Decor
The accolades kept on coming. In the 2016-17 and 2018-19 World Championships, Russia would claim the bronze. But it was in 2018 where Sorokin would help the Olympic Athletes from Russia claim its throne atop the hockey world. With a 4-3 overtime victory over Germany, Russia would take home the gold in stunning fashion.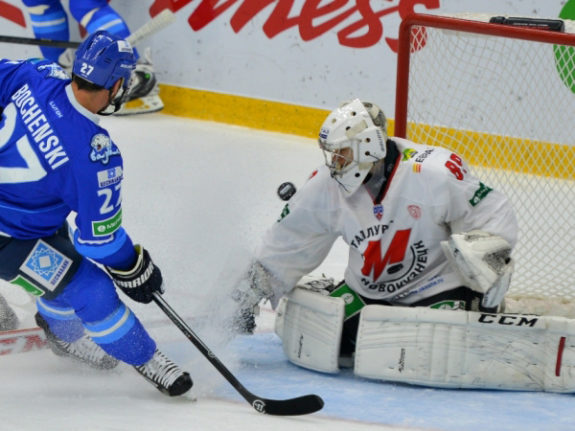 "There's no question that his stats and his resume speak for themselves as far as the success that he's had in the KHL, as well as the Olympics and World Championships," Lamoriello said via a conference call with reporters. "We certainly feel highly of him, but as you know all those records go out the window when you come to the National Hockey League… He has the skills and talent to have success." 
All-Star Nominations
By now, you've probably figured out (if you didn't already know) that Sorokin is pretty good at keeping the puck out of the net. So much so that he was selected to the All-Star Game in five out of six seasons in the KHL.
"It wasn't long before Sorokin rose up to post absurd video-game numbers in the KHL, particularly after a 2014 trade sent him to the juggernaut CSKA Moscow," said Matt Larkin. "Though parity in the KHL has been questionable year to year, with a handful stacked squads dominating, Sorokin's numbers since he joined the team in 2015-16 look like cheat-code work:
(GAA, SV%)
1.06, .953
1.61, .929
1.59, .931
1.16, .940
1.50, .935″
With those kinds of numbers, it's easy to see why Sorokin was an all-star in his last five seasons in the KHL.
KHL Most Shutouts
Having earned so many weekly and monthly awards, international medals, and season-long awards, you're bound to have a couple of shutouts here and there. But if you're Sorokin, you hold the title of most shutouts in a single season.
The two-time shutout champ claimed the most shutouts in consecutive seasons, recording 11 in 2018-19 and nine in 2019-20 for CSKA. In his six seasons, Sorokin has amassed 44 career shutouts, the third most in KHL history.
KHL Most Playoff Shutouts
We mentioned before that Sorokin knows to raise his performance when it counts, and yes, it's possible to get even better than what we have already mentioned.
Similar to how Sorokin claimed the most consecutive shutouts in a season twice, he holds the record for the most playoff shutouts in KHL history. In the 2020 KHL playoffs, the then 24-year-old posted two shutouts en route to the KHL Finals.
The two shutouts gave Sorokin a career total of 16 shutouts in the playoffs, the most ever by a KHL goaltender. In five consecutive postseasons, he totaled these numbers:
(GAA, SV%)
1.32, .945
2.03, .916
1.52, .930
1.19, .947
0.73, .966
With stats like that, it's no surprise Sorokin holds the shutout title. A feat the NHL's top goaltending prospect could hang onto for the foreseeable future.
Gagarin Cup
Speaking of his playoff success, yes, Sorokin did eventually end up claiming Russia's top prize.
CSKA and Sorokin won the 2019 Gagarin Cup after an impressive 4-0 sweep in the final over Avangard Omsk. The third time's the charm, as Sorokin had led CSKA to the finals before in 2016 and 2018, but came up short.
Former Islander, Nikolay Kulimen, had this to say about Sorokin's KHL success: "He reads the game very well," Kulemin said. "He's so quick side to side. (CSKA) was always a top team and he was a big reason for that. He's going to be a top goalie for many years. He's still young."
KHL Playoffs MVP
It's known that CSKA has a number of resources, and they attract many top players to play for them in Russia. Yet, that doesn't excuse anything Sorokin accomplished, including claiming the 2019 Playoff MVP to help CSKA hoist the cup.
Sorokin held an outstanding 16-4-0 record with a 1.19 GAA, a .947 SV%, and five shutouts for CSKA.
Performances like that are something that caught the eye of Lamoriello, making it a priority that Sorokin makes the jump to the NHL. Head coach, Barry Trotz, tries to stay focused on his team, but when he heard Sorokin was coming to Long Island, he did some research on his new player.
"I'm like everyone else, I pull up the HockeyDB and I follow a couple of the sites in Russia and see some of the highlights," Trotz said. "I'm really excited for the organization and think he's been identified as a good prospect."
Looking Forward
The Islanders and their fans have a lot to look forward to now that Sorokin has made it to North America.
"Ilya Sorokin is easily the best if not one of the best goaltenders outside of the NHL so in a nutshell (Islanders fans) should be very excited," said KHL reporter Gillian Kemmerer when she joined "Schwartz On Sports" podcast back on April 13th. "Where he was drafted, he's a steal.  He's absolutely incredible both in regular season and in post-season play."
The core of Islanders' players are young, and the addition of the highly decorated Sorokin only makes for a brighter future. "If they give him room to gain his confidence and allow him to play, he'll be a difference-maker for them," said former coach Mike Pelino. "I don't know if he has any weaknesses to speak of. He's that good."
Want more Islanders content? Check out the Nassaumen Hockey Podcast, hosted by The Hockey Writers authors James Nichols and Jon Zella. Follow on Apple Podcasts, Spotify, and Google Podcasts!
---
---