The New York Islanders lived to fight another day after their win against the Carolina Hurricanes in Game 5 on Tuesday. Pierre Engvall, Brock Nelson, and Mathew Barzal were the goal-scorers for the Islanders, while Ilya Sorokin had one of his best games of the series, stopping 34 shots and avoiding a late third-period rush from the Hurricanes to earn the win.
It was good to see Barzal score a beautiful goal late in the second, which put the Islanders ahead. If they want to tie the series, they will need more of that from him, while the Hurricanes have played a tight-checking series, giving the Islanders almost no room in the offensive zone and keeping them off the scoresheet.
Related: Islanders' Barzal Is Finding Scoring Touch at the Right Time
The Islanders have really struggled to get to the middle of the ice, and most of their shots have been taken from the perimeter. They are also having trouble with their special teams, especially the power play. They have only scored one power-play goal all series, a Kyle Palmieri deflection in Game 3. Other than that, they have generated next to nothing. They are struggling with zone entries and establishing any sort of sustained pressure. The Islanders have a chance to force Game 7 on Friday Night at UBS arena, but they have to be ready to go. The crowd will be juiced up, and it will be an electric atmosphere. The only question is whether it will be enough.
Isles Need a Good Start
The Islanders have struggled in the first period all season; they never seem ready to play and tend to fall behind. In Game 5, they finally got an early lead to help take the pressure off. According to MSG Statistician Eric Hornick, the first-period goal ended a streak of 24 consecutive playoff games where the Islanders did not hold a lead after the first.
It was also their first goal in the first period in their last 10 playoff games. In Game 6, they have to get on the scoresheet early to take the pressure off of forwards and put it on Hurricanes goalie Antti Raanta, who has had a solid series. The Islanders haven't been able to test Raanta much because of the Hurricanes' tight defensive play, but getting to him off the draw will be key on Friday.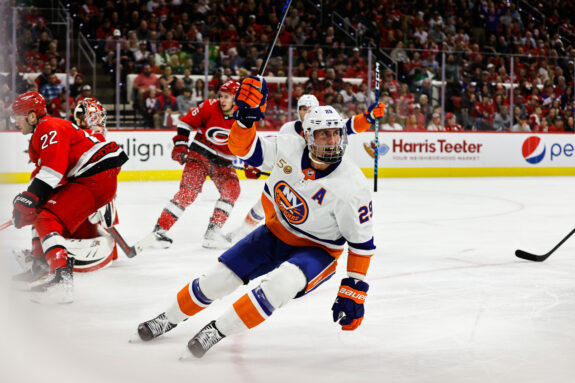 The Isles also need to start burying their chances. They play a sound defensive game, helped by elite goaltending and waiting for their opponents to make a mistake, but in the playoffs, they have to find goals like the ones they scored on Monday.
"We buried our chances tonight," captain Anders Lee said. "We've had those looks throughout the series, we just haven't been able to put them in. Tonight, we did that, and we took advantage of them" (from 'Islanders hold off Hurricanes for gutsy Game 5 win to avoid elimination,' NY Post, 4/25/23). They need their key players to produce like they did in Game 5. Head coach Lane Lambert even broke up the Barzal, Lee, and Bo Horvat line for most of the game, and it seemed to help. Hopefully, the Islanders can bring that scoring touch into Game 6.
Islanders Special Teams Have to Improve
Special teams have played a major role in this series, and The Islanders have struggled with both. On Monday night, the penalty kill came through; Carolina was 0-4, and the biggest kill was late in the third period. Scott Mayfield made a great play by burying the puck in the corner and keeping it there for most of the power play. Eventually, the Hurricanes' Sebastian Aho took a high sticking penalty and that ended the man advantage.
It was a huge moment in the game and a great play by Mayfield. "I know we're not particularly happy with our special teams," Mayfield said. "For me, I take so much pride in the PK, and (they've scored a) couple we want back. … As long as we win that battle, I like our five-on-five play right now" (from "Scott Mayfield's heroic penalty kill, Pierre Engvall's tenacity help extend series for Islanders," The Athletic, 4/26/23).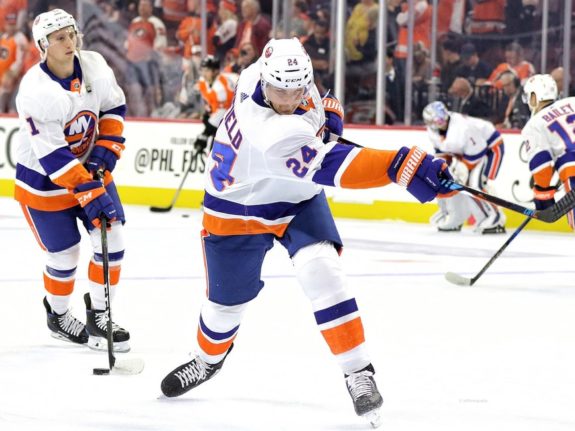 However, the Islanders' power play is still struggling, and the team has been unable to generate much of anything; they are 1-15 in the series. They are making it too easy for the Hurricanes to defend and will have to find a way to generate some offense, or this series will end in six games.
Lambert knows they are struggling but isn't planning on making any changes. "We all know that," Lambert said. "We're working on solutions. We continue to work on solutions. I'm not gonna talk about what I'm seeing from this guy or I'm not gonna talk about personnel, I'm not gonna talk about tweaks, I'm not gonna talk about entries. We have to be better. That's the bottom line" (from 'Islanders' Lane Lambert unsure if he will keep line changes for Game 6,' NY Post, 4/26/23). They have to find a way to make their opportunities count.
Sorokin Needs Another Strong Performance
Sorokin is the team's best shot at forcing Game 7. He was outstanding in Game 5 and continues to be the Islanders' best player. "He's special. He really is. He's been our backbone all year," Barzal said. "You look at the most important players in the league to their own teams, I think he's in the top three or five players in the league." The defense played a stronger game in front of him, blocking 21 shots, but Sorokin seemed more confident, challenging the Hurricanes' shooters more, and had better rebound control.
The Islanders have a clear advantage in net, and Sorokin can steal a game. The first four games of this series were not what we've seen from Sorokin all season. He wasn't as dominant as he's been, but neither was the Islanders' defense core. If they can get a first-period lead, it will take the pressure off of Sorokin and allow him to settle into his game.
UBS Arena will be rocking Friday night as the Islanders try to avoid elimination. They need to come out flying, get their special teams going, and get elite goaltending from their best player. They have the talent to tie up the series, but they need their best players to bury their chances at the right time. Game 6 is going to be a battle, and we can expect a very close game. The biggest question is, are the Isles up for the challenge? We'll see on Friday.