While the first round of the 2023 NHL Stanley Cup Playoffs is in full swing, the Anaheim Ducks are set to begin perhaps their most important offseason in franchise history. For the first time, the Ducks have decisions to make on several homegrown talents turned free agents in the same summer. Those free agents – Jamie Drysdale, Trevor Zegras, and Troy Terry – comprise the generally accepted "core" of the team, apart from Mason McTavish, who just completed his impressive rookie season and remains under contract. If the Ducks want to move in the right direction, then committing to these players should not be seen as a choice but a requirement.
Over the next few days, I'll be doing a series on these free agents, examining their play and where they fit, and my prediction for their next contract with the Ducks.
We'll start with Jamie Drysdale, the highly talented yet inexperienced young defenseman who fans and management alike want to see lead the Ducks' top-four defense corps well into the future. With two seasons of his rookie contract effectively incomplete, he is the trickiest case but remains an integral piece of Anaheim's future.
Jamie Drysdale the Player
The sixth overall pick in the 2021 NHL Entry Draft, Drysdale came into the Ducks organization as an 18-year-old with big-game international and junior experience. He became just the seventh 17-year-old to suit up for Team Canada in a World Junior Championship (2020). While not seeing a ton of minutes, he got the exposure and confidence necessary to take on a leadership role the following year, playing top-pairing minutes with Colorado Avalanche defenseman Bowen Byram en route to a silver medal (he fell to fellow Ducks teammates Trevor Zegras and Jackson LaCombe in the WJC final).
Related: Ducks 2022-23 Superlatives: Defense Edition
Drysdale is a right-handed shot who's shown poise, great skating, and solid decision-making at every level he's played at. Leading a power play, killing penalties, and making a great first pass are just some of his many attributes. He's a bit undersized at 5-foot-11 and less than 180 pounds but possesses all the traits that one would expect in a prospect you envision leading your defensive unit.
Electric Start to Drysdale's Career
After spending a few weeks of his first professional season in the American Hockey League, Drysdale was called up on March 18, 2021, and impressed immediately, scoring a goal and an assist in his debut against the Arizona Coyotes. He utilized patience, vision, good skating, and a sneaky shot to get his first career tally.
It was for these reasons that he was taken with the sixth overall pick, and it was a pleasant surprise to see him display these skills and confidence in just his first taste of NHL action. In the same game, he connected with fellow rookie Zegras on his first career NHL goal as well. Drysdale finished his rookie season playing 24 games with three goals and five assists.
First Full Season & Shoulder Injury in 2022-2023
Drysdale began the 2021-2022 season with the Ducks and played 81 games. Despite playing almost 60 more games, he didn't build much on his goal total but showed his vision and passing ability to the tune of 28 assists. He got opportunities in all phases of the game, produced 12 power-play points and gave everyone a glimpse at his potential. He was minus-26, but the Ducks weren't great that season, and it was his age-19 season. All things considered, he picked up valuable experience that was expected to catapult him into his contract year.
---
Latest News & Highlights
---
However, Drysdale's third and final season of his rookie contract was derailed by a torn labrum in his shoulder. It's unfortunate, especially the impact it had on him as a young person and player. Picking up a season-ending injury is tough for anyone, let alone a 20-year-old just starting his career. The injury will also have an impact on his next contract; Ducks management will certainly consider this during negotiations this offseason.
Trickiness of a Case Like Drysdale
With three seasons passed and barely 110 games played, Drysdale's next contract in both length and compensation is hard to pinpoint. Granted, he was good in his only full season, and he had moments where he showed off his skills and potential. However, defensemen take longer to develop, generally, so burning through his entry-level deal without a better idea of what they have in him is not ideal.
General manager Pat Verbeek's decision will be interesting, especially since he didn't draft Drysdale. With his own vision for the roster, has he seen enough, and if he hasn't, what does he offer Drysdale to give him a chance?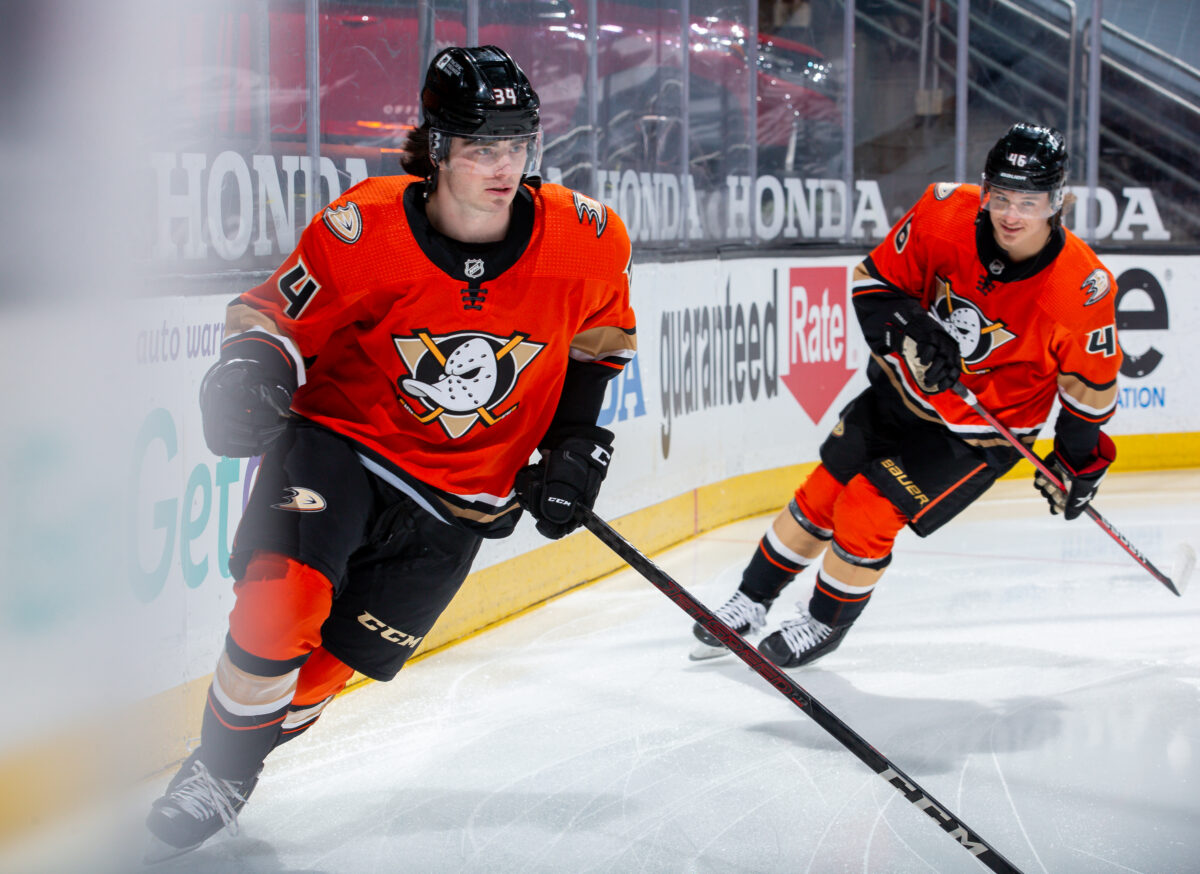 However it plays out, bringing Drysdale back into the fold is a tantalizing proposition. When healthy, he'll probably get plenty of time playing with Cam Fowler at five-on-five. He'll also get valuable power-play time. Can you imagine the potential, the different ways to create chances, and the dynamic movement of a unit that includes Drysdale, Fowler, Zegras, Terry, and McTavish? The mere thought of it is exciting.
Prediction: Short, Prove-It Contract for Drysdale
Among the Ducks' free agents, Drysdale is the least proven. My prediction is that he'll get a shorter "show me" deal, where he'll have two or three seasons to try and stay healthy, produce, build chemistry with his young teammates, and prove that he belongs in the core for the foreseeable future. My guess for compensation is $3 million-$4 million annually. Unless you're Cale Makar, Adam Fox, or of a similar caliber, young defensemen will not get that long-term extension on their second deal. I see Drysdale in a similar situation to Charlie McAvoy, who signed a three-year deal with the Boston Bruin right after his rookie contract, but at a lower value, given he has less experience and production.
Drysdale belongs on the Ducks, however, and I expect Verbeek will see it the same way. Injuries are a part of the game, and he is the type of player who should stay in a Ducks uniform, no matter how deep their defensive prospect pool is. Right-handed defensemen with top-pairing potential don't grow on trees, and the Ducks have the opportunity to nurture and develop one in Drysdale. They better take advantage of it.