The New Jersey Devils have the momentum heading into a critical Game 5 after shutting down the New York Rangers' offense in Games 3 and 4 of their first-round playoff series. Their improved defensive scheme and head coach Lindy Ruff's decision to switch starting goaltenders have played a huge part in the club's resurgence.
The Rangers were out of sync at home at Madison Square Garden compared to their two wins on the road in Games 1 and 2 and will try to recapture the momentum from earlier in the series. Here's a look at three predictions for tonight's Game 5.
Mika Zibanejad Will Score His First Goal of the 2023 Playoffs
Mika Zibanejad is one of the Rangers' top six forwards but has been struggling early in the postseason with two assists through four games. In the 2022 Playoffs, he had no goals and four assists through the first five contests against the Pittsburgh Penguins in the First Round. However, he scored in Games 6 and 7 to help New York avoid elimination and move on to the second round.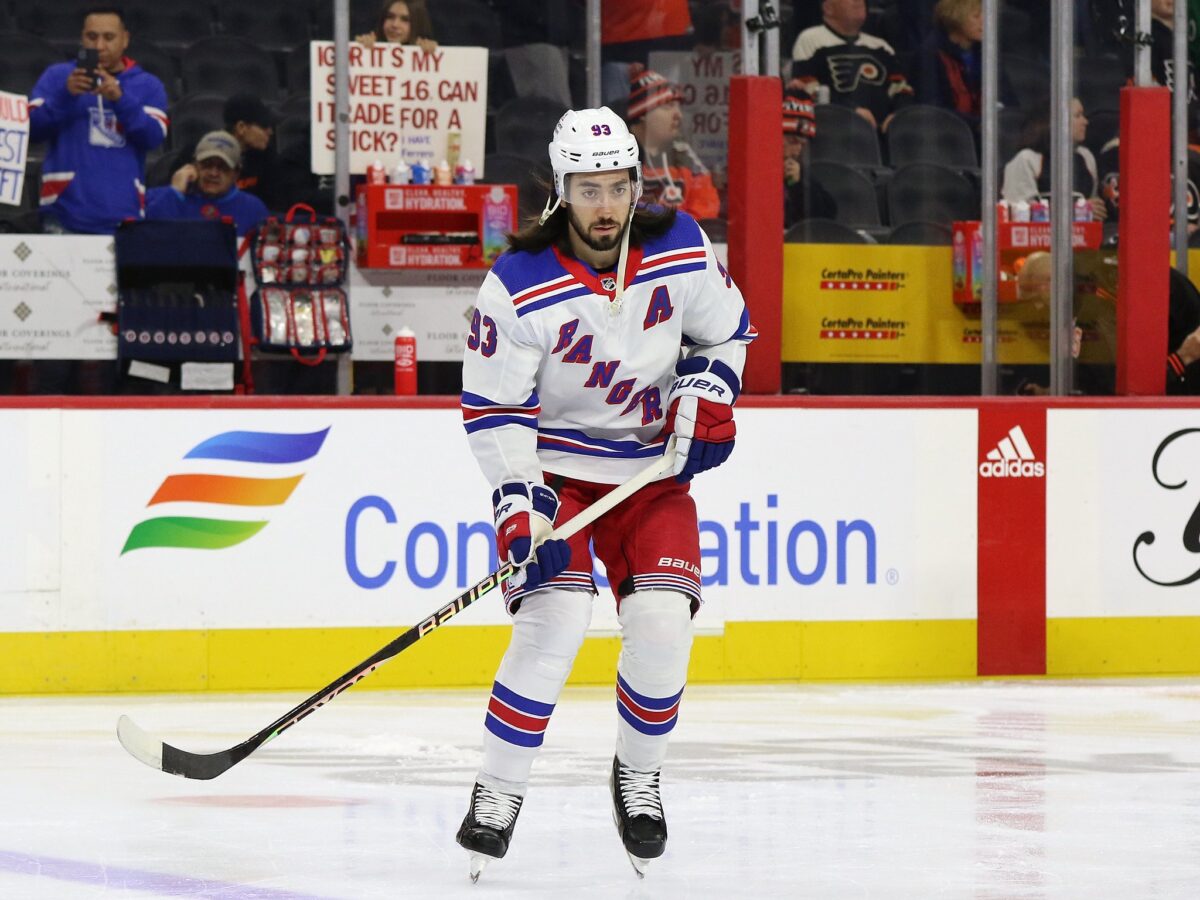 Zibanejad tends to contribute points in bunches and needs to score a goal to get going. He went on an eight-game point streak from May 22 to June 5 in the 2022 Playoffs. His struggles against the Devils can be attributed to not being relaxed and trying to do too much with the puck.

After practice on April 26, Zibanejad said, "I think the pressure comes from within. When we don't win, and certainly when we don't score, then it's obviously going to be pointed at that we're not doing enough offensively. Any player, no matter what wants that situation. You want it to be in your hands."
Related: 3 Rangers 2023 Stanley Cup Playoff Predictions
He leads the Rangers with a 1.27 in individual expected goals created (ixG) on the power play. He has struggled at even strength with 0.31 ixG, which ranks 11th on the club. His success with the man advantage gives him the edge as he is first in ixG at all strengths with a score of 1.68. He is capable of being a key contributor and will need to snap out of this scoring funk.
Jack Hughes Continues His Hot Streak, Jesper Bratt and Nico Hischier Score for Devils
The Devils' young core of Jack Hughes, Jesper Bratt, and Nico Hischier did not have any postseason experience before this series. The trio combined for only one goal by Hughes in Games 1 and 2 but did better in the team's two victories. In Games 3 and 4, Hughes tallied two goals, and Hischier and Bratt finished with two and three assists, respectively.
---
Latest News & Highlights
---
At all strengths in the first two games, Hughes finished second on the club with a 0.84 ixG created and first with 22 shot attempts (iCF). In Games 3 and 4, his 0.83 ixG ranked fifth, while his 11 iCF was third.
Bratt has been a top producer for the Devils during the last two seasons. In 2021-22, he finished tied for the lead in goals with 26 in 76 games, and he was second this year with 32 tallies in 82 contests. He is also one of their key point producers on the power play, leading the team with 22 points last season and finishing third with 22 points this year. If the club is going to defeat the Rangers in the first round, he needs to score goals.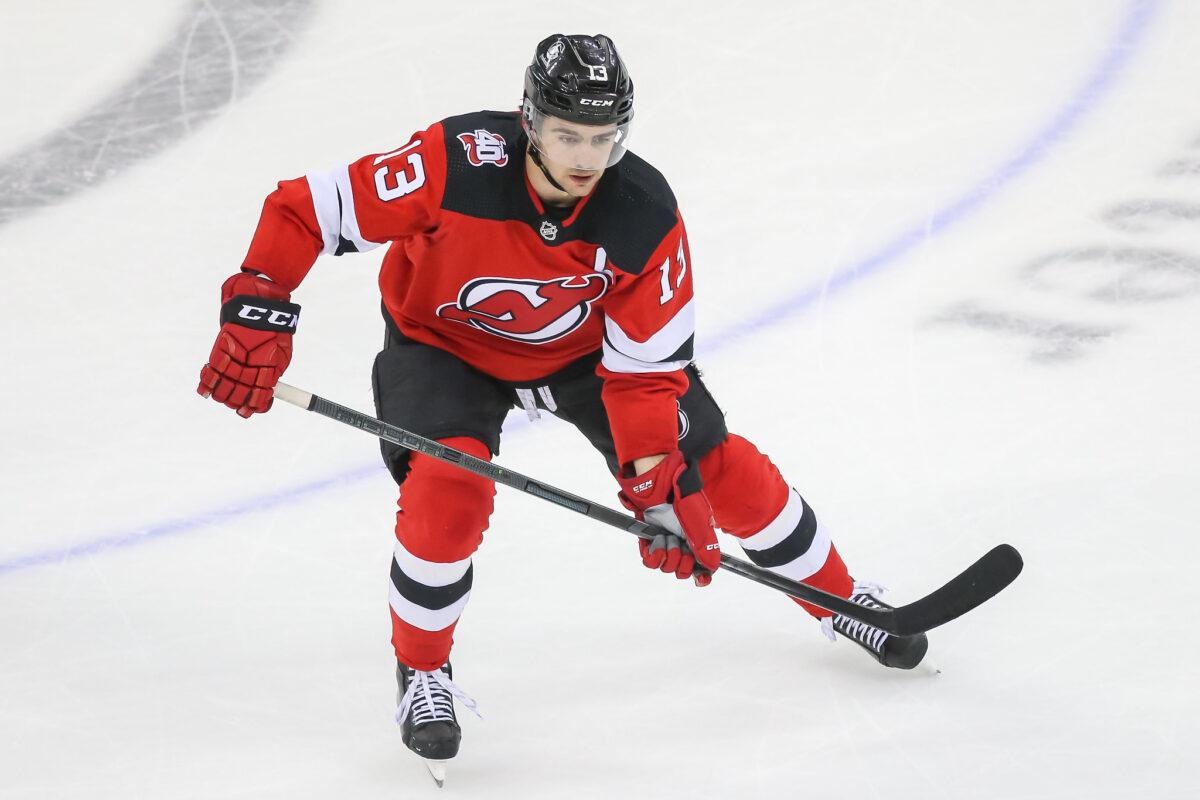 Hischier finished with a 0.67 ixG during Games 1 and 2 and improved in the following two contests with a 1.14 ixG to lead the Devils with a 1.81 ixG at all strengths. After struggling with injuries in previous seasons, he played 81 contests this season, with a career-high 31 goals, 49 assists, and 19 power-play points. He was direct when asked what New Jersey's mentality is heading into tonight's game, saying, "Win the game. We have some stuff we want to adjust and get better at. Bring a team effort again, our fans deserve it."
Devils Win 3-2 in Double Overtime, Take 3-2 Series Lead
Game 5 will be the most competitive game of the series, with a much improved Rangers club emerging following two disappointing performances on home ice.
Zibanejad will have a good game following disappointing contests at home. Look for the 'Kid Line' of Alexis Lafrenière, Filip Chytil, and Kaapo Kakko to generate plenty of chances, with Lafreniere scoring his first goal of the 2023 Playoffs.
Both the Rangers and Devils will battle tirelessly, but New Jersey will emerge victorious, by a score of 3-2, following a Hughes goal in the second overtime to give them a 3-2 series lead and an opportunity to win the series on April 29 at MSG. New Jersey is looking for their first postseason series win since 2012 when they lost to the Los Angeles Kings in the Stanley Cup Final.
The Devils have been rejuvenated thanks to Akira Schmid's play in goal and their defensive play. The Rangers can dominate games offensively as they did in the first two contests. Look for a close, nail-biting game as both teams vie for a commanding series lead.