Underwhelming. Stagnant. Lackadaisical. These are some of the words to describe the New York Rangers' offense following their 3-1 loss in Game 4 on April 24 to the New Jersey Devils. The Ranger fanbase had so much optimism the club would win the series following their 5-1 victories in Games 1 and 2 on April 18 and April 20, respectively. Now the positivity the fans had has evaporated within the last few days.
However, a team needs to win four games in a best-of-seven series, and the Rangers have let the Devils back into the series following their lackluster performances in Games 3 and 4. New Jersey needed the Game 3 win on April 22 to save their season as it is very difficult for a club to come back from a 3-0 deficit and win four straight games.
The Rangers had an opportunity to take a 3-1 series lead with a strong showing in Game 4 but instead turned in their worst performance of the series to date. The offense is to blame as the top six looked lifeless in their latest loss, which is inexcusable during this time of year. Let's take a look at why New York's star players have not done their part in their recent losses.
Panarin and Zibanejad Need To Begin Producing Instantly
Artemi Panarin and Mika Zibanejad, two of the Rangers' best offensive juggernauts, have not produced goals on the scoresheet through the first four games. If that does not happen beginning in Game 5 on April 27, New York will not win this series, let alone the Stanley Cup. They each have two assists through the first four contests, which is not ideal production from the team's best offensive playmakers.
The Rangers need to improve their play at 5-on-5 to win this series. In Games 1 and 2, they continued their effectiveness on the power play from the regular season as they went 4-for-10 on the man advantage. However, they struggled in that department during Games 3 and 4 as they did not have a goal on eight chances. New Jersey had one of the top-ranked penalty-killing units during the 2022-23 regular season, so they will make it difficult for New York to produce steadily on the man advantage moving forward.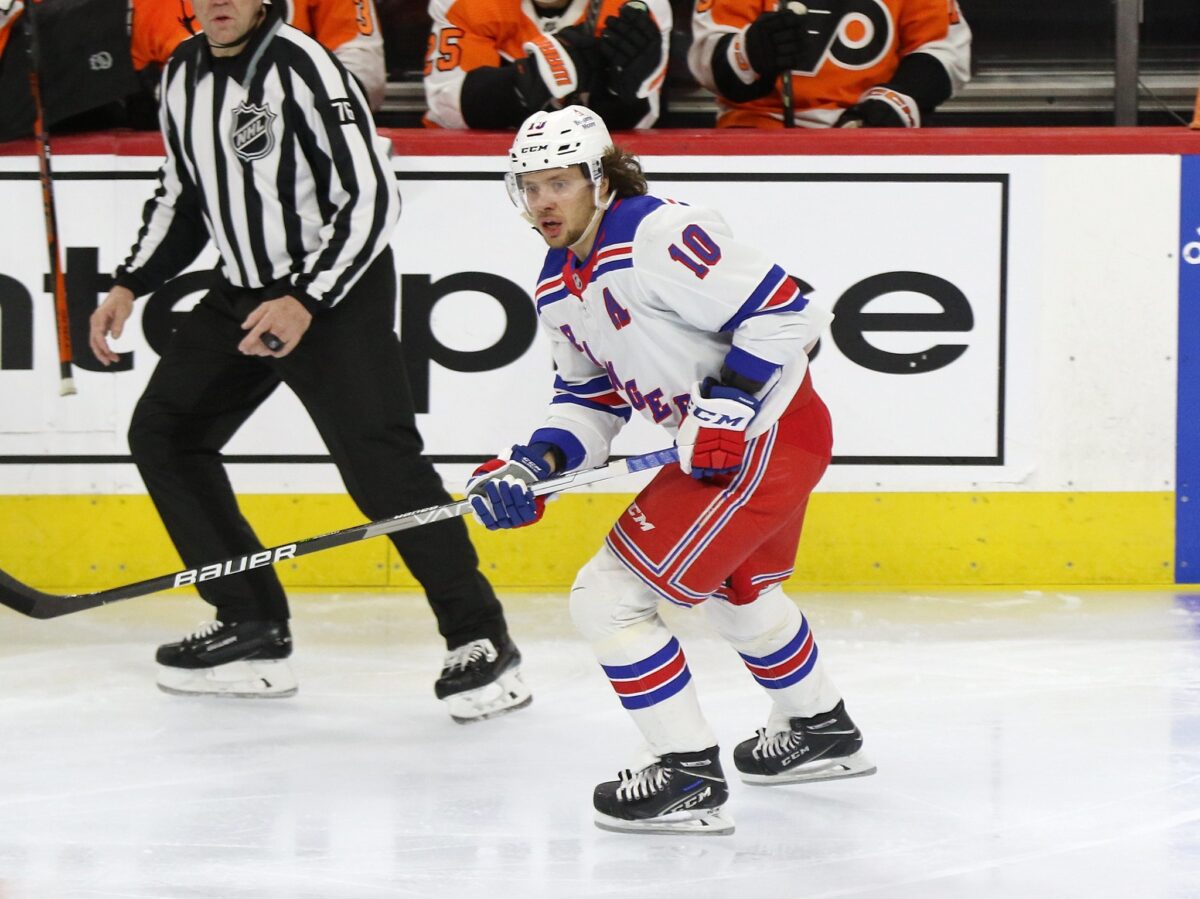 Panarin and Zibanejad, two of the three players with the highest average annual values on the team, at $11.642 million and $8.5 million, respectively, need to find a way to spark the offense at 5-on-5. In Games 3 and 4, Panarin had one shot on net while Zibanejad finished with zero. The Devils minimized their abilities to get adequate production on the net at even strength in their two wins at Madison Square Garden.
The two forwards have been stymied by the Devils' defense during the previous two games. If they do not produce at even strength, the Rangers' chances of winning the series drop. The duo must produce much more at 5-on-5 than two assists in four combined games.
Related: 3 Rangers 2023 Stanley Cup Playoff Predictions
---
Latest News & Highlights
---
Zibanejad only had two assists while Panarin had two goals and two assists at 5-on-5 through the first four games of the first-round series against the Pittsburgh Penguins in the 2022 Playoffs. Zibanejad picked up his production with two goals and two assists at even strength while Panarin struggled with one assist in Games 5-7.
Zibanejad had much to say following the Rangers' Game 4 loss, "We tried to do it all on one play instead of chipping away and earning our chances." (from 'Rangers are in big trouble if 'frustrated' Mika Zibanejad can't find his game,' New York Post, 4/25/23)
During Games 1 and 2, the Rangers took advantage of the Devils' miscues and gradually attacked their opponent over the course of 60 minutes. In Games 3 and 4, New Jersey was much more aggressive in preventing New York from creating sufficient chances, as they took advantage of their mistakes and their overall lazy style of play.

Zibanejad commented further about what he needs to do moving forward, "I can't let the fact that I haven't scored get into my head. I have to look to see what I can do to be more effective, to get into better position to get the puck to the net and to create. I have to trust myself."
Given Panarin's cap hit and ability as one of their top playmakers, it is perplexing why he has been unable to translate his regular-season production to the playoffs during his career with the Rangers. The pressure is on both he and Zibanejad to quickly figure things out beginning in Game 5 before the team ends up eliminated by their Hudson River rival.
Rangers Regressed Offensively and Devils Improved Defensively
The Devils had 17 turnovers while the Rangers had nine at even strength during New York's first two victories in the series. In Games 3 and 4, New Jersey had 19 turnovers while the Rangers had a whopping 29 giveaways. The losing team will most likely have more total giveaways in a game, therefore it is imperative New York stop turning the puck over.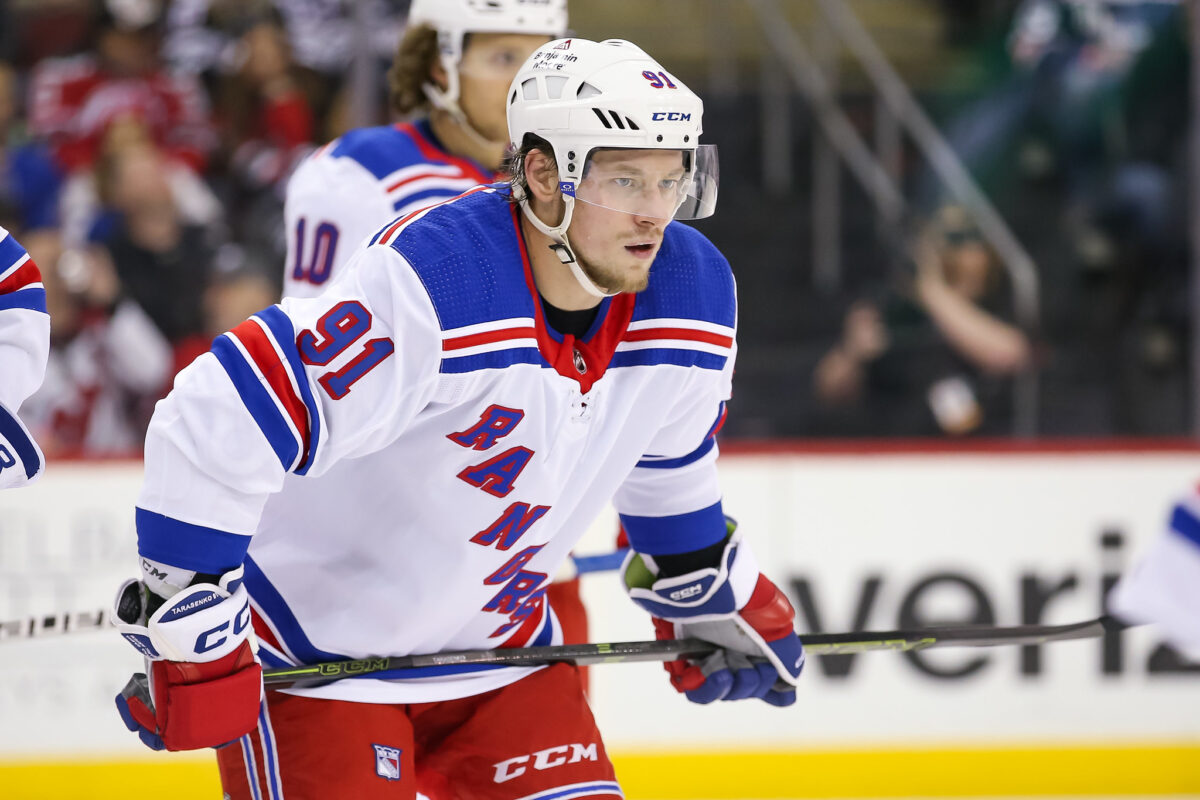 The Devils made plenty of adjustments following the first two games in the series in which they were not aggressive enough defensively. Vladimir Tarasenko led the Rangers with five giveaways in their two losses and has seven during the first four contests. He and Panarin, who play on the same line during 5-on-5 play, each committed three turnovers during Game 4. Head coach Gerard Gallant moved the duo up to the first line with Zibanejad in an effort to get a spark going.
The Devils kept the Rangers' chances to the outside and New Jersey did not give their opponent much room to work with in the middle of their own zone in their two wins. During Games 3 and 4 in front of Akira Schmid, the club finished with 30 shot blocks, which has allowed the Devils to have better goaltending during their two wins.
After the latest two games against the Devils, there are comparisons to last year's Eastern Conference Final in which they won the first two contests before losing four consecutive games to the Tampa Bay Lightning. After Games 3 and 4 against New Jersey, New York appears like they are running out of gas, which is how they looked in Games 3-6 against Tampa Bay.
By no means are the Rangers out of their series against the Devils, but they need to respond hastily. There was a lack of urgency to take advantage of their own home ice and now they need to win at least one more contest on the road to move onto the second round. The Rangers have the star power but need to execute much better than in the last two games to defeat New Jersey.
*Advanced statistics provided by Natural Stat Trick.