Now that the Ottawa Senators' 2022-23 season has ended, and we have had time to reflect on the season, including player grades and a public poll, it is time to shift gears to the off-season. Since the end of the 2021-22 season, Senators general manager Pierre Dorion has been quite busy. Acquiring Alex DeBrincat, and Jakob Chychrun and dumping Nikita Zaitsev were all net-positive trades, and signing Claude Giroux helped bolster the top six.
As for this off-season, while Dorion has lots of work to do, it doesn't all just fall on him to make sure this off-season is looked at as a success.
Managing The Cap
Now, this is more of a blanket statement before getting into the specific things that the Senators need to figure out, but let's have a quick look at what kind of money the team has to work with this off-season.
In terms of players who are expected to be locked for the NHL roster, the Senators have $40,528,214 spent on eight forwards (Brady Tkachuk, Josh Norris, Tim Stutzle, Giroux, Drake Batherson, Mathieu Joseph, Mark Kastelic and Parker Kelly) for the 2023-24 season.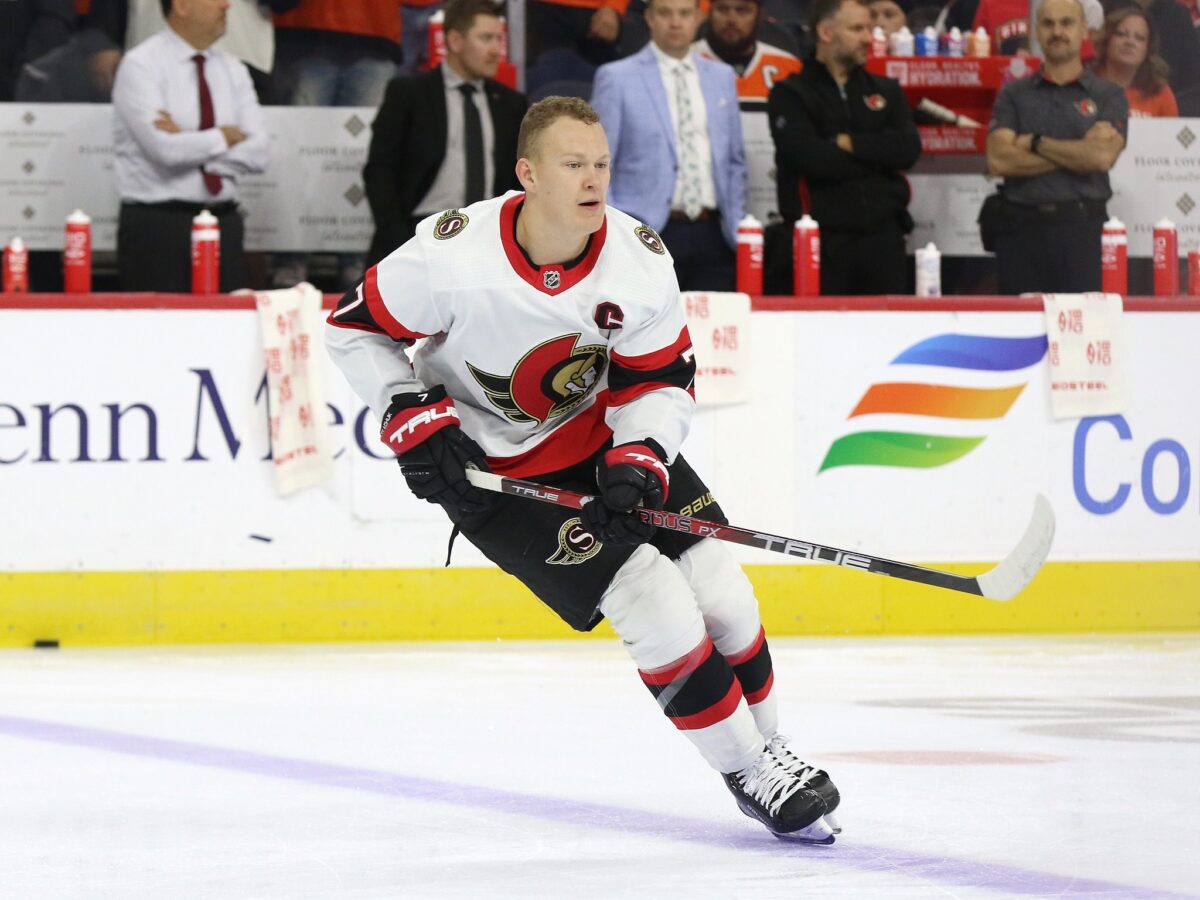 On defense, they have five players signed who finished the season on the NHL roster (Thomas Chabot, Jakob Chychrun, Artem Zub, Jake Sanderson, Tyler Kleven), totaling $19,041,667.
In the crease, they have Anton Forsberg and Mads Sogaard under contract, who may very well be the tandem headed into next season, and they add up to $3,675,000.
---
Latest News & Highlights
---
The Senators also owe money to Bobby Ryan, Colin White, Michael Del Zotto, and Matt Murray for next season, equating to $5,020,833.
So, in total, the Senators have eight forwards, five defensemen, and two goalies on the current NHL roster signed, plus their dead money, for a total of $68,265,714, giving the team $14,234,286 to play with. This is all I will be talking about in terms of specific dollar amounts, as some contracts that we will talk about are extremely unpredictable, and it is Dorion's job to fit it all under the projected $82.5 million ceiling.
Figure Out the Alex DeBrincat Situation
Unless you have been hiding from the internet, you are all well aware that DeBrincat is a restricted free agent (RFA), and his future with the team is yet to be determined. He is due a one-year, $9 million qualifying offer (QO), which Pierre Dorion said he would give DeBrincat and still hopes to find a long-term answer.
DeBrincat has expressed his uncertainty about staying, and while he hasn't said he isn't interested, the hesitancy could be a bit concerning. After acquiring him, DeBrincat had a down year based on the expectations that were given to him. In a vacuum, he had a good year, but his 27 goals are much less than anticipated. Over the past three years combined, there is no question that DeBrincat is an $8.5 million player at the very least, but after his one year in Ottawa, Dorion may be hesitant to dish out that kind of money.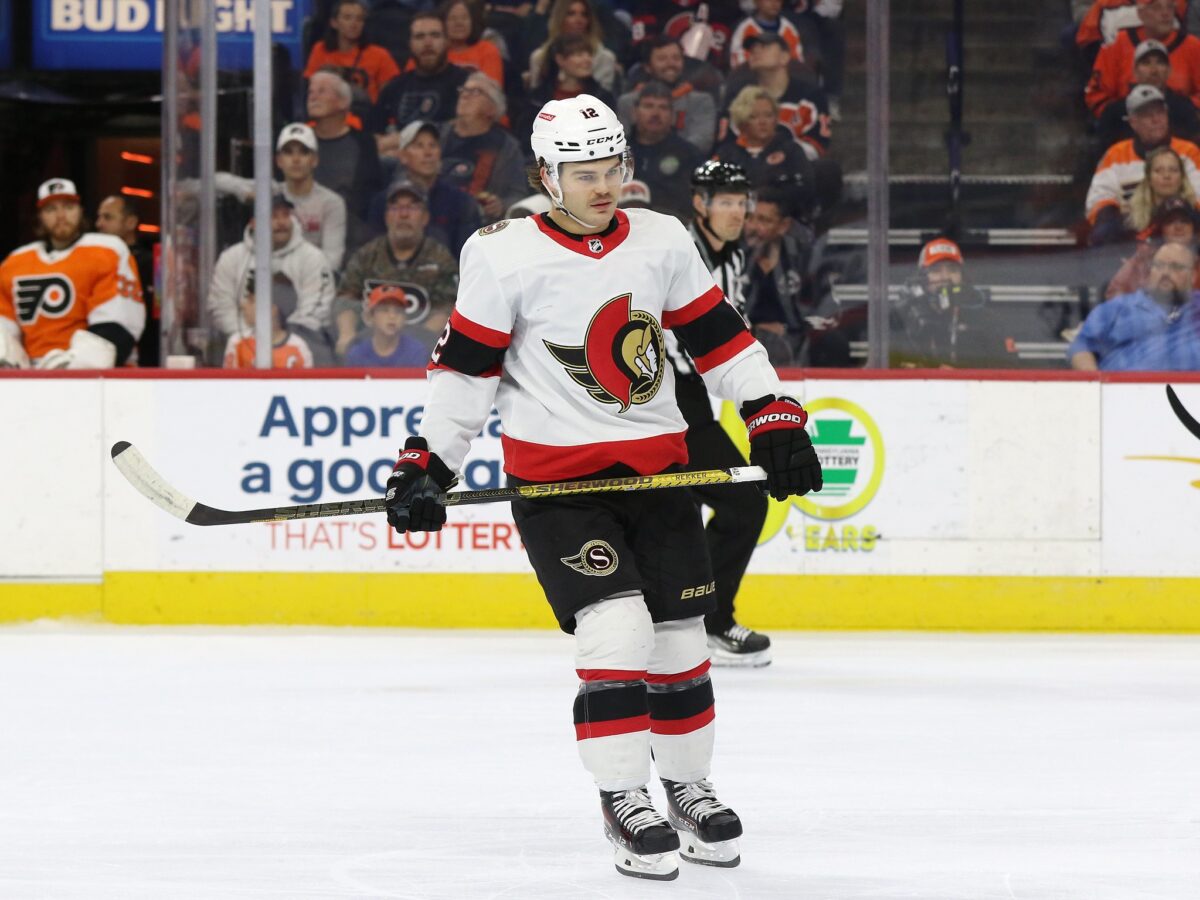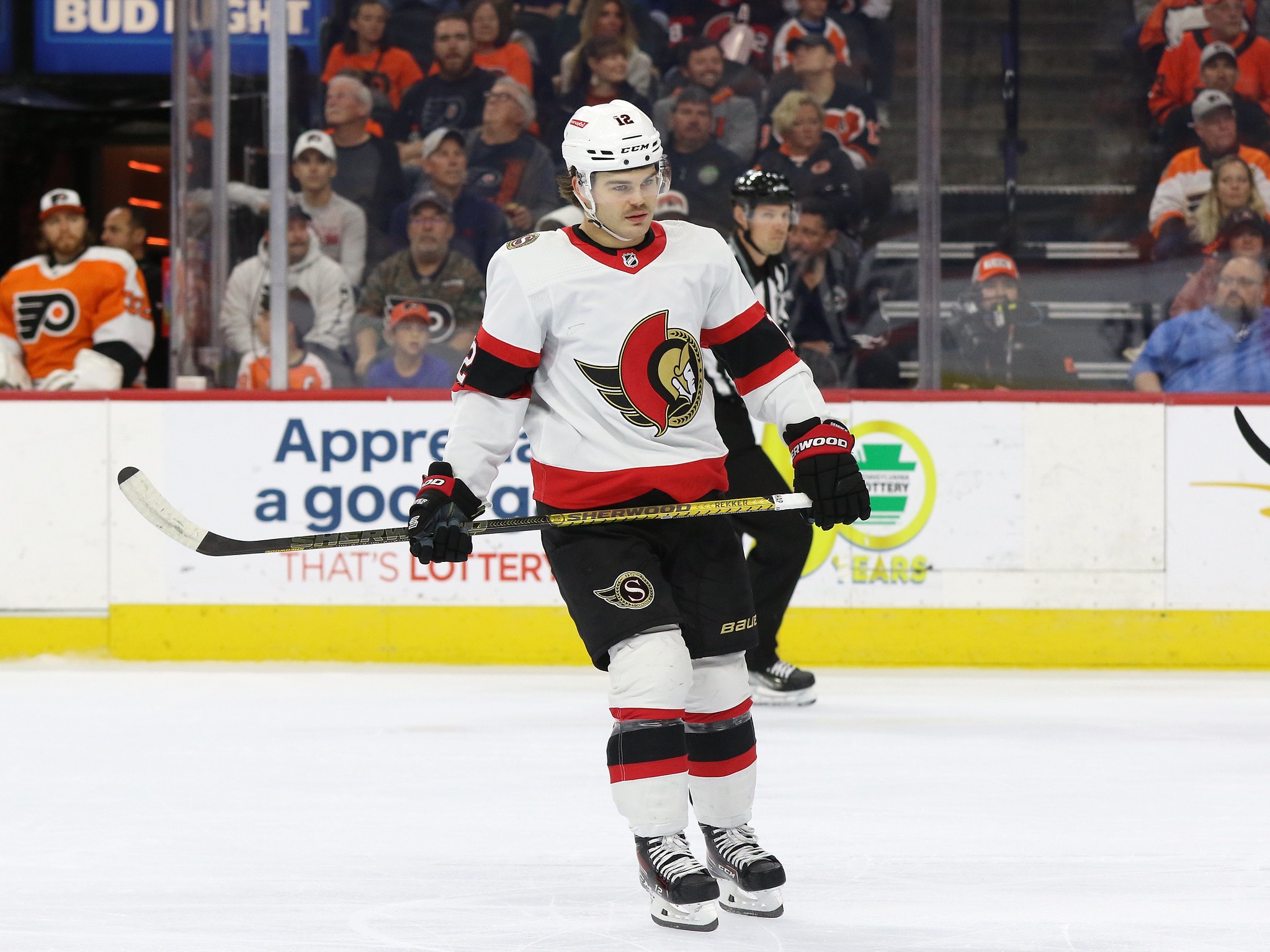 The idea of trading DeBrincat sucks. It's not often that you have the chance to acquire a proven 40-goal scorer, especially for the price Ottawa paid. Now, they have lost all leverage in the trade market with him. This is his final year of RFA eligibility, and if he accepts his QO, that will walk him right to unrestricted free agency next year. DeBrincat did say that he will let the team know his intentions before the draft, which is set to be June 28 and 29. DeBrincat and his agent hold all the cards, and if he doesn't intend to sign long-term he will likely be traded before the season begins. He still holds a good amount of value, and there is the possibility of him being involved in a trade to address some of the other needs we are going to talk about.
The biggest issue in all of this DeBrincat contract stuff is that if it comes to the point where trading him is the only option, all of a sudden, you are immediately looking for a replacement for a high-octane scoring top-six winger.
Questions in the Crease
The Senators announced they won't offer Cam Talbot another deal to stick around in the nation's capital, and while that makes the trade look even worse, we have to move on from it.
Currently, the tandem the Senators are headed into next season with is Forsberg and Sogaard. Both are NHL-quality goaltenders, but I am not sold on that duo quite yet. Forsberg has shown he is a capable starter/1A option, but with a very young goaltender with less than a full season in the NHL, I don't know if Forsberg is the guy to lead the way.
As for Sogaard, he had some very good signs of strong development throughout the year, and while his stats may show that he had a poor performance in the NHL this season, you have to look at the games he was playing in. During the final stretch of the season, Sogaard was the number one option. He shouldn't have had to be put into that position in the first place, but with injuries, the pressure was on. He kept the Senators in most of the games he played in and was rarely the reason the team lost the game. However, he didn't steal them any, either. He is only young, and this year will play a pivotal role in his development, but he is ready for NHL duties.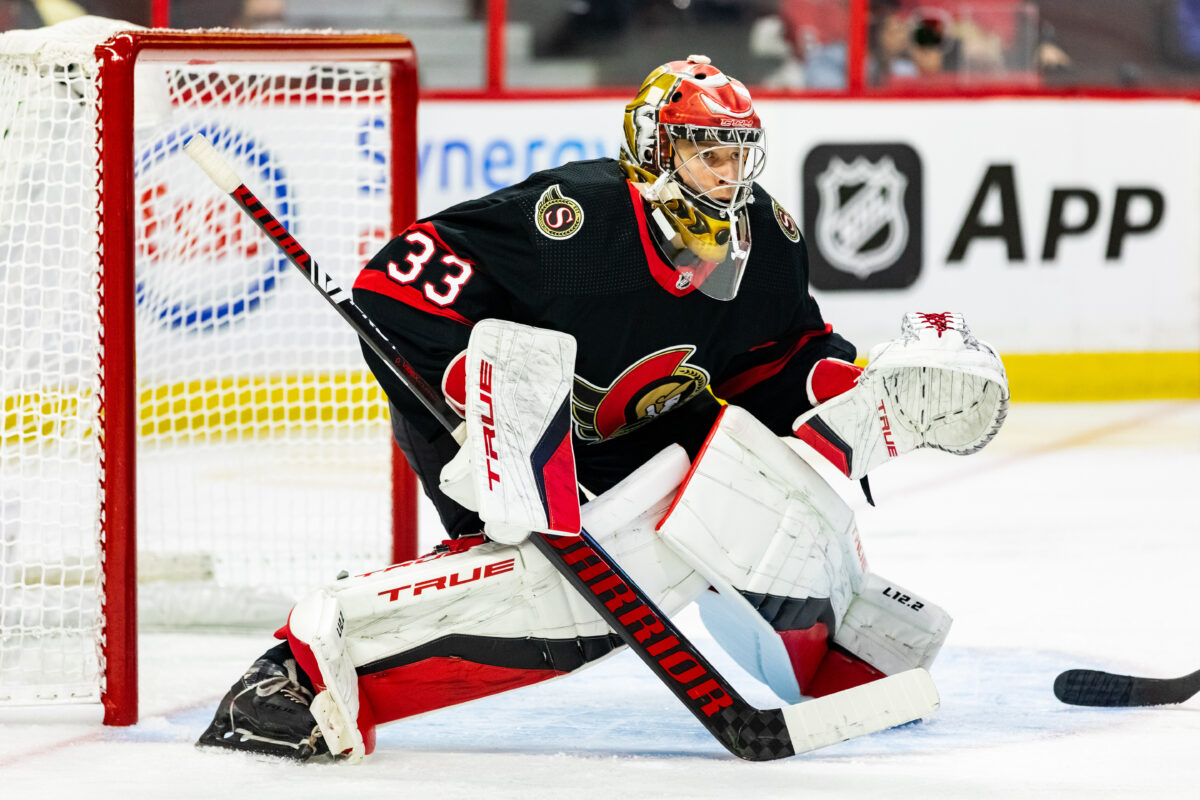 In terms of free agency, there are quite a few options, but none stand out as big fish for the Senators to target. Frederik Andersen, Tristan Jarry, and Semyon Varlamov lead the way, and while they may be some attractive names to many, there are certainly plenty of concerns with their consistency and play.
Related: 3 Reasons the Senators Missed the 2023 Playoffs
Some names floated around the trade market include John Gibson, Carter Hart, and Thatcher Demko, and some have wondered if Nashville would be willing to move on from Juuse Saros if they continue to sell assets.
Regardless, the Senators need to make goaltending a priority to address in the off-season, and while nobody can really prepare for their 7th-string goaltender to have to play games while healthy, they need to have confidence in the crease.
Upgrading the Bottom-Six
The Senators' bottom six disappointed this season, and their production levels hurt the team. Of course, better health in the roster will improve that, especially with the return of Norris. There are quite a few options for the bottom six right now, but the team desperately needs to add some scoring to the group.
The projected bottom six for next season could look a bit different depending on who you ask, but based on who they have, who is likely to get a contract, and who played well enough, let's say that, at this moment, the projected group is Mathieu Joseph, Shane Pinto, Ridly Greig, Mark Kastelic, Austin Watson and Parker Kelly.
I will say it again, this team needs a desperate upgrade from this group. These six players had a total of 363 games, scoring 42 goals and 46 assists. That brings the average production to nine goals and 10 assists. That isn't horrible, but if you take out Pinto, who played the majority of the season on the second line, the other five had 281 games, averaging out to four goals, and eight assists for 14 points. That is far from good enough.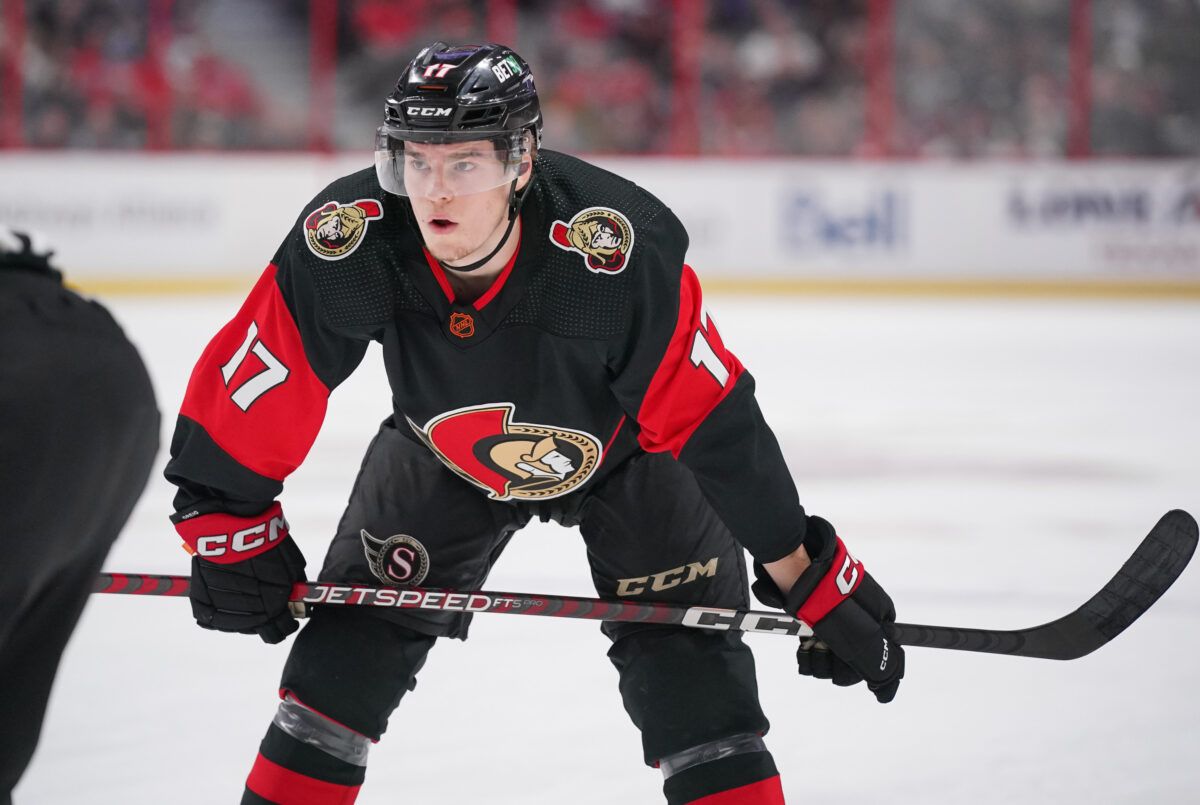 There are a lot of options to cycle through, and at this point, Pinto and Greig are the only players that are almost certain to be on the NHL club on day one of the regular seasons, and there is a good case for Kastelic and Joseph too, but with Joseph, it is mostly due to his newly signed contract. The Senators could move on this summer to free up some cap space and find a cheaper option, or let it ride out and see if he can rebound.
While some are without contracts, the rest of the bottom six is still to be determined, but with the crop of players they have right now, they need to add a strong middle-six winger. The perfect mould for that would be none other than Connor Brown.
Dealing With Pending Free Agents
Whether it be an unrestricted free agent (UFA) or an RFA, the Senators have their hands full this summer. Luckily, they already have Stutzle locked up to an excellent contract, and Kastelic was already given an extension, but there are still some key players for Dorion to make a deal with.
Starting with the UFA's:
Travis Hamonic
Derick Brassard
Austin Watson
Patrick Brown
This isn't a huge list, and none of these players will make or break the roster. Travis Hamonic is likely to return, as he and Dorion expressed interest in keeping him in Ottawa. There was a lot of controversy when Dorion acquired him from the Vancouver Canucks, but he has been a really solid veteran option for the team.
Brassard joined the team on a professional try-out and exceeded all expectations. His future is still up in the air, but he was one of the best bottom-six options the Senators had all season. Netting 13 goals and 10 assists is a good way to stick around in the league.
Watson and Brown are both potential candidates to return, but if the Senators are going to make an upgrade, they need to keep space for it. Watson has been around for a little bit now, and he has brought some good energy to the team. I wouldn't mind seeing him back, but if it is at the cost of that upgrade, then there shouldn't be much talk about what to do. Same with Brown, he was solid for the team since being acquired at the trade deadline, but isn't anything special for the team. He was an underrated pickup who played some decent hockey, but the Senators have too many people for the role he would be playing.
In terms of RFA's to negotiate with this summer:
Alex DeBrincat
Erik Brannstrom
Shane Pinto
Julien Gauthier
Dylan Gambrell
We don't need to talk much more about DeBrincat. Get him signed. He is an important piece to this team, and if he isn't signed and has to be moved, the team is immediately looking for a replacement that they don't have internally.
Erik Brannstrom has been the headline of some of the latest Twitter controversy. Some believe that due to his size, along with the third-pair role he has, there isn't a place for him on this roster. I disagree with that and think that he is a perfect option for that spot. Sure, with Thomas Chabot, Jakob Chychrun, and Jake Sanderson they have lots of firepower to handle, but with Chychrun's injury history and Chabot's growing concern, it is nice to know you have a fully capable defenseman to throw into the top-four and play on the power play when need be.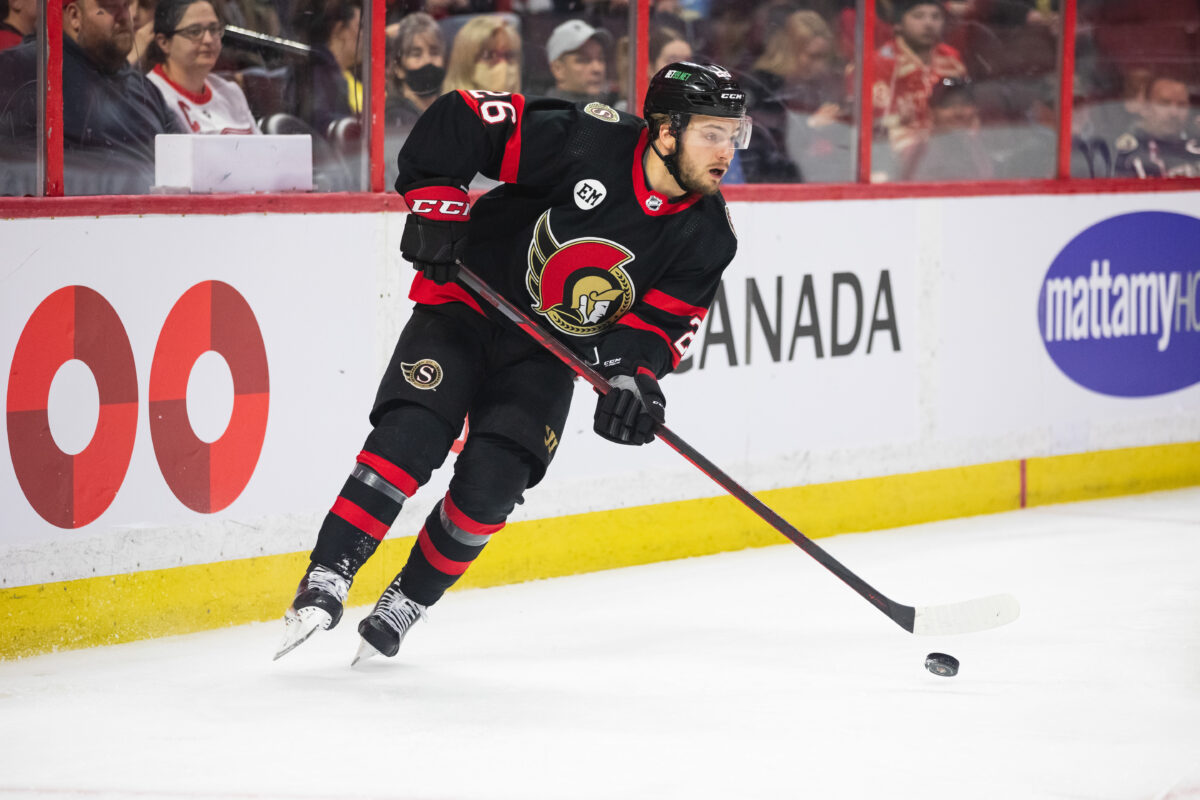 Brannstrom's game has developed very well. He plays great defense, moves the puck extremely well, and the only knock against him this season is his size, which nothing can be done about. I think the Senators should look at a contract close to four years at as low of a dollar amount as possible. I think he is going to take a big step production-wise, even in the role he is in.
Pinto is a no-brainer to re-sign. The Senators will likely look to get a bridge deal done to allow a bigger contract to be signed when they have more cap flexibility and give Pinto a chance to really show what he is capable of.
Gauthier and Gambrell are two expendable bottom-six players that spent a lot of time scratched with the Senators. Gambrell is a decent option if you want to throw out a line that makes nothing happen each way, but again, as I mentioned with Brown, there are enough players to fill that gap.
Gauthier is the one that I am skeptical about. I think him re-signing would be taking a spot away from an upgrade, and while there are some flashy and attractive parts to his game, like his skating and shot, he hasn't shown that he has all of the tools to put together a complete enough game for a full-time NHL spot.
More Than Just That
The Senators, while they will be busy with all of the things mentioned above, have plenty more to deal with. The draft, free agency, the trade market, and figuring out the ownership and what changes with that.
It will be an important off-season as the "Summer of Pierre" follow-up, but this off-season could really get this team on track for success next season.
---
---