With their 6-4 loss to the white-hot Minnesota Wild on Thursday, the New York Islanders are back in the Metropolitan Division basement. Their 14-15-6 record through their first 35 games proves the Isles have plenty of room to improve. From inconsistent defense, spotty scoring and undependable goaltending, the fact that the Isles are still within the NHL .500 is almost a miracle. With the new year almost upon us, here are a few changes that desperately need to be made for the Islanders to get back in the playoff picture before it's too late.
Make Thomas Greiss the Permanent Starter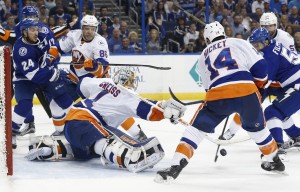 JF Berube is in an awful situation. He barely gets playing time and when he does, it's a spot start or scraps. He's a talented young goaltending prospect and is being wasted away. Jaroslav Halak, on the other hand, has been given far too much of a chance. He needs to go. His 3.23 GAA and .904 save percentage just haven't gotten it done. While the Islanders defense has been inconsistent as well, Greiss' numbers are far better (2.49 GAA, .922 save percentage). If the Islanders have any chance of saving this season, it's on Greiss' back, not Halak's.
Give the Young Forwards a Real Chance
Anders Lee's hot streak aside, many of the Islanders youngsters have only shown glimpses of promise. Matt Martin, Kyle Okposo and Frans Nielsen were allowed to jump ship was because it was thought there were in-house replacements. That hasn't happened. And it appears it won't happen at this point of the season.
From Shane Prince and Alan Quine to Ryan Strome and Anthony Beauvillier, the Islanders have too many players on the roster that offer the Islanders uncertainty. Playing time is the only solution. The good news is that Quine has shown potential with Andrew Ladd and Jason Chimera. So too, Strome is playing well with Nikolay Kulemin and Cal Clutterbuck. If this season ends with the Islanders not making the playoffs, the most productive thing they could do is get answers. They need to know what type of players they have moving forward.
Trade Dennis Seidenberg, Allowing Adam Pelech, Scott Mayfield or Ryan Pulock to Play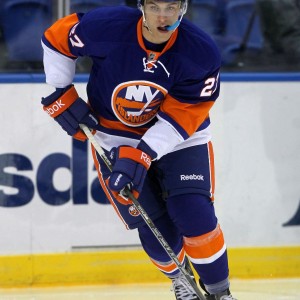 After Seidenberg played well at the World's, the Islanders acquired Seidenberg on the cheap this offseason. He's been the team's best defenseman. Ironically, it's been one of Garth Snow's best moves during his tenure as Isles GM.
Seidenberg's been an All-Star, produced offensively and added a calming influence in his own zone. He's also helped with the development of Calvin de Haan. Seidenberg's value is at its highest right now and the Islanders are in desperate need of offensive help — help they could get if they package Seidenberg with someone else. With Pelech, Mayfield and Pulock itching to play, this move will hurt. But it makes more sense long-term.
Learn to Protect a Lead
The Islanders have been in pretty much every game they've played this season, sans the three games they got decimated by the Tampa Bay Lightning. Most of the time, it's come down to them not being able to hold on to a lead late in games. The Islanders were a far more resilient bunch last season. You always got the feeling that as long as they were within a goal, they could win. They skated harder late in games and they didn't take bad penalties late in games. If the Islanders can only manage one of these resolutions, playing better in the third period is the best way this team can get back on track.