The New York Islanders have scored three or fewer goals the past eight games.
In the NHL, it doesn't matter who your goaltender is when your offense is that mediocre, you're not going to win.
Still carrying three goaltenders, the Islanders haven't made a decision on third-string netminder JF Berube, but after their 2-1 OT win against the Calgary Flames on Monday, it's obvious they have to make one. Thomas Greiss needs to be the Islanders' number one goalie. However, he is not the player that can single-handedly save their season. At the same time, he's proven time and time again that he can be the calming presence this snake-bitten team needs to climb out of the Metropolitan Division cellar.
Greiss is Nice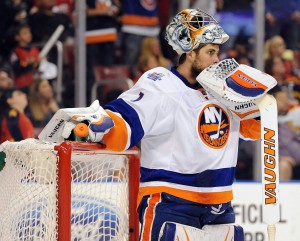 With a 4-4 record, 2.42 goals against average and a .920 save percentage this season, Greiss is the only player on the team with respectable stats. Add the fact that Greiss had an awful game on Nov. 1 against the Lightning, giving up three goals in 14 minutes, and his solid stats appear even more solid.
With John Tavares is struggling to get back to a point-per-game, former first-round pick Ryan Strome is riding the bench and off-season acquisitions Andrew Ladd and Jason Chimera have failed to impress, clearly, the Islanders' problems aren't limited to goaltending but it's still a cause for concern.
Jaroslav Halak's discontent about the current goaltending situation and Greiss' promotion make sense, right now. Greiss hasn't complained once since he joined the team and stood on his head in the playoffs against a Florida team that should have beaten the Islanders and a Tampa Bay team that should have swept them. Why does that not mean anything?
Simply put, when are the New York Islanders going to realize that Greiss is the guy? With Berube in the wings as well as KHL standout Ilya Sorokin, the Islanders need a goaltender that they can ride for the next season or two. At 30, Greiss can be that guy. Although he's never played more than 41 games in a season, Greiss has proven he can play a lot down the stretch. Now playoff-tested as well, there's no reason why he shouldn't be the Islanders' starting goaltender.
Halak Needs to Relinquish Mantle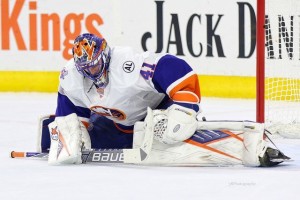 Although Halak is an undeniable first-string goalie and played well in the World Championships, he's been erratic this season. Through 13 starts, his 3.08 GAA and .904 save percentage says a lot. The Islanders' strength has been their defense and, aside from a few generally poor performances, it's been their offense and Halak's play, late in games, that has pushed them into the Metropolitan Division cellar. At least with Greiss in net, they have a chance to win.
While it's fair to say Halak is getting the majority of playing time this semester due to the fact that the Isles are shopping him around to anyone interested, the Islanders' season could be a different one if Greiss is given an opportunity to run for a handful of games.