Holland's Future With Maple Leafs
The Toronto Maple Leafs and forward Peter Holland may be parting ways sooner than later. Holland's agent, Joe Resnick, reportedly met with general manager Lou Lamoriello over the phone and a decision was made for Holland not to accompany the Maple Leafs out west for their three-game road trip.
Peter Holland wants to play, wanted to go on #Leafs trip, but opted not to after talking to Lou/his agent. Trader/waivers could be coming.

— Kristen Shilton (@kristen_shilton) November 29, 2016
Holland, 25, has skated in eight games in 2016-17, registering an assist and averaging just 10:43 of ice time — oftentimes a healthy scratch from the team's lineup. It's not the start to the season he wanted after signing a one-year, $1.3 million contract to stay in Toronto on July 25, 2016.
Despite signing the contract, however, this situation wasn't outside of the realm of possibility, given the events that occurred this offseason.
This Peter Holland stuff with the Leafs has been brewing a long time. Was waived in summer. Minutes from arbitration hearing. Now benched.

— James Mirtle (@mirtle) November 29, 2016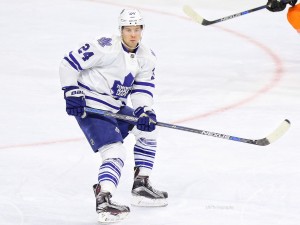 A restricted free agent after posting an NHL career-high 27 points in 65 games in 2015-16, the Maple Leafs put Holland on waivers on July 22, just days before his scheduled arbitration hearing on July 25.
At that point, the Maple Leafs looked at losing Holland altogether or being in a more favorable position to re-sign him at a cheaper price if he cleared, by using it as leverage in contract negotiations.
Holland cleared waivers and signed a one-year deal just before arbitration. At the time, he figured to slot into a regular roster spot and build upon last year's success. That, however, has not been the case in the early going of the new season and things seem to be reaching a head in Toronto for both player and club.
Holland saga is interesting. My sense..he absolutely wanted to go on Leafs trip west in hopes of playing. Seems like trade or waivers next.

— Darren Dreger (@DarrenDreger) November 29, 2016
Jets' Little Returns
The Winnipeg Jets will receive some much needed offense with Bryan Little set to make his return to the lineup when the team hosts the New Jersey Devils on Tuesday.
#NHLJets activate Bryan Little from injured reserve, and place Nic Petan on IR retroactive to Nov. 27.

— Winnipeg Jets (@NHLJets) November 29, 2016
Little has been out with a lower-body injury he suffered in a collision with Carolina Hurricanes defenseman Bryan Bickell in the Jets' season opening 5-4 overtime victory on Oct. 13.
Little, 29, registered 17 goals and 42 points in 57 games with the Jets in 2016-17 and figures to provide offensive punch for a Jets team that enters Tuesday's contest having lost five of their last six games, while tallying just nine goals.
The Jets are currently 16th in league scoring, averaging just 2.6 goals per game, despite boasting the NHL's third leading scorer in center Mark Scheifele (12 goals, 24 points).
"He's such a big part of our team… to have him back is huge for our line-up."

Scheifele on Little's return, and November's schedule. pic.twitter.com/lLIbHawNMB

— Winnipeg Jets (@NHLJets) November 29, 2016
Blackhawks' Toews Out
The Chicago Blackhawks will be without captain Jonathan Toews for the third straight game when they face the Florida Panthers on Tuesday.
Toews was injured during the Blackhawks' 2-1 loss to the San Jose Sharks on Nov. 23 and has not returned to the lineup. He has registered 12 points in 21 games in 2016-17 and was leading the league with 292 faceoff wins at the time of his injury.
Head coach Joel Quenneville spoke about Toews' status before the team's morning skate on Tuesday.
WATCH: Coach Q provides an update on Jonathan Toews, previews Florida and more after today's morning skate in Chicago. #CHIvsFLA pic.twitter.com/mTyGfYRsW2

— Chicago Blackhawks (@NHLBlackhawks) November 29, 2016
Odds and Ends
— The Edmonton Oilers host the Toronto Maple Leafs on Tuesday, marking the second matchup in the young careers of Connor McDavid and Auston Matthews. Their first meeting on Nov. 1 resulted in both players being held scoreless in the Maple Leafs' 3-2 overtime victory. Tuesday's game will also be the first one played in front of a nationally televised audience in the United States, as NBC Sports Network will show the game at 9 pm ET.
"(The Leafs) put a pretty big emphasis on not letting me up the middle with speed… It's something I'll have to figure out." @cmcdavid97 pic.twitter.com/nQ5fZPoage

— Edmonton Oilers (@EdmontonOilers) November 29, 2016
— Interim head coach Tom Rowe will make his debut behind the bench for the Panthers when they take on the Blackhawks on Tuesday. It will be the team's first game action since head coach Gerard Gallant was fired by the organization on Nov. 27.
"The immediate impact is going to be in the defensive zone."

Hear more from @GoldieOnIce's one-on-one with Tom Rowe pic.twitter.com/F9k5uLRcuk

— Florida Panthers (@FlaPanthers) November 28, 2016
— The New Jersey Devils will be without forward Beau Bennett during Tuesday's game against the Winnipeg Jets and he is considered day-to-day, according to an announcement by the team.
Beau Bennett suffered a right leg laceration at the end of practice yesterday. He did not make the trip to Winnipeg & will not play tonight.

— New Jersey Devils (@NJDevils) November 29, 2016
— Devils goaltending prospect Scott Wedgewood underwent successful surgery to repair a torn labrum in his right shoulder on Tuesday. Wedgewood, 24, is expected to miss six months as he recovers.
#NJDevils provide injury update on G Scott Wedgewood: https://t.co/EDXFalJlHW pic.twitter.com/6R7r7iBce6

— New Jersey Devils (@NJDevils) November 29, 2016
— Colorado Avalanche forward Gabriel Landeskog is day-to-day with a lower-body injury, according to the Denver Post's Mike Chambers. He's been 'generally shut down' right now, Avalanche head coach Jared Bednar said on Tuesday.
On-ice portion of his recovery has been aborted. Probably needs a week of skating before he plays. Could be weeks. https://t.co/DHNeY9rhWH

— Mike Chambers (@MikeChambers) November 29, 2016
— Oilers defenseman Mark Fayne cleared waivers on Tuesday, according to Hockey Night in Canada's Elliotte Friedman.
— Dallas Stars play-by-play announcer Dave Strader joined the team in Detroit on Tuesday before they faced the Red Wings. Strader, one of hockey's most respected personalities off the ice, has received an outpouring of support from the hockey community this season after announcing he was undergoing treatment in his battle against cholangiocarcinoma, a rare and aggressive form of cancer.
Dave Strader (@TheVoiceDS) is in Detroit with the team, and he spent the morning catching up with Dallas Stars players and coaches. pic.twitter.com/F3G1PNIxg5

— Dallas Stars (@DallasStars) November 29, 2016
Dave was also presented with his Emmy for his coverage of the 2016 Stanley Cup Playoffs (Round 1, Game 2, #MINvsDAL). pic.twitter.com/Z4mCnD9Jp3

— Dallas Stars (@DallasStars) November 29, 2016
— The University of Nevada – Las Vegas Rebels men's hockey team has been approved for membership in the American Collegiate Hockey Association's Division I beginning in the 2017-18 season. The Rebels become the most westward Division I club hockey team — a major accomplishment for hockey in Nevada as the state prepares for NHL hockey the same season.
For Immediate Release: @achamensd1 Approves University of Nevada – Las Vegas to Men's Division 1.

Beginning in the 2017-2018 season. #UNLV pic.twitter.com/IYkHMFy58j

— UNLV Rebel Hockey (@UNLVRebelHockey) November 29, 2016
— The Eastern Collegiate Athletic Conference has suspended St. Lawrence junior Nolan Gluchowski and Quinnipiac senior Connor Clifton each for one game after hits to the head that took place in separate incidents.
— The Western Hockey League's Saskatoon Blades have banned cell phones at the rink for practices and games, according to a new rule by head coach Dean Brockman. The decision was made in order to minimize distraction and increase mental focus.