The Islanders dropped their opening night game against the Devils at home 2-1.
The game started on a surprise note when it was revealed that coach Jack Capuano would have to miss the game due to sudden surgery due to kidney stones.  Dough Weight took his place for the night.
The Isles struggled to mount any sustained offensive pressure.  They finally scored their loan goal in the third period on a power play drive by Travis Hamonic.   However, they quickly let the Devil's regain the lead just a minute and five seconds later.   The game exposed definite concerns that this squad would struggle with creating offense, a problem a season ago.  Suddenly, it was easy to point fingers at an offseason that failed to upgrade the potential scoring personnel.
Last season the Islanders opened up at home and were shut out by the Florida Panthers. At least they scored one this time.
Monday's afternoon game hosting the Tampa Bay Lightening was a different story.  A win in their second game was now crucial considering they are embark on a five game road trip.
After a scoreless first period with the Tampa Bay lightening the Islanders had suddenly only scored one goal in four periods of play.   Then Michael Grabner scored on a breakaway.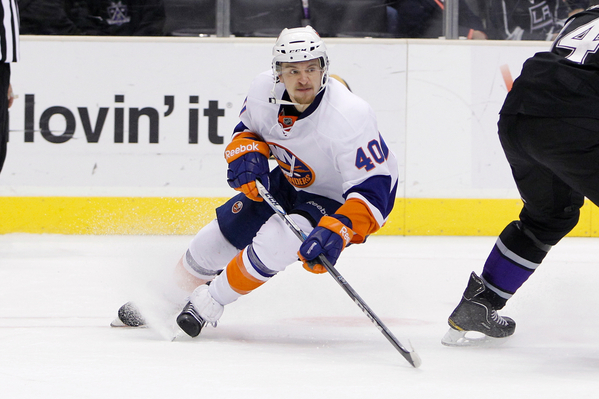 Last season Grabner failed to repeat his stellar 34-goal season from his rookie year in 2010-2011.   He had a few bursts in the first game, and with his inherent speed, the hope is Grabner will regain his scoring touch and have more goals like the one he had today.   Matt Martin added to the lead after catching a pass on his way out of the penalty box.  The energy player, who led the NHL in hits last season, looked like a natural goal scorer beating Lightening goaltender Anders Lindback  on the breakaway.  It's something Martin, fans and his teammates hope to see more of.
Kyle Okposo also scored.  Okposo had a slow start last year, and took most the season to find his scoring touch.  This year he is on the wing of the top line with John Tavares.  The Isles are looking to him for consistent scoring and this goal starts him on the right path.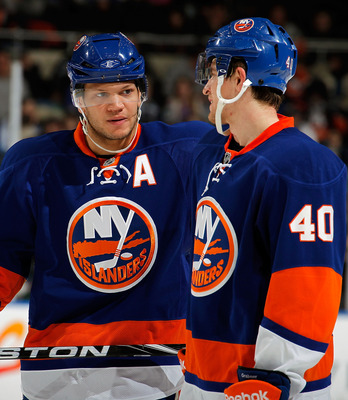 A fourth goal was added on a dazzling give-and-go between newly waivers-acquired Keith Aucoin dishing a pass back to David Ullstrom who popped it under the cross bar.
The Islanders had four goals from four players.  John Tavares set up two of the goals and had the kind of game the organization as learned to expect from their star player.  Nabokov was also strong early and earned his first win of the season in net.
The game was far from flawless as the Islanders almost let the win slip away.  The Lightening scored three consecutive goals after the Isles's fourth in the third period.  The Bolts ended up taking two penalties late negating their chance to tie it.  The Islanders survived with a regulation win, but must figure out why they almost succumbed to a late game meltdown.
Still this shows improvement over last year, as this is the kind of game the Isles may have blown completely.
In the course of two games, the Islanders have already shown signs that they have improved since last season, giving reason to continue to press forward and see just how big their strides can be.
They play back-to-back in Toronto and Boston Thursday and Friday respectively, and face the Jets in Winnipeg on Sunday.
Jeff is a writer of short stories, screenplays, comics, and plays. He's also a filmmaker, and a mens division 4 ice hockey goalie in Los Angeles, California. Originally from New York, he is a life long Islanders fan and excited to see them move to Brooklyn in 2015!