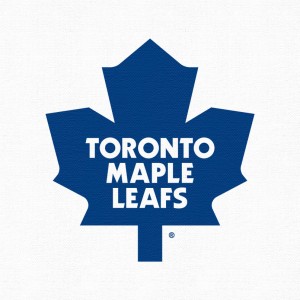 Marred in a two-game scoreless streak, Toronto Maple Leaf forward James van Riemsdyk will be given a chance to strut his stuff on the second line when Sidney Crosby and the Pittsburgh Penguins play host to the Blue and White Wednesday night.
Playing on the third line with Nazem Kadri and Leo Komarov, JVR failed to register a point through two contests and had just three shots on goal. A shift to the second line will now see JVR team up with veteran centre Mikhail Grabovski and former 30-goal scorer Nikolai Kulemin, and see Clarke MacArthur bumped to the third unit.
Acquired in an off-season trade which saw defenseman Luke Schenn head to the Philadelphia Flyers, JVR was originally pegged to become the Maple Leafs first line centre. With little experience at the centre position and with Tyler Bozak re-establishing good chemistry alongside Joffrey Lupul and Phil Kessel, JVR found himself on the third line playing with the offensively gifted Kadri and shift-disturber Komarov.
MacArthur, Kulemin and Grabovski combined to be one of the NHL's most potent trio's throughout the 2010-11 season, combining for a total of 177 points (80 goals, 97 assists).
Last season the trio of MacArthur, Kulemin and Grabovski struggled to find their chemistry, ending the season with a combined 121 points— 56 points less than 2010-11.
Grabovski slipped from 29 goals and 29 assists (58 points) in 2010-2011 to 23 goals and 28 assists (51 points) last season. MacArthur's 21 goals, 41 assists (62 points) in 2010-11 slipped to 20 goals and 23 assists (43 points) last season, while Kulemin had the biggest drop with 30 goals and 27 assists (57 points) in 2010-11 to a paltry seven goals and 21 assists (28 points) last season.
At 6'3" and 200 pounds, JVR will bring a measure of size to the second unit. Clearly, Maple Leafs head coach Randy Carlyle is not willing to wait for the trio of MacArthur, Kulemin and Grabovski to re-establish the chemistry they enjoyed in 2010-11.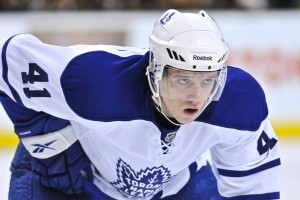 Last season former head coach Ron Wilson tried several line combinations involving MacArthur, Kulemin and Grabovski in an attempt to get the trio going. In the end, nothing Wilson tried worked out in the long run, a fact Carlyle is probably very cognizant of.
The Maple Leafs have scored three times in the first two contest with Kadri lighting the lamp twice. With the Maple Leafs' top unit of Phil Kessel, Joffrey Lupul and Tyler Bozak also struggling to find the back of the net, Carlyle will look to bring a more balanced attack against the high-flying Penguins.
It is still early, but with just 48-games to be played this season even the slighted losing streak could have a huge impact on a teams ability to make the playoffs. With three games in the next four nights JVR will see plenty of action in which to impress Carlyle. Should JVR manage to bulge the twine and/or get Grabovski and Kulemin going he should stick. If not, expect more changes and Carlyle looks to find the right line combinations.