Round Goes to Larsson
Apparently it was okay for Johan Larsson to punch Jeff Skinner after he had gone down onto the ice. This happened during a match Tuesday night in Raleigh between the Buffalo Sabres and the Carolina Hurricanes:
Larsson swinging away at Skinner on the ice. He sits for 2 minutes… #BUFvsCAR pic.twitter.com/4o6o49TTKu

— Cooper Elias (@coope87) March 23, 2016
Larsson got a two-minute penalty for roughing for his repeated punches to Skinner's head, a head that has been on the receiving end of several concussions over the past few years. Apparently it's okay since Larsson was landing the blows onto Skinner's helmet. Considering the league's stance on player safety, it was odd the way the entire event played out.
Here's another view of the action:
This angle shows both officials were watching Larsson. Still only 2 minutes… #BUFvsCAR pic.twitter.com/vD3HBS2nXV

— Cooper Elias (@coope87) March 23, 2016
I particularly like the official looking over his shoulder at Larsson punching Skinner, while skating away from the situation. It may be a case of looking worse than it was when it happened, but while it was going on it looked pretty rough. Makes one wonder if that were Sidney Crosby getting punched repeatedly while on the ice, if the refs would have skated around like they did with Skinner.
Also apparent during the scrum was a lack of any real enforcement help for Skinner. It does appear that Jaccob Slavin comes to Skinner's aid to get Larsson off of him after several well placed, unobstructed punches, but I found it odd that the officials and Skinner's teammates basically left him to fend for himself.
The bout definitely went to Larsson, but what was really going on is a question that is worth pondering.
What's up Skinner?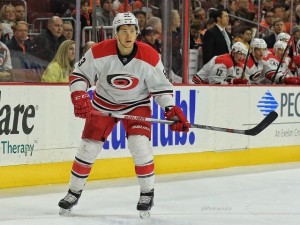 Skinner seemed to be out of sorts for a good part of the game leading up to the butt-kicking from Larsson. It seems that he was mouthy and playing with a chip on his shoulder that is certainly uncharacteristic. After the game, Skinner offered this explanation:
"You don't forget the previous plays. I just felt like some of the things were on the line and some of the things were over the line. There's only so much you can take before you don't take it anymore, really."
Apparently not taking it anymore didn't work out so well, as Skinner not only took it on the head from Larsson, but from the officials, also.
Skinner was penalized two minutes for slashing, two minutes for roughing and 10 minutes for misconduct. On the bright side it was a record night for Skinner in penalty minutes received.
Kerry Fraser of tsn.com has an excellent breakdown of the incident in totality. I'm not going to put it all in this article, but in summary, Fraser writes that Sabres defenseman Rasmus Ristolainen had gotten under Skinner's skin and perhaps he was transferring some of that frustration and emotion toward the officials with some lip service. (Fraser does not indicate whether mentioning anyone's mother was included in Skinner's verbal blasts).
In summary Fraser wrote,
"Since we don't know what was said to the referee, it is impossible for any of us to discern why Skinner was assessed a 10 minute misconduct. I would hope that good judgment was utilized and Skinner had sufficiently crossed the line to earn this heavy sentence in a spirited second period."
The bottom line is that Skinner said something that he should not have said and the officials made him pay the price.
Teachable Moment
Hurricanes head coach Bill Peters said after the game that the events of the second period presented a teachable moment for his young team. Peters said,
"We'll have a good opportunity to teach tomorrow about frustration, controlling your emotion and sacrificing individual rights for team rights, especially when the game's on the line. We'll have a good conversation … learn from it and move on."
Peters is old school and maybe part of that teaching will include reminding his young team that you don't just stand around while your leading goal-scorer is down on the ice getting his head bashed in. Maybe it's time to bring back Tim Gleason after all.
Mark lives in the Raleigh, NC area and covers the Carolina Hurricanes.