Granted, Olli Maatta has been through a lot: multiple shoulder surgeries, a procedure to remove cancerous tissue from his thyroid gland, the mumps and a back-ailment after being unkindly pushed into the board-door by Minnesota's Nino Niederreiter, you name it.
All of it within the last two years. All of it before turning 22 years old.
Maatta's Natural Talents Invisible
It's no wonder that these set-backs have left a mark. Do you remember that smooth-skating finnish rookie defenseman? You know, the one that would never get caught out of position. The one that didn't turn the puck over and if for once he did, resolved the issue all by himself. The kid that looked one way only to pass the other – tape-to-tape, naturally.
Do you remember all the buzz around the league about Olli Maatta, the next Nicklas Lidström?
It has vanished. What's left are inconsistency, flat-out fear to make a play, lack of contribution and many costly turnovers. At times he shines, at times he disappears before he gets noticed again, just, not in a benevolent context.
Olli Maatta, all sympathies aside, has been largely responsible for the plays that decided both games the Penguins have lost in this year's post-season.
It's a lot to ask from a 21-year old, to be Kris Letang's defensive conscience, sure. But, you know he's got it. The Pens know it. They better know, because they've just committed a bit over $26 million over the course of the next six years for this kid.
Where To Go From Here, Coach?
Even from a writer's standpoint, it's rather daunting to see him struggle the way he does. With that being said, this year presents a chance that hasn't been there for more than a decade.
Not since the Carolina Hurricanes have won the Stanley Cup in 2006 has the race for hockey's grand prize been more wide-open. For the Pittsburgh Penguins, this presents the chance to build on Sidney Crosby's and Evgeni Malkin's legacy. The opportunity to live up to the expectations that have been raised when the Pens picked Malkin second overall in 2004.
Even though the Washington Capitals have all the pressure in their second round matchup, you can not afford to let this occasion slip away if you're the Penguins. They have the depth and talent to carry out the feat. It's all there.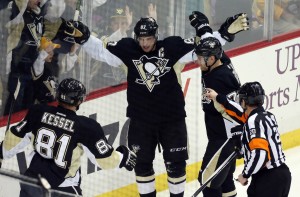 Except for Olli Maatta. You simply can't trust this kid to be the steady force you need on your top defensive pairing to win a Stanley Cup this year. Olli Maatta is the Penguins' big liability and it could be a very costly one.
The signs of flaws have been there down the stretch, they have also been there in game 2 against the Rangers and they've been clear for everyone to see again last night in Washington.
It's okay to make a mistake, but it's naïve to make the same mistake twice.
Or three times, Mr. Sullivan.
Hi, I'm a 27-year-old hockey maniac from Switzerland who's studying Communication with a major in journalism at Zurich's college of applied sciences. When I'm not busy learning about the game or from books, I like cooking, watching films and going out or jamming with friends in my little home-studio.