In his third season with the Detroit Red Wings' AHL affiliate the Grand Rapids Griffins, Martin Frk evolved from a former second-round pick to a legitimate scoring winger.
Originally drafted 49th overall back in 2012, the 22 year-old Frk has taken the long road to show NHL potential. Frk finished his third professional season with 27 goals and 44 points, putting him fifth on the team.
In his first professional season, Frk posted three goals and 12 points in 50 games. He failed to better himself in his sophomore year, tallying just six goals and another 12 points, albeit in 18 fewer games.
The Czech Republic native is a right-handed shooter, which makes him a rare commodity in the Detroit organization given that the Red Wings boast only the often healthy scratch Teemu Pulkkinen and defenseman Mike Green and Alexey Marchenko as the only right-hand shots on the team.
His team-leading 193 shots on goal would go a long way for a team that had continued struggles at putting shots on net and gathering rebounds. It also shows he played this year with confidence and that same confidence could make a push to make next season's opening day roster.
Of course one good season doesn't mean a player is ready for the NHL, but with a continuing youth movement in Detroit and unrestricted free agents Darren Helm, Brad Richards and Drew Miller, as well as Ken Holland's recent declaration to more heavily pursue trades in the offseason, there are likely spots to be earned.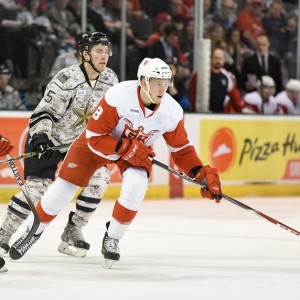 In helping the Griffins clinch their fourth straight playoff berth, Frk continued his stellar play by leading the team's sweep of the Milwaukee Admirals. In three games, Frk posted a goal and three assists, tying Anthony Mantha with four points in the series.
If Frk can continue his success and help lead the team deep into the playoffs, he will only help establish a standout spot in this coming fall's training camp. His chances are helped with the solid chemistry he and linemate Mantha have shown in the AHL.
Mantha's NHL call-up in late March showed he has the ability to play in the NHL with his size, goal-scoring ability and IQ.
Frk may inevitably be another year away from the NHL if the Red Wings decide to give him another AHL season to prove himself and potentially over-ripen. But his NHL debut can't be far off with a continued knack for shooting and putting the puck in the net.
I offer opinions and insight on the Detroit Red Wings organization and its prospects.