After a long period of uncertainty, it's official. Patrick Kane will be returning to the Chicago Blackhawks' lineup in time for game one of their first round series against the Nashville Predators. He has been skating in practice alongside Brad Richards and Kris Versteeg on a line that saw great success when it was together this season.
The Implications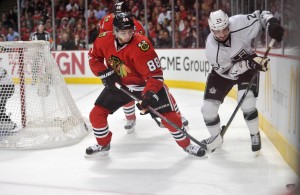 This certainly helps to tip the scales in Chicago's favor in this series. When I made my prediction of Chicago in 5 in a previous article, I kind of figured that Kane would be able to make his return in time for the majority of the series. This confirms that, and now I feel even more confident in my original pick.
Nashville will have to make a difficult choice in whether to assign the Josi-Weber pairing to the Toews line or to the Kane line. In this very real scenario of picking their poison, perhaps it would be best for them to split the two star defensemen up so one of them can be on the ice against both of Chicago's top two lines. This is something that Nashville certainly has the blue line depth to do, I could see a Franson-Weber pairing and a Josi-Jones pairing doing a reasonably effective job in this role.
Showtime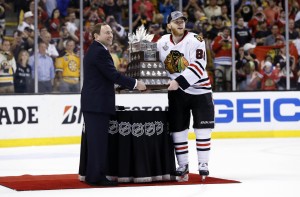 Kane's return means that the Blackhawks will have their most prolific scorer and top playoff performer for the entirety of their playoff run. Patrick Kane's current mark of 0.979 points per game in playoff competition is good enough to put him at 37th all time in league history in that regard.
He's ahead of some impressive names on that list. Darryl Sittler, Stan Mikita, Adam Oates, Sergei Fedorov, and Steve Yzerman all fall short of the flashy American winger, just to name a few.
If Chicago can get past Nashville and likely St. Louis to reach the Western Conference Final, they'd likely be the heavy favorite over whoever were to advance out of the Pacific Division's portion of the bracket. If this comes to fruition, look for Kane to make a big run at his second Conn Smythe Trophy as the Most Valuable Player of the Playoffs. If his play in this year's regular season before his injury is a sign of things to come, Kane will be a terror for any potential Blackhawks' opponents to have to worry about.
Great to be back for the playoffs. Thank you to all the great fans for the many well wishes over the last seven weeks!

— Patrick Kane (@88PKane) April 14, 2015