After being drafted by the Philadelphia Flyers in the seventh round of the 2015 NHL Entry Draft, goalie Ivan Fedotov had a good season in the MHL with Reaktor Nizhnekamsk. During the offseason, he was traded to Salavat Yulaev Ufa, then attended the Flyers development camp. In this translated interview, originally appearing on Russian website sportbo.ru, Flyers prospect Ivan Fedotov discussed the development camp and his chances for the 2016-17 season in the KHL.
* You can enjoy the original article in the Russian language by Maxim Nikerin here [has been removed]*
Maxim Nikerin – Hello Ivan. Are you just back from Philadelphia?
Ivan Fedotov – Yes, I had my first practice [in Russia] today. I landed [in Ufa] on Friday, then on Saturday I had my medical examination with foreign players. All is good, we started preparing for the season. We had our tests, then we'll fly for our camp and the preparation will be really serious.
MN – What impressions did you get from the tests?
IF – I had very good impressions. Every serious team has to do that, they have to check the players' condition after the vacations. Thanks to those tests you can understand how the players worked during the offseason. I think that it is right. I also think that all the players passed the examination and are all in good conditions.
MN – You finished your run at the latest position within your group. You don't like running or what?
IF – I think that I didn't have a good run this time. Maybe it's just some acclimation problem, after all, I just came in from America. I won't tell you lies, I don't really like the Cooper Test. I managed to have good results in it in the past, but not this time, unfortunately.
MN – The team played some soccer and you played as a goalkeeper there. But your linemate [former Boston Bruins Niklas] Svedberg played as a forward.
IF – Everything happened quite mechanically. All the players started going to the field in different positions, and I mechanically went backward. I thought that I could just use my [hockey] game if needed.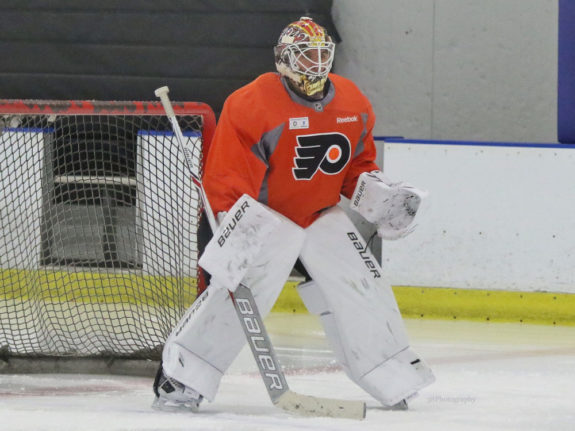 MN – How did you like the Flyers development camp?
IF – I liked it a lot, everything was great. All the practices were at the highest level. I learned a lot of things and I know I'll have to work on myself. The atmosphere was good, the guys were friendly and very well-trained. Now I do know what my goals should be, therefore I'll work hard and try to show myself in my better side.
MN – Was the Flyers camp attended by any other Russian player?
IF – Yes, by Ivan Provorov and Radel Fazleev. We were together at the camp. I lived with Radel there, he's a very good guy. I was lucky to have them there because I had some problems with the language. After a bit, I started understanding, but I had some problems and needed their help. I think that this camp has been very useful for me.
MN – Did the team have a good reaction at your participation in the camp?
IF – Yes, of course. I told them that I wanted to participate in the Flyers' camp in order to practice better for the new season and that it would be useful for me. I participated in a goalie camp in Finland, then in America, as I was invited. The team was really ok with that.
MN – This year Salavat has many goalies on their roster. Are you ready to compete with them and with Svedberg to play?
IF – Salavat is a good team, a team with the highest goals. Of course, the team will have many goalies and all goalies who want to play and are ready to fight to become the starting goalie. I will try to showcase myself as better as I can.
MN – Did the coaches promise you that you will be Svedberg's backup?
IF – We had some talks, but now all the goalies are at the same level, and you have to work hard and show that you're better than others. For now, the only thing is that I'll fly to [Salavat Yulaev training camp] in Latvia.