Jacob Ingham
2016-17 Team: Mississauga Steelheads (#1)
Date of Birth: June 10, 2000
Place of Birth: Barrie, Ontario
Ht: 6'3" Wt: 181 lbs.
Position: G
NHL Draft Eligibility: 2018 first-year eligible
Rankings
NHL Central Scouting: 13th (among NA Goalies)
Future Considerations: 82nd
ISS: 2nd (among Goalies)
In 2016, the Mississauga Steelheads drafted Jacob Ingham in the second round and 26th overall in the OHL Priority Selection. Ingham, at the time, was playing for the Barrie Colts Minor Midget AAA team and had joined the OJHL's Orangeville Flyers for a couple games during the 2015-16 season.
But in 2016-17, Ingham jumped right into the mix with the Steelheads, playing 31 games for them during the regular season and collecting a 17-6-3 record with a 2.69 goals against average and .907 save percentage. While he used his rookie year to turn heads in Mississauga and around the OHL and amongst NHL scouts, his sophomore year didn't play out quite as well.
RELATED: THW's 2018 Draft Guide
He finished 16-22-2 in 43 regular season games. His goals against average skyrocketed to 3.65, while his save percentage plummeted to .880. Opponents started finding holes in his game and his positioning just wasn't as sound as it had been in his rookie season.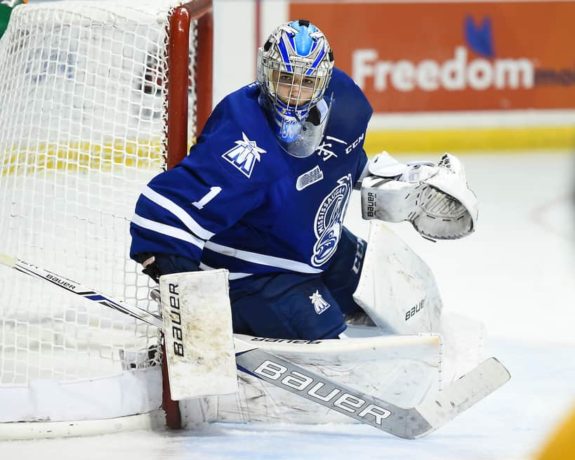 He has a number of areas that he will need to bounce back in – including his ability to find pucks in front and the quickness of his glove hand, but he's the type of player that can develop in the right situation. While his 2017-18 season may have bumped him down the ranks slightly, don't expect it to hurt his overall chances when it comes to – one day – cracking an NHL roster.
Other THW Draft Profiles:
Jacob Ingham – NHL Draft Projection
With a plethora of options when it comes to positional players in this year's NHL Draft, the goaltenders will likely fall a bit on draft day. For Ingham, that could mean that he might have to wait until the third or fourth round to hear his named called. That said, it'll depend on how the dominos fall and how many teams are looking to draft goaltenders.
Quotables
"Ingham entered the season as one of the top draft prospects among goalies and has found a way to maintain his standing despite showing critical technical flaws in his net awareness and glove-hand positioning. The good news is that Ingham's coverage of the lower-half of the net is outstanding, and his flexibility and range of motion allow him to stop second and third chances, specifically if there's a radical directional change. The width of his butterfly flare looks appealing, and Ingham's feet appear to be planted and set when squaring himself to the shooter. Unfortunately, his glove hand is not quick enough for it to be positioned as low as he keeps it, especially when couched low and deep inside the crease." – Dobber Prospects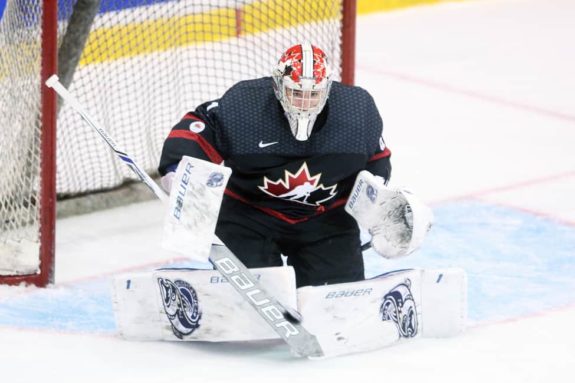 "Something happened to the technique we saw a season ago. The opposition was able to exploit differences in his game. Where he had previously played big in his crease, he was being beaten up high. While he is very athletic, his post-to-post movement seemed to have changed and he would get caught "cheating" off the short side post. Ingham's ability to fight through traffic also appeared to take a step back. He had trouble finding the puck in battles out front and that would leave the bottom of the cage exposed as he tried to fight for sight of the puck….Ingham is very athletic. He gets out to the top of the paint quickly. His post-to-post movement is also very quick. He has shown an ability to control his rebounds. His glove hand could use some improvement. With Ingham, it will come down to coaching. He has an excellent work ethic and there is no doubt he will put in all the work required. It will come down to working on and tweaking his technique." – Dominic Tiano/OHL Writers
Strengths
Post-to-post movement
Size and athleticism
Under Construction (Improvements to Make)
Glove hand
Visibility in battles
Quickness
NHL Potential
At the beginning of the 2017-18 season, Ingham was considered one of the better goaltending prospects. However, he showed a number of weaknesses over the past year which could make it even harder for him to land a spot in the NHL within the next five years. That said, he is willing to learn and put the work in which could be beneficial in the right hands. If nothing else, he should make for a good glorified backup one day.
Risk-Reward Analysis
Risk – 4/5, Reward – 3/5
Fantasy Hockey Potential
Goaltending – 6.5/10
Awards/Achievements
While he didn't do much to add to his career achievements this past season, Ingham did turn heads in 2016-17 when he was named to the OHL's First All-Rookie Team. He was also a part of the silver-medal-winning Canadian team at the U17 World Hockey Championship that year – playing five games and posting a 2.15 goals against average and .927 save percentage.
Interview/Profile Links
Videos