The San Jose Sharks have been successful over the years finding defenders late in the draft or as unrestricted free agents. Current Sharks Dylan DeMelo and Justin Braun were both found late in the draft. Former Sharks Matt Irwin and Matt Tennyson both saw time with the club before moving on to roles with other teams.
And ahead of the 2016-17 season, Wilson again looks to have found a defensive prospect. Wilson reached back to his former junior club, the OHL's Ottawa 67's, and found a bruising young defender in Jacob Middleton.
Kings Pick to Barracuda Regular
Originally an eighth overall pick by the Owen Sound Attack in the 2012 OHL priority draft, Middleton was shipped to the 67's during his rookie year. Over the next three and a half years in Ottawa, he did not put up gaudy offensive statistics (86 points in 226 OHL contests) but developed a sound defensive game.
Middleton, 20, was originally a Los Angeles Kings draft pick as the Sharks southern rival selected the 6'3, 212-pound rearguard with the final pick in the 2014 NHL Entry Draft. So why is Middleton now with the San Jose Barracuda and not a few hundred miles south?
"No reason really, besides the fact there wasn't a National League contract on the table. Just kind of weighed things out and saw a lot of opportunities here in San Jose. Can't be more grateful than I already am for that chance I got here now," said Middleton.
[miptheme_quote author="Barracuda head coach Roy Sommer on Jacob Middleton" style="pull-right"]He was a guy that had to wait his turn. The first ten games he didn't play much, he just practiced and got better that way. He's turned out to be a big part of our success this year.[/miptheme_quote]
Middleton was a free agent when he received an invite to the Sharks development and rookie camps. The rest, as they say, is history.
"I got an invite to the development camp, and I really enjoyed all the development camp staff," said Middleton of his summer in San Jose before being offered a contract. "[Mike] Ricci and [Brian] Marchment, the whole coaching staff everyone was a pleasure to be around and made the decision easy come training camp when I got the offer."
Defense First Mentality
When asked what he considers the hallmark of his game, there was no delay in his answer.
"Probably my defensive play. Keeping close gaps, staying strong, being aggressive and those kinds of things, said the native of Wainwright, Alberta. "'Mouge' (Barracuda assistant coach Ryan Mougenel), Coach Sommer, the whole development staff they've been great bringing my defense to another level."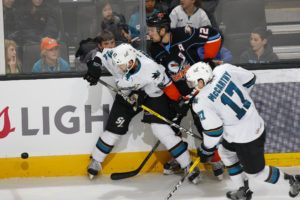 Despite difficulty getting into the Barracuda line-up in the early going, Middleton has cemented a role with San Jose's top affiliate club. Since Dec. 10, he has skated in 27 of 33 games, and outside of a three-game injury stint, he's been part of the lineup since the start of 2017. On a team of skilled defenders, Middleton is a throwback. He has six assists in his rookie campaign, but that is not what the Barracuda look for from the big left-handed defender.
"He's a classic defensive defenseman. He ends plays in our end, the other team comes in, and they don't get a cycle or any kind of motion," said head coach Roy Sommer of the 20-year-old defender. "Then he gets the puck. It's on his stick then off his stick and up to the forward. He doesn't spend a lot of time in his end.
"He's kind of like a Paul Martin," Sommer continued. "He plays that similar style. He's hard to play against. He goes into the corner, and you know you went into the corner with him."
Jacob Middleton: Versatile Addition
Middleton has also played up and down the pairings, skating at times with veteran Dan Kelly, Julius Bergman, and Joakim Ryan as other Barracuda defenders have been up with the Sharks. While locking down a spot in the line-up, the work is ongoing, as it always is in the American Hockey League.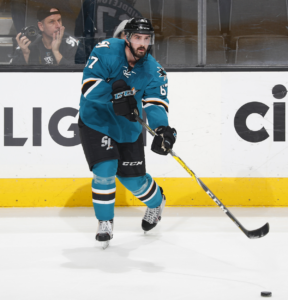 "I have to work on my footwork a lot. The play is back and forth, and our forwards are so fast and so quick. One of the main things I try to do especially not being as offensive as some of the other defensemen, is getting that puck in the forwards hands as quick as you can. You know once they get it, the magic is going to come and start happening. So if we can get the puck to them quick and get [the forwards] working in the offensive zone where they want to be, good things will happen, like they have been."
The skilled forward group in San Jose helps keep the defensive pressure off as well.
"When you're playing on the offensive blueline as opposed to your goal line, it's a lot more fun and a lot easier."
Stepping from the OHL to the AHL
So what has been the difference between his big minutes for Ottawa in the OHL and his time with the Barracuda? Everything Middleton says.
"Everything, it's night and day," When asked of what he's noticed jumping up to the AHL. "Everyone's bigger; everyone's faster, everyone thinks quicker. The OHL is a great development league, but you never know what you're getting into until you can get those first few [AHL] games in. It's been a big step, but I'm looking to keep going with it. "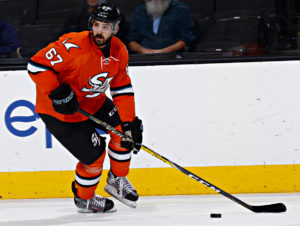 With the Barracuda firmly in a playoff spot in the AHL's Pacific Division, Middleton's season of improvement looks to have many games remaining. He's another yet another young defender to watch with the Barracuda. While he is finding individual success, he also points to the group success as well.
"When the team is as successfully as it has on this winning streak, personal success just follows," Middleton said of the team's recent 14 game winning streak. "Everyone gets their licks in and gets their job done in these situations. It's been a lot of fun to be around the rink these days."
It looks like many more fun days on the ice is ahead for both the Barracuda and their youngest blueliner on the roster.