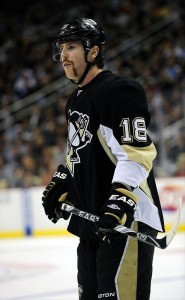 In what has become a postseason dominated by disciplinary actions, hockey fans, writers, and analysts alike spent yet another day anticipating Brendan Shanahan's verdicts today.
This time for Penguins forwards Arron Asham and James Neal.
With each player's respective hearing reportedly over for hours, Shanahan and the Department of Player Safety deliberated over the Pittsburgh forwards' fates for an unusually long period of time.
Alas, around 10:30 PM, Shanahan and company finally announced that Arron Asham would be suspended four games for his cross-check and sucker punch to Flyers forward Brayden Schenn. And, James Neal was given a 1-game suspension for his hits to both Sean Couturier and Claude Giroux.
The Penguins will miss Neal's scoring prowess as they try to mount an unlikely comeback against the Flyers.
Despite scoring 40 goals this season, Neal is no stranger to the NHL discipline office. Having been suspended twice before, Neal falls into the "repeat offender" category.
Not to mention, Neal's hits on both Couturier and Giroux warranted two separate hearings.
As such, the 1-game ban for James Neal will leave many fans, who have already deemed Brendan Shanahan's rulings inconsistent, with yet another bullet in their firing chambers.
Luckily, neither Couturier or Giroux was injured from Neal's reckless hitting.
But, as Neal barreled in on Claude Giroux and finished high clipping the back of Giroux's head, it sure seemed the intent to injure was there.
Perhaps the duration of Neal's suspension is a product of his Star status, or a leniency rooted in Brendan Shanahan's own gritty playing days.
Either way, the verdict will leave many in the hockey community unsettled and displeased.
One game is better than none.
But isn't it about time the NHL got player safety right?