As controversial a player James Neal has become over recent seasons, there isn't a doubt that he's exactly the player Nashville has been looking for.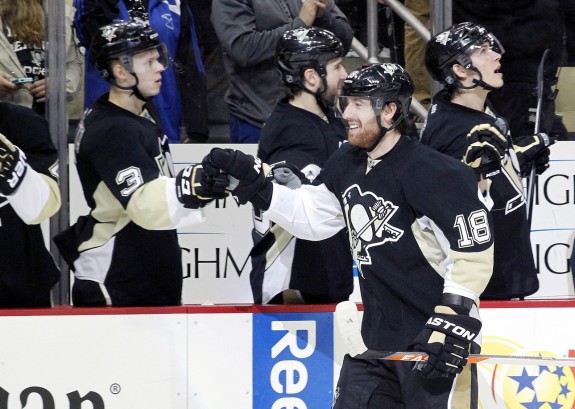 Neal (and Matt Niskanen) was first dealt to the Pittsburgh Penguins from the Dallas Stars near the 2011 trade-deadline in exchange for Alex Goligoski. On February 19, 2012, Neal signed a six year contract extension with the Pens at a very acceptable cap hit of $5 million. However he didn't last long with the Pens, as during the 2014 NHL Draft in Philadelphia, Neal was traded to the Preds for power-forward Patric Hornqvist, and depth-center Nick Spaling. This marked the second time in 4 seasons the sniper has been traded.
Now one may ask, "why trade a former 40 goal scorer entering the prime of his career?" The answer is easy, as the Penguins simply didn't want to deal with Neal's on ice shenanigans anymore. He was slowly becoming known as one of the dirtiest players in the league for actions like this.
Neal's response to the collision was, "I mean, what do you want me to say? That I was trying to hit him? No, I'm going by him. I don't get out of the way, like I said. I need to be more careful and I guess get my knee out of the way, but I'm not trying to hit him in the head or injure him or anything like that." Per Bostonherald.com
Neal later responded to the 5-game suspension that was dished out by saying, "Am I sorry for it? Yeah. I hurt my team. I hurt myself. It's not something I want to be talked about for." Per post-gazette.com
Now these are the types of responses we all should come to expect from players being asked these questions. However, it remains to be seen as to the true intention behind Neal's acts. One reason could be there was still a lot of leftover anger from the embarrassing loss against the Boston Bruins in the Eastern Conference Finals, of the lockout-shortened season where they were swept. Another could easily be that this is simply the player James Neal is growing into.
Do I believe it? No I don't. However the fact remains that Neal has to rebuild his status with league, and I believe there isn't a better place to do that then Nashville.
I have always found Nashville as a very interesting franchise in the NHL. They have been known for their prowess of developing sound defensemen over the years, almost to a point of overdeveloping them. That philosophy won't be completely thrown out the window as long as GM David Poile remains crew chief, however things are about to get shaken up with the addition of Head Coach Peter Laviolette. If the Preds want to compete this season, Laviolette's first course of action should be getting the aforementioned James Neal going.
Neal couldn't be walking into a better situation in Nashville. Sure, no more Crosby and Malkin, but this is his chance to prove to the hockey world that he's an elite talent in the league. Laviolette's going to run a high-paced, skill oriented system which fits right into Neal's attributes. James Neal is a sniper at heart, and has the unique ability to score off the rush with a quick flick of the wrist. Neal is a player that can also thrive on the Power Play; back in Philly, Laviolette would post former Nashville Predator, Scott Hartnell in the high slot and it paid off, as he scored a career-high 37 goals in 2011-2012. Neal could easily shift into that spot and blast away with his quick release. Nashville may not have a 'Claude Giroux' type center on their team, but give up-incoming star Filip Forsberg a year, and that could turn into a deadly combination.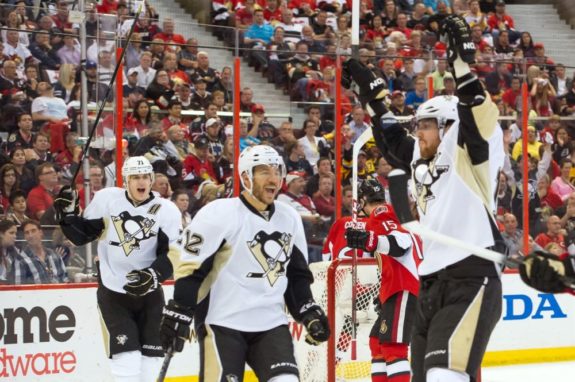 The big question Neal's going to face at the start of training camp is if he can put the past behind him and move forward. Neal is easily playing in one of the best hockey markets when it comes to laying low, and focusing on the game. If he does something questionable then it won't come under as much scrutiny as if he were still with the Pens. Now that doesn't entitle him in the slightest to knee other players in the head, however Nashville is a place where Neal should be able to thrive under the lessened media pressure.
This is the first time in Neal's NHL career that he will be known as "the guy" for his team. The captain may be Shea Weber, who is debatably one of the best defensemen in the league, but it has already been shown that he can't carry this team by himself. This is Neal's time to shine, as he will be given first-line minutes, and have a chance to consistently play with the best players on their team. There may be no Malkin, but players like Forsberg, or Ribeiro can easily turn into the playmaking center that Neal needs to pot 40 when next season rolls around.
The player to score the most goals in one season in Preds history was Jason Arnott who potted 33 back in 2008-2009. Even if James Neal doesn't rifle in 40 next season, I wouldn't be surprised in the slightest about him becoming the new franchise leader in goals once the season concludes.