Let's have a good laugh everyone! It was perfect to start the Western Conference with the Chicago Blackhawks. For the next couple weeks, we will crisscross the Central Division.  Thanks to the guys at The Committed Indian for their answers. Expect a few giggles, retorts, and of course straight fire comebacks Windy City style. A special thanks goes out to Sam and the entire gang. Hopefully Mr. Fels approves and we don't get the dagger!
Are you ready? Let's get started!
======================================
Chicago Blackhawks Q&A
1. No punches are pulled here. So Los Angeles, at home, game on the line in a penultimate series, and then they lose? What happened?
It can be hard to play against an unholy force that the Kings were. That said, a Game 7 OT is something of a coin flip and the Hawks were unlucky with a puck deflecting off Nick Leddy. That said, if I were to dig deeper I would point out that Joel Quenneville decided to attack perhaps the deepest team in the league in a 7-game series with Michal Handzus, Kris Versteeg, and Brandon Bollig in the lineup, essentially going with eight or nine forwards when he had far better options in street clothes. He's escaped almost any scrutiny for this, which is how things work around here. And he almost got away with it. They only needed one more goal, would an actual 4th line have gotten it? Oh, you're asking the questions and I'm supposed to provide answers. Yes, they would have. Maybe.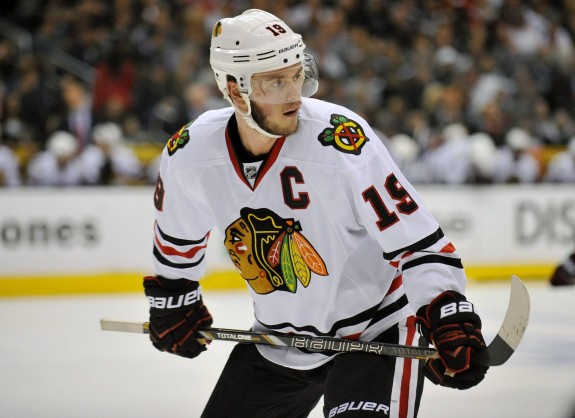 2. The dual extensions to Patrick Kane and Jonathan Toews. How could this affect the Chicago Blackhawks salary cap in coming years?
Well, it won't make it easier, that's for sure. It'll depend on how the Canadian TV deal pumps up the cap in the coming years. They should be all right, as they do have a system that should fill in some holes cheaply in the coming years. They're probably going to have to lose one piece of "the core," be it Sharp or Seabrook (or possibly Hossa retiring). But they have kids who can replace either down the road. Why you heard some Sharp trade rumors this summer.
3. The explosion of parody Twitter accounts is mind boggling. Which Chicago one is the best and why?
Blackhawks Facebook, because it's stuff people actually say.
4. Okay there is the goal song. Does anyone remember the words honestly?
There are words? It probably won't last too much longer when people realize it's a song about a stripper.
5. Andrew Shaw might see a top six role this year. What the heck is going on here?
Jesus I hope not. Andrew Shaw is a great 4th line winger who can fill in as a bottom six center for a shot time if you need it. He's gotten some rub of the green with his SH% the past two years, but even if that evens out he chips in more goals than you think. He can be dumb and reckless, but the dude knows how to get to the net and is always going face-first. But with Sharp, Hossa, Kane, and Saad, possibly Teuvo Teravainen, and Brad Richards and Jonathan Toews manning the pivot, Shaw should be locked into the bottom six where he belongs.
6. Brad Richards finally gets to play in Chicago. What can he bring to the table for the Chicago Blackhawks?
I honestly have no idea. On the one hand, he'll play with better talent than he did in New York, probably being parked between Kane and Saad to start the year (unless Teuvo beats him out). On the other, he was so-so in the much easier East and Metropolitan Division. How's he going to go over in the West? He'll be better than Handzus (so would have been a half-eaten BLT), which is a step up. But when things get to the spring and the volume turns up? We'd better hope Teuvo has made the leap, basically.
7. Who eventually backs up Corey Crawford in net this year?
Um… due to the cap concerns, it's probably still going to be Raanta. That's probably not a good thing. Don't rule out a last-minute trade before the season to send Raanta back to Rockford where he can play, but it's unlikely.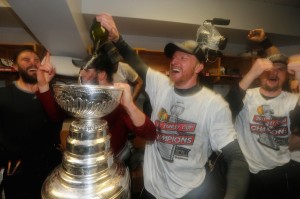 8. Chicago has won a couple Stanley Cups and made a few conference finals. Can the run continue?
Oh for sure. The only player out of his prime window is Hossa, and he's still quite effective. Sharp is probably just going to start his downturn but again, still highly effective. They're not going anywhere for a while.
9. Duncan Keith and Brent Seabrook ran out of gas against Los Angeles. Was it just a case of too many games the past several seasons?
Keith was fine, and Seabrook was terrible all season but had it covered up by Keith's brilliance. It's why Seabrook got demoted in the playoffs and Hjalmarsson promoted. Seabrook didn't run out of gas so much as lose his disguise. Too many games? No, probably too many nachos for Seabs.
10. What is on the radar as far as the prospect pipeline?
As previously mentioned, Teuvo Teravained (TiVo Targaryn, as we call him) is the prime one who looks set to make an impact at some point this season. Seriously gifted playmaker. Other than him, blue-liner Stephen Johns will also probably make the team at some point this year and be the psychotic atom-smasher that the Hawks haven't really had on the back-end since Seabrook fell in love with oreo shakes. Some other names to watch are Adam Clendening, who could be a surprising puck-moving d-man, Klas Dahlbeck, Mark McNeill, and Phillip Danault, all of whom might get a look.
11. Though realignment made things easier. How much do Chicago Blackhawks fans really miss the Detroit rivalry?
I don't miss the smell, I'll tell you that much.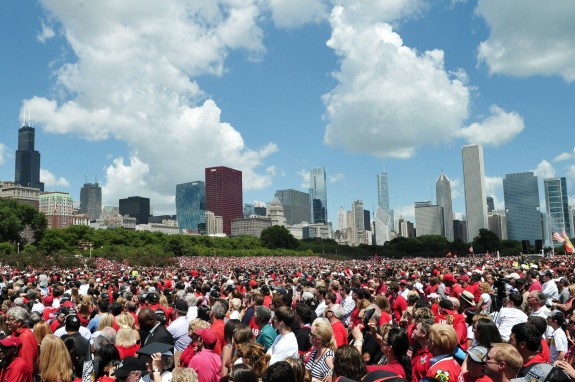 12. So what is your verdict for the 2014-15 season?
Verdict? Doesn't it have to happen before you can register a verdict? As far as outlook, I'm fairly confident it'll be Hawks-Kings again in the West, and once again you can flip a coin to see how gets out of it. The Hawks will be a little deeper than they were last year (if they're coach allows them to be) which will help. It'll depend a little on how hard they push in the regular season. They figured out last year that they could kind of San Antonio Spurs it, and they might go that route again. Save enough gas for when it counts, they could easily bring home #3 in six years.