With training camp nearing, it's the time of year for season previews. Last week we previewed what the San Jose Sharks blue-line might look like on opening night. But what about the forwards? How will Team Teal organize the lines? Where will Joe Pavelski play? Who makes the cut on the fourth line?
Top Line: Tomas Hertl, Joe Thornton, & Joe Pavelski
Last season, these three, along with Brent Burns, were San Jose's four best possession forwards. This trio has the potential to be one of the best lines in all of hockey. Hertl was on pace for over 30 goals last year before his injury. He is a super duper star in the making.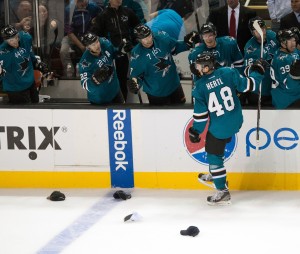 Pavelski scored 41 goals last year (albeit with an inflated shooting percentage) mostly on Thornton's wing. It is certainly possible that this line stays together for most of the 82 games. Come the end of the season it could be a line with two thirty-goal scorers and a 65-assist center. They will be almost impossible to stop during the regular season. Unfortunately, this is San Jose putting all their eggs in one basket. They aren't as deep at forward with Burns back on defense.
2nd Line: Patrick Marleau, Logan Couture, & Matt Nieto
For the majority of the last two seasons, Marleau and Couture have been an inseparable combination on the second line. However, as mentioned previously here at the hockey writers, the right-wing spot next to them has been a frequent shuffle.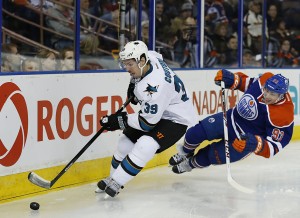 While Nieto solidified this role at the end of last year, will he continue to stick? The sophomore winger will more than likely start the season there but can he perform well enough to lock it down for 82 games? That certainly remains to be seen. That said, whoever ends up playing right-wing will be playing with two thirty-goal scorers. In other words, this will be a terrific line regardless of its third member.
3rd Line: Tyler Kennedy, James Sheppard, & Tommy Wingels
This is where putting Pavelski on Thornton's wing hurts San Jose's depth. Don't get me wrong, each one of these players can be key contributors. Sheppard proved last season that he can be a fantastic bottom six winger. However, don't believe what main stream media say about his skills as a center. He has trouble in the face-off circle, and often struggles with poor defensive zone coverage.While he had a hot stretch of offense from the center position last year, most of those points came off very opportunistic odd man rushes. Hardly any of his offense came off sustained offensive zone pressure.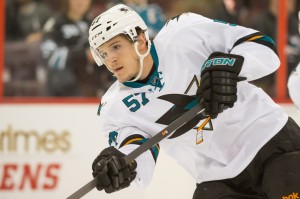 Kennedy was a good role player for the Penguins but struggled last year, his first with the Sharks and first away from Pittsburgh. He could very well bounce back or he could also continue to be a healthy scratch. And finally, while Wingels is a terrific top-9 right-winger, he isn't quite good enough yet to be the best player on his line.
4th Line: Mike Brown, Andrew Desjardins, & Adam Burish
Desjardins is far and away the best player on this line and that simply does not make for a good fourth unit. Desjardins is a solid player who is terrific in the face-off circle and will score about 15-20 points. His wingers however, are downright awful. Between the two of them, Brown and Burish have combined for a whopping eight points in 109 games for the Sharks. Brown finished with just five points last year in 48 games and Burish has managed a mere three points in 61 games over two seasons.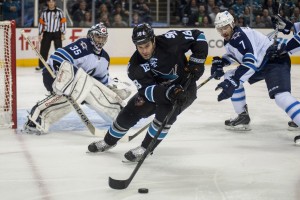 That is terrible production. This line won't be able to score at all, and it's not like they are great defenders either. But apparently teams need fighters to deter other teams from taking cheap shots. It's unfortunate the Sharks don't seem to realize that the teams winning the Stanley Cup lately have fourth lines that can actually string multiple passes together.
Better Deployment?
The Sharks would be much better served at the forward position by spreading out their top guys. They will get much more production out of their depth players (like the entire third line listed above) if they spread them around with the elite level studs. Furthermore, the Sharks have at least three AHL players who are leaps and bounds better hockey players than Brown and Burish. Those would be Tye McGinn (formerly of the Philadelphia Flyers), Freddie Hamilton, and Eriah Hayes. Two of the three ought to be in the lineup over Brown and Burish. Much better lines would be as follows:
Hertl—Thornton—Kennedy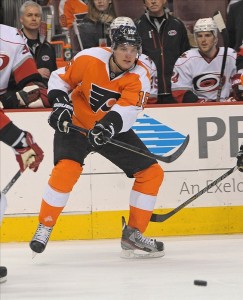 Marleau—Couture—Nieto
Sheppard—Pavelski—Wingels
McGinn—Desjardins—Hamilton
Even without Pavelski, a top line with Hertl and Thornton will still kick butt. Plus if Kennedy finds his game again, he should easily pot 12-15 goals riding shotgun. The second line remains the same and the third line will be much improved. Sheppard-Pavelski-Wingels absolutely destroyed the Kings in Game 2 of last year's playoff series and the Sharks were 2-0 in the series with this third line combination. And finally, McGinn and Hamilton are fourth line wingers who can actually create offense. Hamilton scored over 80 points in back-to-back years in the OHL (2010-11, and 2011-12 seasons) and led the Worcester Sharks in scoring last year with 43 points in 64 games. McGinn was a 60 point player in his QMJHL days and has 10 NHL points in 36 career games. These two would make for a much, much better fourth line than one featuring Burish and Brown.
Andrew has been credentialed to cover the Sharks since 2010 and the 49ers since 2012. He graduated with his BA in Broadcast Electronic Communication Arts in 2013 from San Francisco State University.