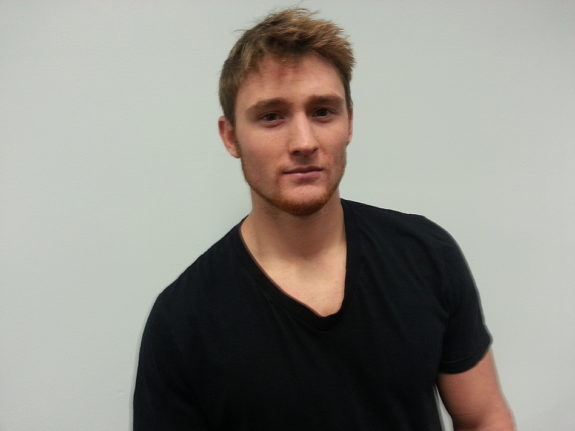 Few members of the Providence Bruins enter this season as highly-touted as forward Jared Knight. Knight, the Boston Bruins second pick in 2010 – 32nd overall – spent each of the last two seasons with the London Knights and helped lead the team to the OHL championship … and within a goal of the Memorial Cup.
Despite averaging more than a point per game since his draft-year (and tallying more than fifty goals), much of the fanfare surrounding Knight has been due to his gritty win-at-all-costs playstyle and hearty 200-foot game.
The twenty year-old forward is getting settled-in, both on and off the ice. "Off the ice we feel good," he said. Knight is sharing a place with OHL buddy Ryan Spooner and P-Bruins' defenseman Torey Krug. Grinning, he told me, "… the house isn't clean but it's organized."
"We've got two dogs running around so there's hair all over the place… it's hard to wear black… [looking down at his dark tee] this shirt is all filled with dog hair…. It's nice to be able to cook for ourselves and eat better food than just the hotel food."
Knight's also getting more comfortable as a professional. "As far as on the ice, I feel great," he said. "I think the timing's coming back to me, I feel my conditioning's good and the team's looking really good so I'm excited to get started tomorrow."
The Bruins' relaxed practice just before Media Day on Thursday evinced the team's growing closeness. "You can't play tight," stated Knight, "You've got to have fun out there. If you're not having fun, you're not playing with passion – keeping it loose is just part of hockey…"
That comfort extends to his current linemates "Right now I'm with [Christian] Hanson and [Craig Cunningham]. We played together last game, so we've had a full week of practice and we're feeling pretty comfortable."
Coach Bruce Cassidy has already had a significant impact on the forward's game. "We've only been together for two weeks but he's taken me aside and given me little pointers: How to angle, man-to-man coverage – stuff like that which are a little different from what I was doing in the 'O'. There's a bit of a transition, but I think I'm getting accustomed to it."
Of Jared Knight, Cassidy said: "Jared's got a great release; he gets his shot off well so we're hoping he can find the areas of the ice to get his shot off and find the back of the net – because he will beat goalies. He attacks the net well from his off-wing. We put him on the left wing even though he's a right-handed shot… he prefers that.
He continued, "I think he's good defensively in his own end, playing [especially after] playing for Dale Hunter in London. He's learned that it's important to get in shooting-lanes, blocking shots and having a good stick. Now it's just about him asserting himself every shift."
Knight recognizes he and teammate Spooner will always endure the pressure of high expectations from Bruins fans and media.  But he and Spooner are always going to have high (arguably higher0 expectations for themselves. "We just try to stay loose," said Knight, "… and we just want to have a winning season."
Knight is consistently lauded for his commitment to physical fitness. An interview with The OHL Writers' Dominic Tiano published in May discussed Knight's participation in a boxing regimen. Thursday, Knight spoke about the training – and whether it was purely for fitness… or fistic ends:
"For me, this summer was more about gaining confidence… It's an hour of just straight punching and moving around and it's good for footwork… then again it does give me the confidence if the time comes that I have to stick up for myself, I'll do it."
I asked Jared his opinion on the OHL's new fight-limiting rule. While remaining noncommittal on the subject, Knight still offered, "If [fighting's] what a guy brings to the table, [now] he can only do it ten times a year, so it's tough for guys like that… fighting is part of the game, it's always been part of the game."
Tonight, the Baby-Bruins open the season at home, hosting the Manchester Monarchs at the Dunk. Jared Knight is expected to be in the lineup.