Theo Fleury spent 11 years in Calgary entertaining fans night in and night out with his play on the ice. This past June, he returned to the Saddledome and once again stepped into the spotlight.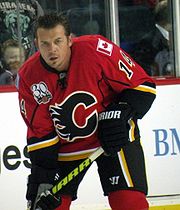 Fleury hasn't played in the NHL since a forgettable, rehab-interrupted 2002-03 campaign with the Chicago Blackhawks that ended with a suspension for violating the league's substance abuse program.  Not one to give up, he attempted an NHL comeback in 2009. Fleury scored four points in four games for the Flames in the preseason, including a game-winning shootout goal.  It was good, but it wasn't enough.   Fleury's career had finally come to an end.  At the very least, he finished it where he started – in Calgary.
Two and a half years later, Fleury would attempt to kick off a new career in that very same place.
Once again, he suited up below the stands of the Saddledome.
Once again, he stepped out in front of the crowd in Calgary.
Once again, he looked up at the 1989 Stanley Cup Championship banner – the one he helped earn.
This time, though, instead of a stick, the diminutive winger held a microphone.
"I'm excited for the opportunity. I take it very seriously. It hasn't happened overnight. I've gotten to work with some very talented people in the music industry. This is where it led to." – Fleury, in an interview with Mike Trask of ESPN.
Canadian country singer-songwriter Johnny Reid was in the midst of his very successful "Fire It Up" tour.  Unless you live in Canada, you're probably not too familiar with Reid.  He's released six platinum records and gone nine-times platinum overall.  (Not to take any of the sparkle off his shine, but a platinum record in Canada is 80,000 copies sold.  In the US, you need to sell a cool million to hit that mark.)  He's got a nice-sized pile of Canadian Country Music and Juno awards.
Reid was in Calgary to perform at the 100th Anniversary of the Calgary Stampede when he welcomed a very special guest to the stage.
"It's a real special occasion and if Theo can perform half as good on stage as he did on the ice as a Calgary Flames superstar, he'll be off to the races as a musical artist. I'm glad to help Theo and give him a chance," says Reid, courtesy TheoFleury14.com.
Fleury joined Reid and his band on stage to perform "As the Story Goes," an original song written by Fleury.
http://www.youtube.com/watch?v=6MsmqjymOn8
Now, not everyone is necessarily at their best when performing live.  If you weren't blown away by the concert, give Fleury the benefit of the doubt and check out his official music video:
This was not the first time the song had been heard in front of a large audience.  In season two of the CBC's "Battle of the Blades" – which pairs figure skaters and hockey players in artistic competition – Fleury and partner Jamie Salé performed a routine to the song. Naturally, it was country week.
http://www.youtube.com/watch?v=8_zx8f0YVDk
Fleury calls his style of music "hockey tonk," citing influences from country legends Johnny Cash, Charley Pride and Buck Owens. While Fleury's musical turn may come as a surprise to many, he describes it as a part of his heritage on his website.
"I'm a proud Metis person and we have music in our blood. My grandfather was an amazing fiddle player; my grandmother was a champion jigger. My father and uncles would gather often in my youth to play, sing and create wonderful harmonies. Music has been around me for generations and I'm excited to share this passion with my fans!"
He talked with the Globe and Mail about his musical upbringing, saying, "I grew up around music. Every Sunday, we'd go to my uncle's farm in small-town Manitoba and we're a Métis family and one thing about Métis culture, it's all about music."
Based on his life experiences and the hard battles he's fought both personally and professionally throughout his career, Fleury has a lot to draw from as a country musician.
"Obviously, I've been through a lot of stuff, which makes really good lyrics and good music," said Fleury.
Like everything else in his life, he won't stop doing it.
"Like an old country song, like Conway Twitty saying make believe, I'll be the man trying hard," Fleury sings in the song.
You have to give the little man credit.  He never stops trying.
Josh is a life-long hockey fan. He grew up as a fan of the New York Rangers, but thanks to their general mismanagement and years of mediocrity, has developed a great appreciation for every team across the league.
He's been writing about hockey on various sites since 1995. In addition to his work at The Hockey Writers, he also keeps tabs on the referees over at ScoutingTheRefs.com.