Two months shy of his 42nd birthday, Jaromir Jagr is still not showing any signs of his skills deteriorating and he is making other players on the New Jersey Devils around him better. He was brought in as the big-ticket name to replace the 'retired' Ilya Kovalchuk and he has been better than one could have imagined, and is probably a better fit for Devils Hockey more than Kovalchuk ever was. In his early career, Jagr would have never fit in, at all, in New Jersey — much like how Kovalchuk often looked lost for long stretches during his three seasons in the Garden State.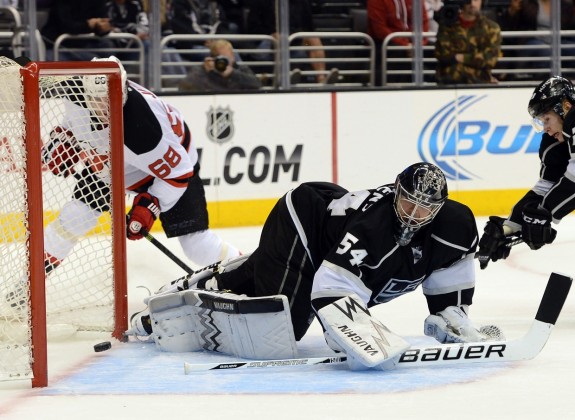 But this version of no. 68 is a perfect fit with the Devils so far, and coach Peter DeBoer doesn't even want to consider where his squad would be without Jagr. "I don't think about it anymore," the head coach said when asked if there was any thought put into how many minutes the 41-year-old gets late in games. "I've just become accustomed to treating him like he's 25, he likes it like that. He's been an invaluable piece for us, in a lot of different areas." The other living legend on the Devils (Martin Brodeur) has thoroughly enjoyed being teammates with Jagr, after they were adversaries for the previous two decades. "It's pretty impressive to see a player of that caliber, I mean, this guy is one of the best players that played the game, and he still is at his age," said Brodeur when asked about the one player older than him on the team. "It's also his attitude about the game, I think that's why we are lucky to have him here for our young guys; for them to see what a real professional is all about."
NEW TEAM, SAME JAGR
This season through New Jersey's first 34 games Jagr leads the team in points (28), goals (11), assists (17), shots (80), and game-winning goals (3); he's second on the team in plus-minus (+11) behind Dainius Zubrus. He's even become quite the comedian from time to time during post-game press conferences, which is a complete change from his early NHL seasons when he was often reserved and moody with the media.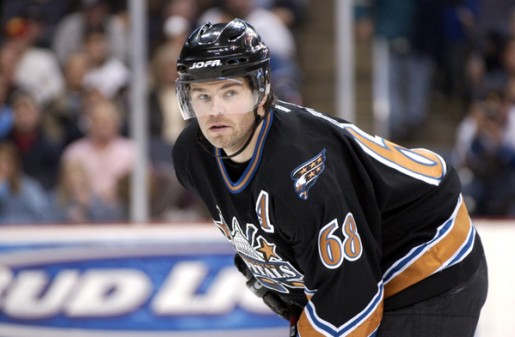 This is the second time in their careers that Jagr & Zubrus are teammates and after a 3-0 win over the Tampa Bay Lightning that saw no. 68 set up both of Zubrus' goals, Jagr had some fun at his buddy's expense. "Zubie's had a great year, but this year there's no All-Star game so it's kind of a waste of a good year; for sure he would be there," he said with a grin as the media erupted into laughter. "We're just happy we can be on the ice the same time as Zubie; me and Travis, there's no other place I want to be than on the ice with Zubie — especially when he's going good like that." He knew he had an audience now, and seized the moment recalling his point totals from his last year in Pittsburgh (2000-01) and his first season in Washington (2001-02) with Zubrus. "I remember him when we played together in Washington. I got traded from Pittsburgh, I had 120 points, they put him on my line I had 70 so…50% drop; those are good memories."
Jaromir Jagr scored his 1000th NHL point during the 2000 season, his last in Pittsburgh:
THE NEW ZZ-POPS LINE?
All jokes aside, Jagr along with Zubrus and Travis Zajac have formed quite a trio that has been the team's most consistent line game-in and game-out for about a month now. "Yeah I think we are playing well," said Zajac of he and his linemates, "we're big, we're strong, we cycle the puck well." The Devils no. 1 center is used to playing with high-profile/super talented wingers (see: Kovalchuk, Zach Parise) and has really thrived since he was put together with the future Hall-of-Famer. "Jagr's a big guy; he's got a heavy stick and he's hard on pucks. He wins a lot of battles down low and on the wall. It's easy as a centerman to just find spots and he'll get you the puck," said Zajac. "You're stick always has to be on the ice (anticipating a pass) with him. He's a guy that can make passes through sticks and through bodies when you least expect it." When asked about their line, and its success, Jagr gave similar praise to Zajac. "I like this line from the first time we played together, once we are in the offensive zone we are very good; I think we should be able to make more plays in the neutral zone, give-and-go plays," he said. "The key is Travis; he starts it defensively with face-offs. He's a key guy, I like playing with him."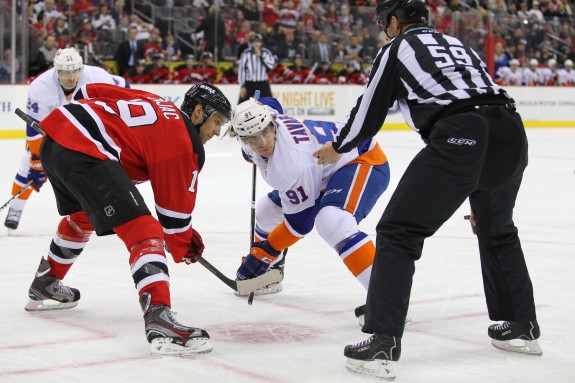 PROFESSOR JAGR
Jagr, following certain games has gone out of his way to praise some of the role players and younger players on the team, like rookie defenseman Eric Gelinas. "It's a great pat on the back coming from a guy like that. I appreciate those words, like you said it's only happened a couple of times," Gelinas told the Hockey Writers with a grin. "I'm trying to work on having that happen on a regular basis. It's definitely nice to hear coming from a guy like that." Gelinas wasn't even born yet when Jagr made his NHL debut during the 1990-91 season, so it's had quite an impact on the rookie being teammates with a living legend. "It's pretty amazing playing with a future Hall-of-Famer," said the 22-year-old with a huge grin as he glanced across the locker room at Jagr. "I think he's now sixth in NHL scoring all-time, that's pretty special. He's a great player and he does it even though he's the oldest guy on our team. He's just amazing."
WINNING CURES ALL
Jagr is certainly having fun this season, but he knows it would be even more fun if the Devils were winning on a more consistent basis. "I thought we would have more victories, we should have more wins. We have to learn how to find a way to win; we are close, close, close. Close is not enough," he said after New Jersey's latest win. He paused and added more dissatisfaction with the team's up & down season, "With all of these teams so close together (in our division), we have to win; we have to find a way to win. Once we learn how to play a full 60 minutes, everybody, we'll be fine. Hopefully we can get back to .500; we were there once and we let it slip away."
Jaromir Jagr scored his 19th OT winner earlier this season, extending his NHL record:
"It's been great having Jagr on the Devils," added Brodeur, "and winning will make it a lot better; but as far as the atmosphere (with him here), and seeing him play, its fun." Brodeur, Jagr and all of their teammates are hoping to have a lot more fun if they can find a way to get into the playoffs four months from now.
Dan Rice can be reached via Twitter: @DRdiabloTHW or via Email: drdiablo321@yahoo.com
Check out our partners at TiqIQ for the best deals on New Jersey Devils tickets for all 2013-14 games.