Over the last couple of weeks, certain lesser-owned fantasy players have begun to heat up. While some fantasy managers might be a bit surprised to see such players performing at high levels, others are undoubtedly getting ready to capitalize on their opportunity to add such a player in order to bolster their roster's depth.
On the one hand, tinkering with a fantasy lineup might not be a manager's most favorite thing to do, but for others it is a must at this point of the season – especially those that still have their playoff hopes alive. This week, THW will look at some wingers that are less than one-fifth owned in Yahoo! formats, but if the players mentioned below are available in other leagues, then one should definitely give the options some consideration.
[Fantasy Players: $500 Up For Grabs in our free to enter, Single Day Draft]
White-Hot Wingers?
Kris Versteeg (Chicago Blackhawks – LW/RW)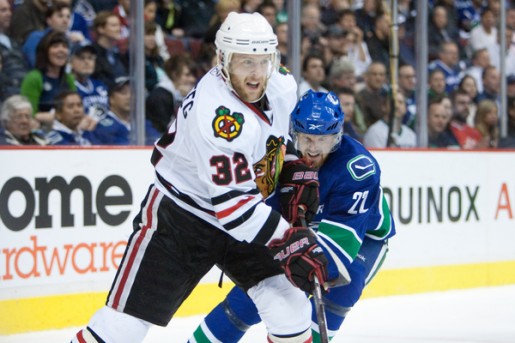 It is very surprising that Kris Versteeg's ownership rate in Yahoo! leagues has not gone up more than its current clip of 16%. Yes, Versteeg only played in 10 games for the Panthers during the abbreviated '12-'13 NHL season, but he is a solid producer when healthy – and he has certainly shown that in 17 games since returning to the Blackhawks.
Earlier this month, Versteeg went on a modest three-game point streak during which he recorded four points (1 Goal, 3 Assists) in three games played. While Versteeg hasn't been recording points in a streak-like fashion lately, he is receiving ample playing time with Michal Handzus and Patrick Kane on Chicago's second line. What makes Versteeg especially appealing in some leagues is the fact that he can qualify at left and right wing, so fantasy managers might want to give the forward some consideration if they're looking to fill a hole at one of the wing slots. After all, it's plain to see that the forward's game has improved in nearly every facet since being traded from the Florida Panthers.
Chris Higgins (Vancouver Canucks – LW)
Chris Higgins has been racking up the points as of late, and fantasy managers should absolutely take note. Higgins has only been left off of the score-sheet for one game in the month of December as he has registered eight points (3 Goals, 5 Assists) in seven games played.
Playing alongside Ryan Kesler and a streaking Mike Sanotrelli, Higgins is having no problems assisting his teammates or finding the back of the net by himself. Seeing as how the left winger has not logged fewer than 18 minutes of ice-time in December, fantasy managers should be keeping the forward on a very close watch-list. Those in deeper leagues might want to snag Higgins before his 16% ownership rate potentially climbs higher, but that factor will be contingent upon the winger's rate of production over his next couple of games.
Mikkel Boedker (Phoenix Coyotes – LW)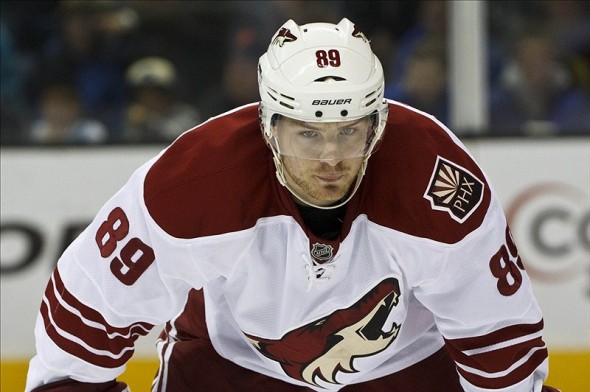 Mikkel Boedker might not have eye-popping stats through 32 games played, but they can definitely be of service to those in deeper leagues. At the moment, Boedker has 21 points (9 Goals, 12 Assists), but more importantly, six of those 21 points have come in the month of December as the left winger has recorded three goals and three assists in six games played this month.
Boedker is currently playing alongside Kyle Chipchura and Antoine Vermette on the Coyotes' second line, but that shouldn't take away from the winger's potential value. Much like Higgins, Boedker is only 16% owned in Yahoo! formats, so fantasy managers could still snag him in the meantime. With Boedker receiving at least 15:53 worth of ice-time in his six December contests, managers might want to keep close tabs on Boedker as he has been responding well to added responsibility as of late.
Reilly Smith (Boston Bruins – RW)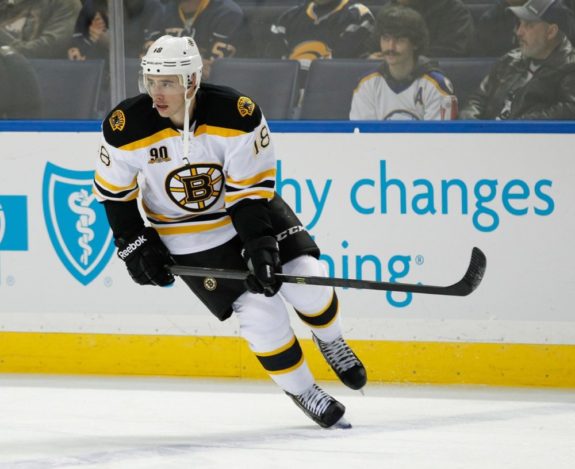 With the rash of injuries and suspensions that the Bruins have been experiencing as of late, Reilly Smith has certainly stepped up to fill some of the voids, but it is yet to be seen how the youngster's minutes will be impacted once the Bruins are healthy and can field their regular lineup. Much like Boedker, Smith has recorded six points (4 Goals, 2 Assists) in six December contests, but he has done so with considerably less ice-time.
Despite the fact that Smith has had to transition to a new team this year, he has been a solid addition to the Bruins' roster as he has scored 23 points (9 Goals, 14 Assists) in 33 games played. As of late, Smith has been seeing an uptick in terms of ice-time and life on Boston's second line is probably not a bad deal for someone with 73 games worth of NHL experience. Smith is only 12% owned at the moment, but fantasy managers might want to exercise some caution here and give the right winger a couple of more games to see if he can maintain a consistent point-scoring pace.
Dainius Zubrus (New Jersey Devils – C/RW)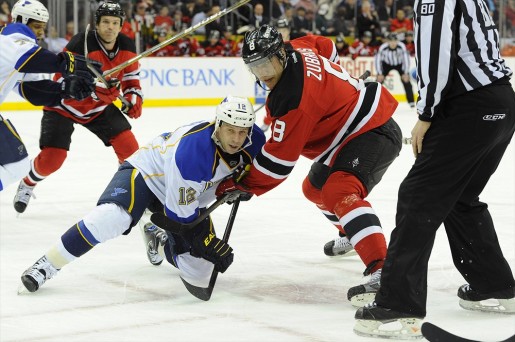 Suggesting Dainius Zubrus might seem to be a bit farfetched to some, but the dual-position forward has been putting up some good numbers lately. Since November 30th, Zubrus has not received less than 18:58 minutes of ice-time – and there is more than enough reason for such sustained time.
Zubrus is currently playing on the Devils' top line with Jaromir Jagr and Travis Zajac, so it's hard to avoid such placement within New Jersey's top-six forwards, even if the team has trouble scoring goals. Zubrus has recorded points (3 Goals, 2 Assists) in each of his last four games and is making it harder for fantasy managers to simply gloss over him. At only 3% owned, those in deeper leagues should give Zubrus the nod as he is a veteran forward that is capable of producing alongside almost anyone that he is paired with.
Another Must-Watch Winger
Michael Raffl (Philadelphia Flyers – LW)
Michael Raffl has certainly played his way into top-six minutes during the month of December. Raffl might only have eight points so far this season, but it should be noted that the forward notched seven of those points (2 Goals, 5 Assists) in his last seven games played.
Raffl only has 22 games worth of NHL experience, so expectations for the young left winger should be tempered by fantasy managers for now as he could certainly hit a rough stretch. It might be wise to take a wait-and-see approach with Raffl as his ownership rate currently sits at 1%, so most fantasy managers will have a chance to add the forward over the next couple of games.