If you could describe the New York  Islanders this season in a few words, consistently inconsistent is the best way to go. And you don't have to look very far to find the perfect microcosm for their struggles this season, Jaroslav Halak.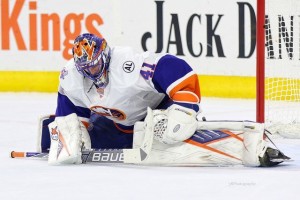 Mired in an almost pitiful season thus far, Halak currently has a 4-6-5 record with a 2.93 GAA and a .910 save percentage. Make no mistake, those numbers are far from those of the same goaltender that set a franchise record with 38 wins in 2014-15 or even the one that 2.30 GAA and .919 save percentage before getting injured and missing the last leg of 2015-16. Much like Andrew Ladd, Jason Chimera and Ryan Strome, Halak is snake-bitten and in serious need of either a change of scenery or some positive momentum. It's scary to think as well that Halak has yet to win two games in a row at all this season.
Lack of Confidence
His shutout win over the Washington Capitals on Dec. 1 was thought of by many as perhaps the light at the end of what has been a dark tunnel for Halak this season, but a slew of weak goals against a struggling Red Wings team was proof that the Islanders and Halak are not ready to escape the cellar of the Metropolitan Division just yet.
The fact that Halak was beaten on both his glove and blocker side with no screens against the Wings was proof that he's not the confident goaltender he was in the World Cup. Sitting in the back of the crease, Halak is waiting for the puck to hit him, rather than standing at the top of his crease and playing the position with command.
While some would say the Islanders gave up an influx of high percentage opportunities against the Wings on Sunday and would be right by saying so, the Halak of old would have kept the Islanders in the game.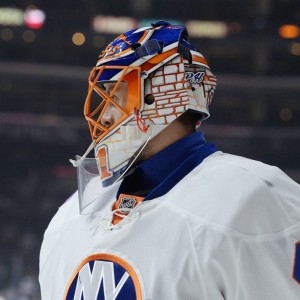 With the Islanders offense being as erratic as it has been this season, Halak hasn't gotten much help. Ranked 19th in total offense this season, the Islanders haven't given backup netminder Thomas Greiss much help either, but the Islanders playoff hero has a record over .500 and a respectable GAA and save percentage.
While there have been flashes of dominance, Halak has been Jekyll and Hyde all season. In 16 games this season, Halak has given up two or fewer goals just four times and has given up four or more goals four times. Add in three overtime losses and two losses in the shoot-out and it's easy to see that if Halak had a few bounces go his way, the Islanders season could be very different.
That, in the end, is the saddest thing about Halak this year — he's consistently found a way to lose, when in season's past, he's always found a way to win.
Time Running out
With another year and a half left on his contract, Halak, even in spite of his attitude towards the Islanders three-headed goalie monster with JF Berube and Greiss, will be counted on to get the team back into the playoffs. With his play the way it has been this season, though, the chances of the Islanders either getting pack into the postseason or netting a decent return for him, seem increasingly slim with each passing day.