On Thursday night against the Nashville Predators, Minnesota Wild winger Jason Zucker scored what would stand as the game-winning goal in the third period of a 6-4 comeback victory. That extended his streak to five straight games with a goal, including a remarkable streak of six straight team goals at one point. Zucker has a point in six straight games now, with eight goals, one assists and a plus-minus of +6 over that span.
Zucker is on pace for 50 goals this season, which would far surpass his career-high 22 goals last season and would best his 2016-17 point total (47) on its own as well. Fantasy hockey owners have taken notice, with his ownership rate in ESPN leagues rising significantly recently. But can Zucker keep up anything close to his current pace?
Zucker's Recent Run Fact or Fluke?
Zucker averaged 2.2 shots on goal per game last season (172 in 79 games). So far this year he has 49 shots on goal in 18 games (2.7 per game). That's essentially one more shot on goal every two games, and his overall shots attempted are up a bit too (4.1 per game this season; 3.7 per game last year). During his current scoring streak, Zucker's eight goals have come on 18 shots on goal (44.4 percent).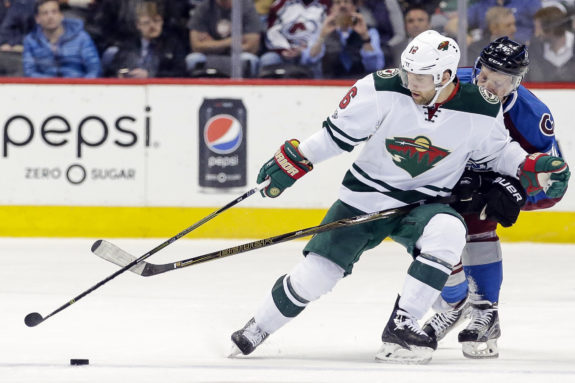 Where there is a more substantial difference for Zucker so far this year is in his shooting percentage. His 22.4 percent mark in that category is nearly double what he did last year, which is also his career shooting percentage (12.8 percent). Some regression in shooting percentage is sure to come. But simply shooting more along the lines he has so far this season may offset that a bit, at least for now. As expected, Zucker's recent streak is not sustainable over the long haul.
What is Zucker's Fantasy Outlook Now?
When Charlie Coyle and Zach Parise are back in the lineup, Zucker's spot on a top line and power play unit for the Wild and coach Bruce Boudreau will come into question. So there's a strong case to trade him right now in fantasy, at the peak of his value and with simple regression in mind regardless of how his role takes shape down the road.
Zucker is still available in just over 40 percent of ESPN fantasy leagues, even with an ownership spike of over 35 percent, and he's available in 21 percent of leagues on CBS Sports.com after a similar recent ownership spike of 32 percent. Those rates are sure to stabilize a lot now, even if Zucker keeps his run going for a little while longer. For any fantasy owner that seeks a scoring boost, even short-term, Zucker is worth checking on as a possible waiver wire add.
Zucker is atop the list of most added players on CBS Sports right now. A shift to being among the most traded players on that site should follow in the coming weeks, as "puck luck" evens out and Zucker's prime scoring opportunities slowly lighten.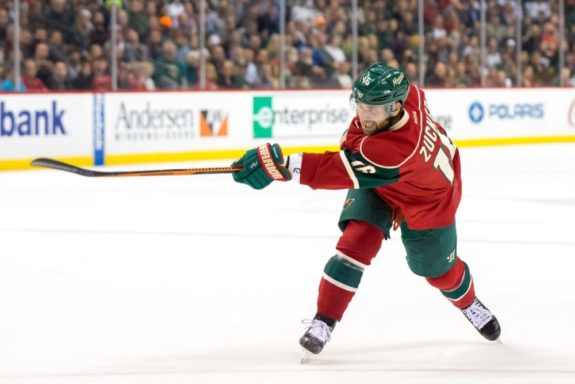 Zucker is someone to either hold or sell in fantasy leagues right now. There's a case for adding him if he's available, then following up by dangling him in a trade. But making a trade for him right now is the definition of buying high, which is not advised in fantasy hockey or any other applicable area.
Zucker has been a fantasy stud recently, and he's in line for career-highs across the board this season even when he falls of his current torrid pace. But he has a long way to go before entering the same stratosphere as elite forwards like Alex Ovechkin and Steven Stamkos, particularly outside of the fantasy hockey realm.