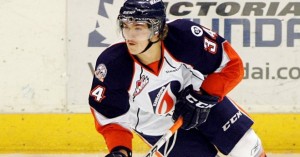 Last year the feel good story for Canada at the World Junior Championships, and in junior hockey for that matter, was Tanner Pearson.
The Barrie Colts forward who had been passed over in two consecutive drafts and was not even on the radar for Canada's summer camp.
Pearson re-dedicated himself that off-season and the work paid off as he went on a tear to start the season.  It was to the point where he was leading the OHL in scoring going into December, and forced Hockey Canada to give him an invite to their main camp that month.
As everyone knows, Pearson made the team and had a very good tournament for Canada.  He was subsequently drafted in the 1st round of the NHL draft last June by the Los Angeles Kings.
One player drawing comparisons in circumstance this season is J.C. Lipon.
The Kamloops Blazers winger is following a similar path to that of Pearson's.  An undrafted 19 year old, Lipon currently sits second in WHL scoring with 57 points, and has lead at points earlier this year.
Passed over in two drafts himself, Lipon was also not invited to Canada's summer camp, which this year consisted of the Canada-Russia Challenge.  He would not be left off the list for the December main camp though, and forced himself into the conversation with his play..
Among the 37 names included on the Canadian selection camp roster, he would like nothing more than to follow Pearson's lead and earn himself a spot on the roster.

A native of Regina, Lipon wasn't selected in the WHL Bantam draft either, being passed over in 2009. He earned a walk on tryout that fall with the Blazers and surprised all by making the team as a depth player.
Smaller in stature, Lipon sits at 5'10", but plays much bigger than his size.  An offensively skilled player who can skate, Lipon realized early on that it make take more than just his skillset to earn ice time. 
He added a power forward aspect to his game in his sophomore year and even started dropping the gloves on occasion.  It seems ironic to mention the words power forward in the same sentence as someone with Lipon's stature, however he is changing people's minds and doubters to believers with his fearless and determined style of play.
The advantage that Pearson had that Lipon does not, is that he did not try out for Canada during an NHL lockout.  Lipon's chances are that much harder with as many as five forwards at the selection camp that could otherwise be in the NHL right now.
If there's anything we've learned about J.C. Lipon, however, it's that obstacles do not faze him.  He has proven to be one of the hardest working and most determined players in the WHL, and will take that drive to Calgary and the selection camp.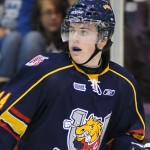 A player that can play many roles and up and down the lineup, his style and versatility may be just what the coaching staff is looking for.
Pearson made the team last year with that as one of the main reasons, being able to play multiple roles in different situations. Starting the tournament as the team's 13th forward, an injury to Devante Smith-Pelly forced Pearson in to a larger role, and he did not disappoint, scoring 6 points in 6 games.
Should Lipon be selected to Team Canada, you can bet he'll embrace any role given to him.  If not, it's just more fuel to the fire to make his game that much better.
No doubt playing for Canada would be a dream come true, just as it is for every kid who puts his or her first pair of skates on for the first time.  However, just like every junior hockey player the ultimate goal is the next step and playing in the NHL.
Although passed over twice in the draft, Lipon did garner some interest after last season.  He received an invite to the Colorado Avalanche training camp, although the NHL lockout quickly dashed that reality.
This season has been a perfect opportunity for Lipon to put himself on the map and have people take notice.  It's hard to believe that he won't get drafted this coming year with the kind of numbers he is putting up.
Time will tell whether he follows Pearson's footsteps and makes an impact at the WJC en route to a 1st round selection or forge his own path and create his own unique story.
Whatever the case it's a great story to watch unfold.