The Winnipeg Jets' offseason could be full of drama. Arguably at the top of that list is restricted free agent (RFA) centre Pierre-Luc Dubois.
Dubois is coming off his best season as a pro, where he posted career highs in both points (63) and assists (36). He also recorded four points in five playoff games before the Jets were eliminated by the Vegas Golden Knights. There have been plenty of trade rumours that have surrounded Dubois for the majority of his career, with all signs pointing to him wanting to be closer to his hometown in Quebec.

As an RFA, the Jets can trade him to whoever offers them the best deal. After next season Dubois becomes an unrestricted free agent (UFA), and he will be free to walk to his desired destination, which is likely the first team on this list.
Montreal Canadiens
Everyone gasps in utter shock when they see the Montreal Canadiens on this list… right? There may not be a more obvious connection across the NHL when it comes to an individual player wanting to play in one specific spot. Since the potential of a Dubois to Montreal trade has been written about plenty already, let's focus on a potential return.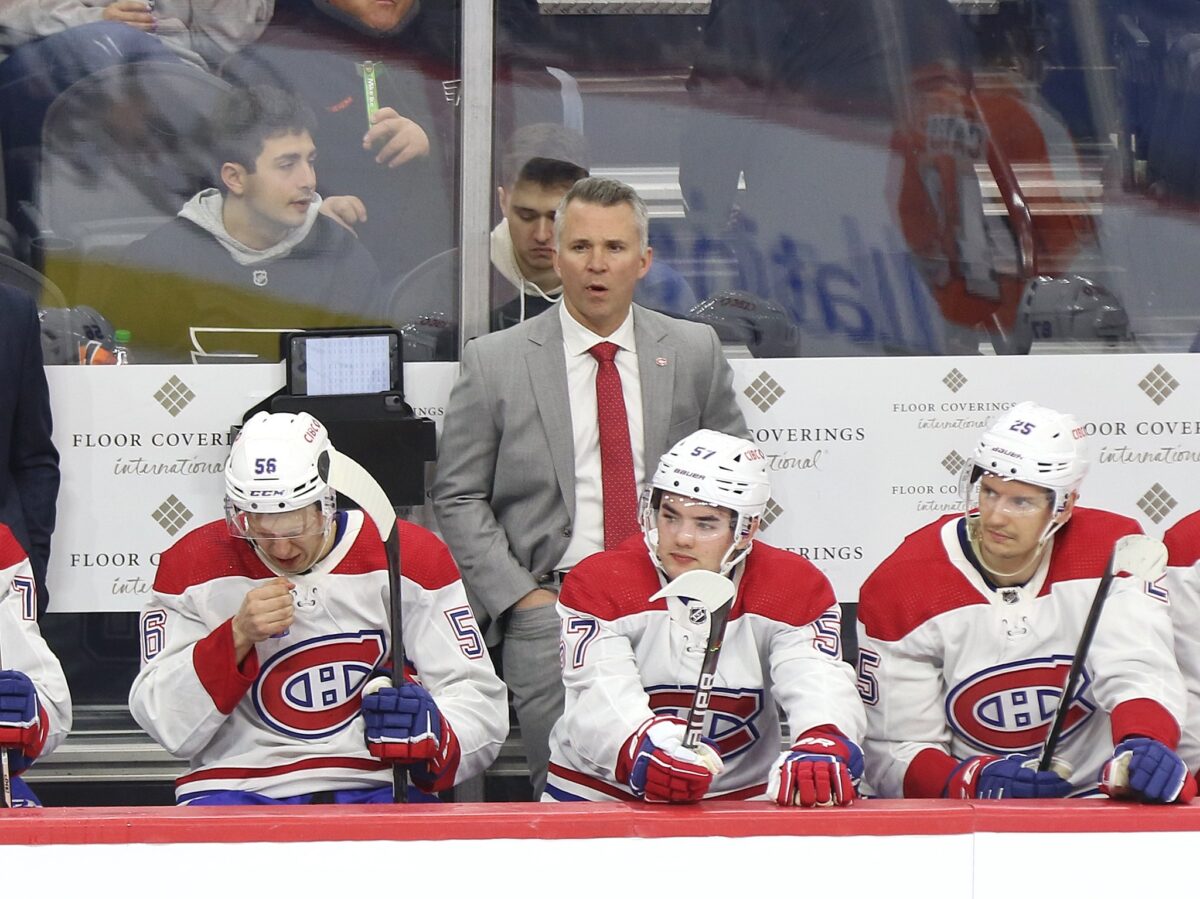 As is with every potential big-name trade, the fanbases are incredibly split on what the return may look like. Canadiens fans are adamant that they will be able to acquire Dubois for Josh Anderson and a late first-round pick. Jets fans have thrown names out there like Kirby Dach and Joshua Roy, while also entertaining the possibility of a straight swap for the fifth-overall pick.
Related: No, Canadiens Won't Trade Dach to Jets for Dubois
As is usually the case, the truth is likely somewhere in the middle. Montreal has leverage because they believe that they can sign him once he hits unrestricted free agency (UFA) status. The Jets have leverage because they know Montreal won't be the only team calling about a 24-year-old centre who is about to enter his prime. Whether or not they are good trade partners remains to be seen, but there are pieces on both sides to make a deal work.
Colorado Avalanche
Trading within the division is always a risky game that general manager Kevin Cheveldayoff has usually avoided, but the Colorado Avalanche are such a prime spot for Dubois' services that it's tough to leave them off of this list.
At the 2023 Trade Deadline, the Avalanche acquired Lars Eller to be their second-line centre heading into the playoffs. That was a role they had hoped Alex Newhook could fill going into the season after the departure of Nazem Kadri. If they were to acquire Dubois, they would possess an incredible one-two punch down the middle to pair with Nathan MacKinnon.
---
Latest News & Highlights
---
With their captain and top-six forward Gabriel Landeskog slated to miss the entirety of the 2023-24 season after undergoing surgery on his knee, the Avalanche are a team primed to make a big splash as the offseason gets underway.
Another thing that could roadblock a trade is the Avalanche's lack of high-end prospects. Newhook is a 22-year-old centre that was once a first-round pick, but he has yet to live up to those expectations at the NHL level. Would the organization be willing to move him in a blockbuster trade? Their core is not old by any means, meaning they will be around the organization for a long time. With Dubois' age, he would fit right within that forward core as they are looking to compete for the Stanley Cup for the next half-decade at minimum.
Carolina Hurricanes
The Carolina Hurricanes are an interesting team to watch this offseason given the fact that their salary cap situation gets dicey after this upcoming season. After the 2023-24 season, the Hurricanes have only two forwards under contract, Andrei Svechnikov and Jesperi Kotkaniemi. Does that make them want to go all-in this season to try and finally win a Cup with their current core?
Most recently, they suffered a sweep at the hands of the Florida Panthers who have advanced to the Stanley Cup Final. Since 2018-19, the Hurricanes franchise has lost twice in the Eastern Conference Final, twice in the second round, and once in the first round. They have failed to get over the hump multiple times now and a big swing in the offseason could change that.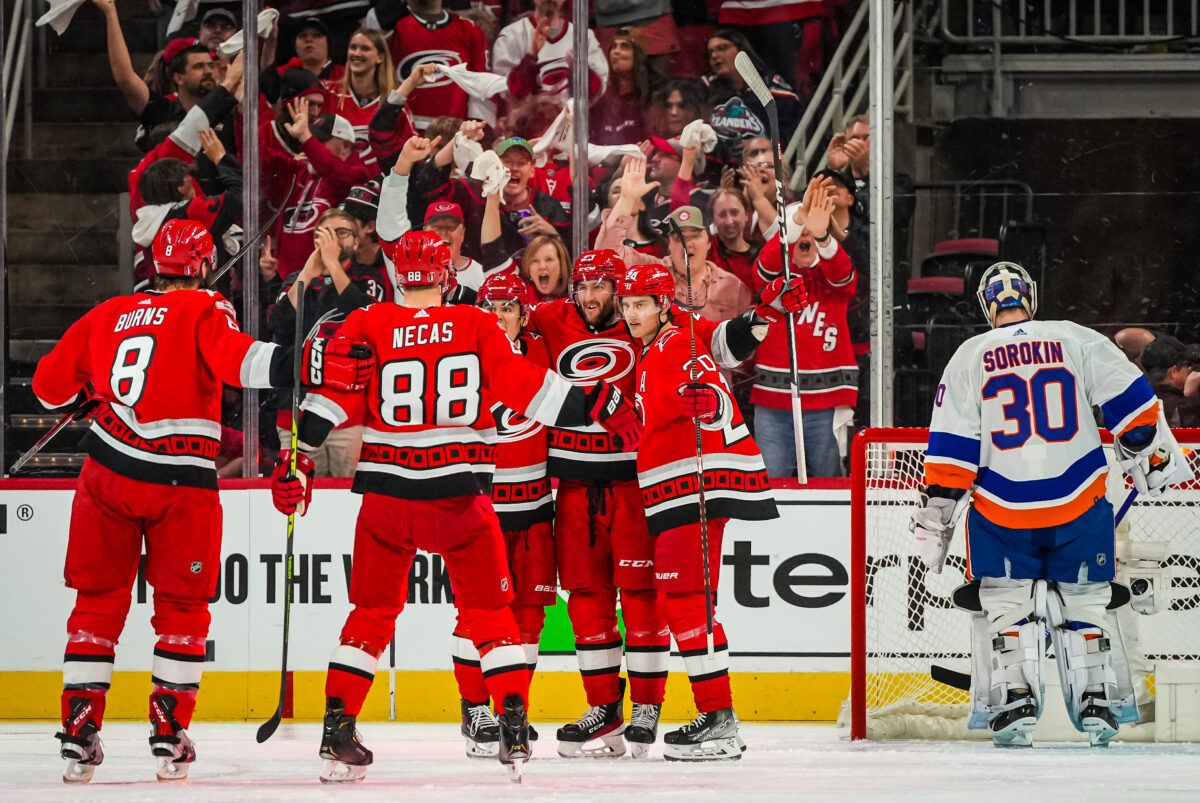 The Canes have a pick in every round in the upcoming 2023 NHL Draft, to go along with two second-round picks in 2024. They have the draft capital, along with the young talent, to make a trade for a proven player. Like the Avalanche, the Hurricanes would develop a nice duo down the middle if they paired Dubois with Sebastian Aho, who put up 12 points in 15 playoff games which led his team in scoring.
Boston Bruins
The Boston Bruins are going to be desperate for a centre in 2023-24. Whether or not Patrice Bergeron retires is the biggest factor, and David Krejci could be following him out the door. Similar to the Avalanche, they don't have a deep prospect pool to get a deal done, and they themselves don't have a first-round pick for the next two years. The Bruins are coming off of a historic regular season which saw them lose to the Florida Panthers in Game 7 of the first round.
Whether or not they obtain the assets to get this deal done remains to be seen, but they may be the most desperate, centre-hungry team in the NHL heading into next season. Their core is already beginning to age out and they need players to support the primes of David Pastrnak and Charlie McAvoy.
If the two veteran centres do retire, they are looking at a centre core of Pavel Zacha and Charlie Coyle. Simply put they will need more down the middle if they want to follow up their 65-win season with another playoff appearance. They have major questions in the crease, as Jeremy Swayman is due for a contract with Linus Ullmark the favourite to win the Vezina Trophy. It's a massive offseason in Boston, and making a huge trade for Dubois would keep them firmly in the contention mix.
Dubois Sweepstakes Should Have Multiple Bidders
While most of the news has been regarding his desire to play for the Canadiens, the Dubois sweepstakes should have multiple bidders. This list did not include the New York Rangers, Los Angeles Kings, and the Seattle Kraken who could all be formidable bidders for Dubois in their own right.
The Jets are more than likely going to do everything they can to keep the young centre coming off of a career season, but if he is unwilling to re-sign, the organization will have no choice but to move him. In their exit interviews, many players stated that they did not want to play through a rebuild. Moving off of Dubois doesn't signal a full rebuild for the organization, but it more than likely means they take a step back next season, at least offensively.