The time that every Winnipeg Jets' fan has been waiting for has finally come as the real Pierre-Luc Dubois was in action for your Jets. Since the trade on Jan 23 that sent Patrik Laine and Jack Roslovic to the Columbus Blue Jackets for Dubois, he has only played a total of three games for the squad.
Dubois was very limited in his first game against the Calgary Flames as he only played 13 minutes since he has not played in over two weeks due to his quarantine in Winnipeg. He then played his second game and was given a bigger role with the team, playing 23 shifts and 17 minutes. Although he had no points within the first two games, he still produced in other ways.
An unfortunate injury sidelined Dubois for the next four games until he returned on Feb 21 against the Vancouver Canucks. He was given first-line minutes with Blake Wheeler and Mark Scheifele, which proved to management and his teammates that he is a great player who can produce at a high level. Dubois racked up two goals and one assist in the 4-3 overtime win, one of which was the overtime game-winning goal.
This article takes a look back at how he performed during his first three games and what Jets' fans should expect from him for the rest of the season.

Goal Scoring Ability
Dubois came to the Jets with some pretty big shoes to fill, with star goal scorer Laine going the other way in the deal. He will never be able to score the way that Laine does, but he is no slouch in that category either. In the game against the Canucks he put up two very high-quality goals.
His first goal was not pretty, but he put himself in the right position at the right time. He floated around the inside hash marks until his playmaker of a teammate, Wheeler, could find him for the goal. A quick-release from Dubois opened up the scoring for the team.
Going into the overtime period, Paul Maurice used three forwards on the five-minute three-on-three. Scheifele, Wheeler, and Dubois started out for the Jets, but Dubois ultimately took over. He used his size and his speed to blow past Brock Boeser and roof the puck over Braden Holtby for the overtime winner. He has two goals on his first two shots as a Jet.
With the departure of Laine, I think it is safe for fans to think that the team will be able to score. Dubois, Ehlers, and Scheifele have all proven so far in this shortened season that they can produce at a regular rate.
Defensive Ability
Although he is great offensively, he is also is a very reliable player on defence. Whether it be tying up sticks in his own zone or shutting down a breakout in the other team's zone, he is up for the task. When the Jets acquired Dubois, he was supposed to be the second-line centre for the team. A dynamic duo of offensively gifted Scheifele and a two-way forward in Dubois is one of the best top-two centres in the league. Although he is on the wing right now, sooner or later, he will move over to the middle of the ice.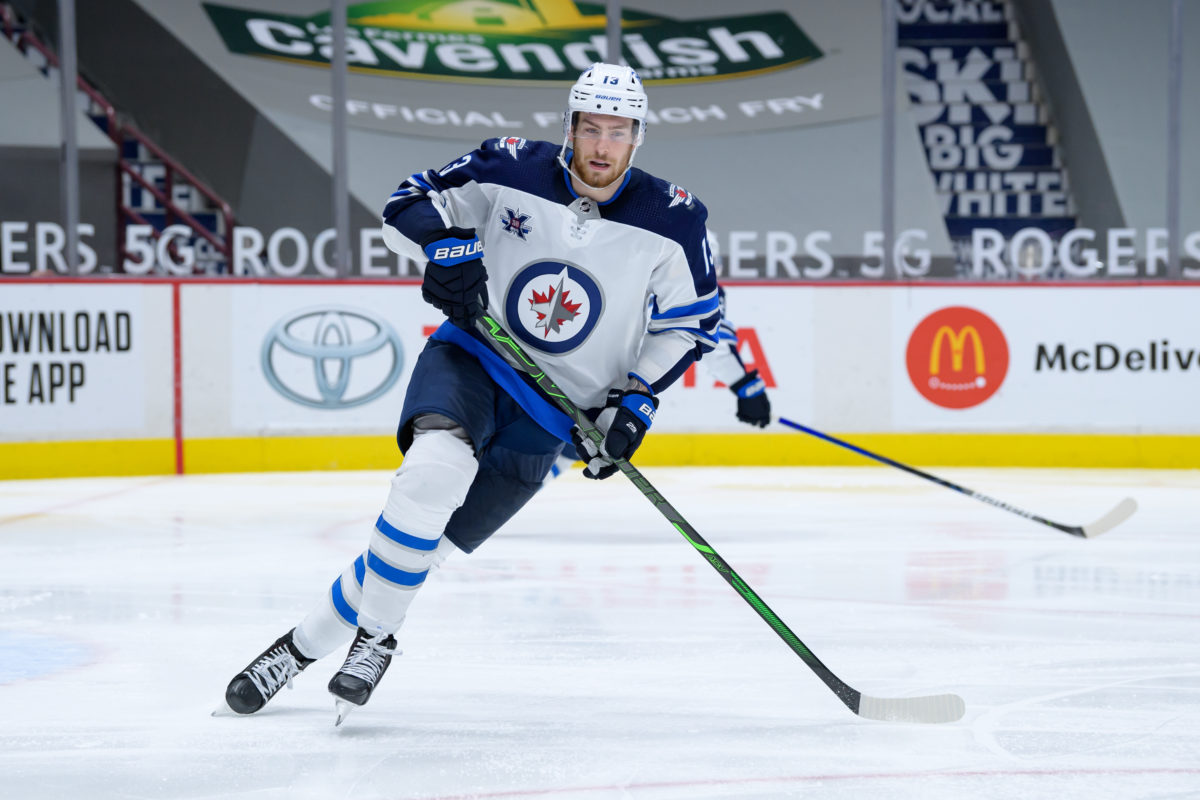 Dubois also likes to use his size to his advantage. He is a great puck handler down low and uses his body to shield defenders from getting the puck from him. In my opinion, this is his best asset. The ability to maintain possession is very important throughout a game. A big guy like Dubois also needs to use his body to throw a body check around every now and then, which is exactly what he does. In his first couple shifts in a Jets' uniform, he hit Dillon Dube at centre ice to try and spark his sluggish team. He is your typical power forward, and he takes that with pride, using it to his advantage.
What to Expect the Rest of the Season
A healthy Dubois makes the Jets' lineup better than it has ever been. The depth of the lines is among the best in the league, and they could use this to their advantage. Dubois will move over back to the centre ice position sooner rather than later, and this would force Paul Stastny over to the left-wing while Ehlers joins him on the right. This line will have a mix of playmaking, speed, and veteran experience, which is perfect for a second line.
Dubois has finally found his stride and hopes to lead the Jets to a playoff run. I believe that he will finish the season at around a point-per-game pace. It may be a lot to ask for, but given the right opportunity, he has that ability.
Let me know in the comments how you have felt about the Dubois three-game debut with the Jets. Would you keep him on the left-wing or would you move him to centre? How many points do you think he is going to end the season with?
---
---
Hello my name is Isaiah Wagner and I am from Winnipeg. I am currently a Winnipeg Jets writer for The Hockey Writers. I am very excited to share my passion about hockey and the Jets with you!