The NHL announced on Monday evening that the 2019-20 Vezina Trophy, awarded each year to the league's top goaltender, would go to Connor Hellebuyck of the Winnipeg Jets. Hellebuyck, 27, is the first Jets netminder to win the award, and the first Vezina Trophy winner representing a Canadian team since Carey Price won for the 2014-15 season.
Hellebuyck edged out former Vezina winners Tuukka Rask and Andrei Vaselivskiy, who won the award last season. It is Hellebuyck's first Vezina Trophy victory.
Flying High with Hellebuyck
There's no question that Hellebuyck was his team's most valuable player this season. The Jets were seventh in the NHL in shots against per game, allowing 32.6 on average, and were 17th in goals per game with precisely 3.00. If someone was going to make a difference and keep the Jets in the game, it was Hellebuyck more often than not. In fact, teammate Adam Lowry was one of many voices that believed Hellebuyck deserved consideration for the Hart Trophy, not just the Vezina.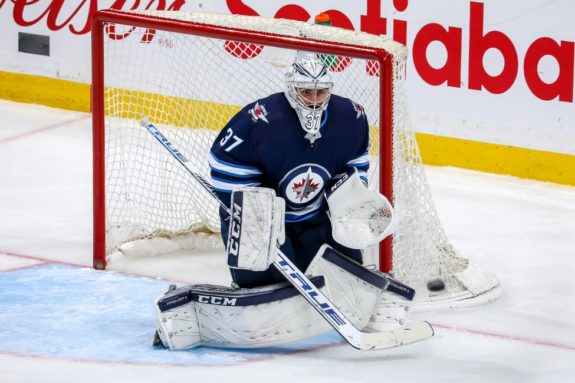 Hellebuyck finished the season with a 31-21-5 record, including a league-leading six shutouts. He posted a 2.57 goals against average (GAA) and a .922 save percentage (SV%). Plenty of goaltenders surpassed those numbers, but few of them did it with a workload comparable to Hellebuyck, who faced a league-leading 1,796 shots during the season.
Hellebuyck's advanced metrics stood out as well. He had a .643 quality start percentage (QS%), surpassed only by Vasilevskiy and Anton Khudobin among those goalies who started 30-plus games. And his 22.40 goals saved above average (GSAA) was only narrowly surpassed by Rask, and was almost five full GSAA beyond any other netminder.
Any of the three finalists could have justifiably won this award, but Hellebuyck took it convincingly, perhaps because he played for the weakest team overall. He finished with 123 points, including 19 first-place votes. Rask received 99 points and 10 first-place votes, while Vasilevskiy finished with 31 points and one first-place vote. Hellebuyck described the award as an honor:
This is a huge moment in my life. I'd like to congratulate my teammates. Without a good team, none of this is possible. I'd also like to congratulate my coach (Paul Maurice) and the organization for believing in me the entire way."

Hellebuyck to NHL.com
After an up-and-down 2018-19 season, Hellebuyck clearly justified the six-year, $37 million contract he signed with the Jets in 2018. The Jets sit at exactly 15th in the league in goaltender salary, but only their backstop will have the 2019-20 Vezina Trophy in his cabinet.
A Loaded Western Conference
Hellebuyck wasn't the only player awarded with individual honors on Monday. The League announced five of its top solo awards before Game 2 of the Stanley Cup Final, and each recipient plays in the Western Conference. Leon Draisaitl took home the Hart Trophy and Ted Lindsay Awards, and in Hellebuyck's own division, Cale Makar of the Colorado Avalanche won the Calder Trophy, and Roman Josi of the Nashville Predators won the Norris Trophy.
While some of the League's top teams are in the loaded Eastern Conference, it's clear that many of the top stars in the NHL play in the West. And that list now clearly includes Hellebuyck.
Stephen Ground is an author with The Hockey Writers and is co-host of the Two Guys No Cup Podcast. He enjoys studying the numbers and providing fresh looks at various stories.