$1.29 million. For an NHL contract, that's well below average. But for an NHL trading card, that's not just above average – that's top of the scale.
A Gem Mint 10 Wayne Gretzky rookie card from 1979 recently auctioned for $1.29 million, becoming the first hockey card to cross the seven-digit threshold, an exclusive club previously occupied only by cards featuring legendary icons and current superstars in baseball (Micky Mantle, Mike Trout, and Honus Wagner) and basketball (Giannis Antetokounmpo and LeBron James).
Fans everywhere suddenly found themselves rummaging through boxes of cards that hadn't seen the light of day in years, wondering if they had been sitting on a gold mine all this time. Even renowned filmmaker and noted hockey aficionado Kevin Smith got in on the act.
Now if you're a long-time Winnipeg Jets fan, the truth is, your collection from the team's original days is much more likely to include a Danton Cole than a hidden gem.
But that's not to say there aren't some classic Jets cards that hold genuine value – both monetary and nostalgia. So, if you're sorting through your old collectibles, here are a few cards to keep an eye out for.
Dale Hawerchuk, 1982-83 O-Pee-Chee
There is no other way to start off this list than with the rookie card of the Hockey Hall-of-Famer, who arrived in Winnipeg as the No. 1 pick in the 1981 Draft, and went on to play nine years with the Jets, amassing 929 points, including six seasons with at least 100 points. Along the way, he collected a host of trophies, honours, and records. The outpouring earlier this year after Dale Hawerchuk passed away, far too young at age 57, following a courageous battle with stomach cancer only affirmed his foremost spot in Winnipeg hockey history.
On the front of this card is an on-ice close-up of Hawerchuk without his helmet, looking every bit the 19-year-old he would have been around the time of this photo. The bio on the back has a certain antiquated charm, opening with "Dale is a bachelor…" Only in the '80s would a hockey card tout its subject's marital eligibility.
PSA Authentication and Grading Services values this card in Gem Mint condition at $525 (all figures US), making it the most valuable of all wide-released original Jets cards.
Teemu Selanne, 1991-92 Upper Deck NHL
The rookie card of the Finnish Flash isn't actually a Jets card, but part of a subset commemorating the 1991 Canada Cup, where Teemu Selanne helped a surprise Finnish team reach the semi-finals. Selanne's Jets debut came a season later in 1992-93, when he smashed NHL rookie records with 76 goals and 132 points en route to winning Rookie of the Year, setting the stage for a Hall of Fame career.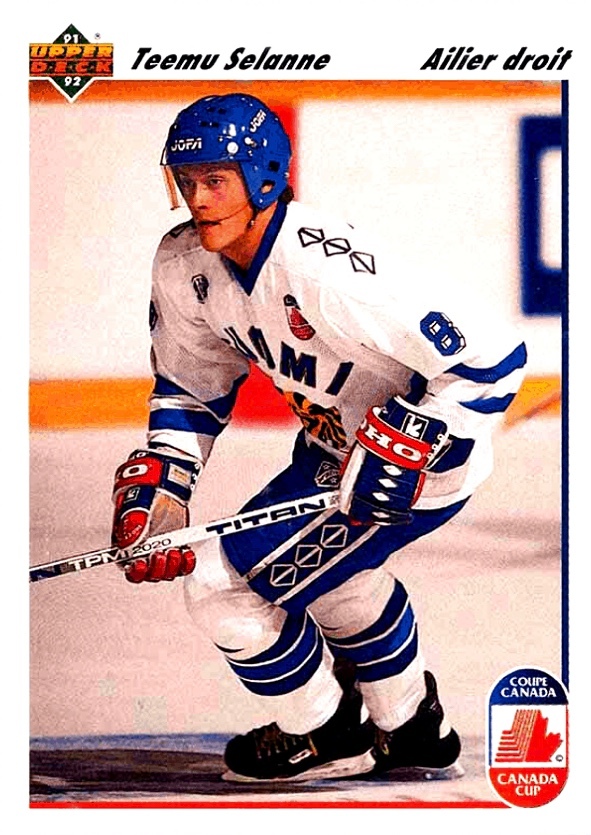 Even in a still photo, Selanne looks fast on the front of this card. Keen observers will note the classic Jofa bucket, a staple with European skaters of the era, and his jersey No. 8; that's the same digit on Selanne's jersey that hangs in the rafters in Anaheim, where he spent the latter portion of his career, but it was No. 13 he made famous in Winnipeg.
PSA values this card in Gem Mint 10 condition at $40. The first cards to feature Selanne in Jets gear don't appear until the 1992-93 hockey card sets, and while they aren't as valuable, they certainly invoke his magical rookie campaign that brought the White Out back to the Winnipeg Arena.
Bobby Hull, 1974-75 O-Pee-Chee WHA
A true blast from the past, this is Bobby Hull's first card with the Jets and it comes from O-Pee-Chee's inaugural World Hockey Association set. Jets fan of the time will recall the 1974-75 season fondly: The Golden Jet. At this point, nearly two decades into his pro career, Hull pumped in 77 goals, at the time a professional hockey record, and totalled 142 points as he was named WHA MVP.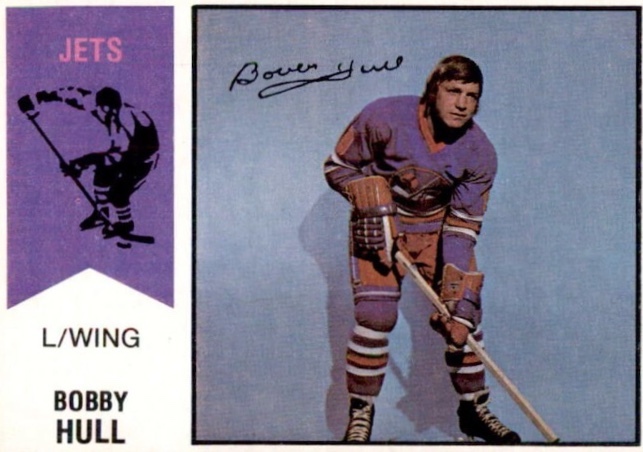 The card front features a facsimile signature of Hull, who is posed in what can best be described as the "table-top hockey" stance. The card backs in this set include trivia cartoons; Hull's informs of the maximum curve allowed on a stick (one and a half inches at the time)
In Mint 9 condition this card is worth $90 as per PSA. Of note, two of the other higher listed items in O-Pee-Chee's 1974-75 WHA set are rookie cards for Anders Hedberg and Ulf Nilsson (PSA Mint 9 values of $30 and $35, respectively), Hull's Swedish partners on "The Hot Line."
So, while these cards won't get you paid like an NHL player (or a Hollywood director), they at least might fetch enough for a ticket to see them play, when attending a game is once again possible.
Then again, if you're a Jets diehard, you probably don't want to part with them, anyway.
---
---