The Winnipeg Jets are well familiar with the problem they're having with Jack Roslovic right now. He's a young offensive stud that deserves top-six minutes, but they have only so many top-six minutes to go around.
The Jets have been here before and will be again. When you're as loaded up front as the Jets are, some good young forwards like Roslovic are going to miss out. Put Roslovic on a lesser team and he's a top-six forward, and likely a power play fixture.
Roslovic will have a tough time convincing the coaching staff to play him more with so many proven threats ahead of him, but he is making his case bit by bit. When he gets opportunities, he flashes skill befitting a true star.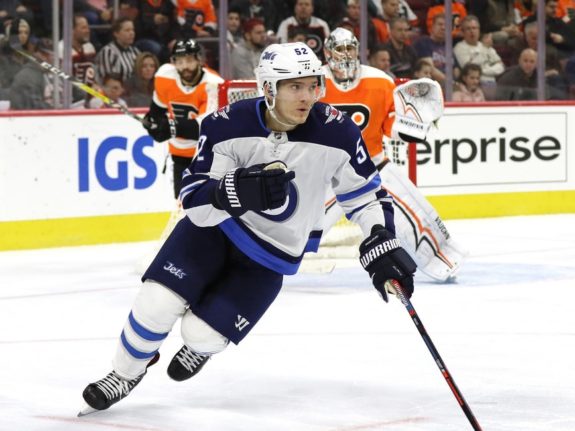 For the Jets, having Roslovic on the fourth line and playing just a few minutes a night increasingly looks like a waste. This is doubly true when you consider the Jets still aren't getting all they could out of their top six.
Nikolaj Ehlers is no longer slumping quite as badly as he was at the start of the year, but the Jets could still use a little more speed to play with their second line. Switching Roslovic and Bryan Little still makes sense.
Yet even if the Jets insist on keeping Roslovic where he is, on a line with Nic Petan and Mathieu Perreault, that line is still due for extra ice. Who's expense it comes at is the big question.
Roslovic Among the Jets Most Dynamic Forwards
The skill set on Roslovic is to be envied. Speed, hands, a wicked shot, and impressive vision, he has all the makings of a premier skilled attacker.
These are all things we were saying at the start of the year last year about Kyle Connor. While Connor has had the better NHL career so far, Roslovic is arguably further along as a complete player than Connor was at this time last year.
Jack Roslovic out here doing good things. He's everywhere in this period, in a good way. #NHLJets

— Scott Billeck (@ScottBilleck) November 17, 2018
What separates the two of them right now is opportunity. It was an injury that finally gave Connor the chance to shine, and he never took his foot off the gas. Roslovic is just awaiting that same opportunity.
The similarities between Roslovic and Connor in terms of their skills are striking. Both are dynamic, quick-strike forwards with deceptive releases and breathtaking acceleration. There are differences, but the two play the game much the same way.
Connor is the more polished player right now, especially offensively, but that has a lot to do with experience. Give Roslovic some power play time, and his offensive skills will begin to shine through as well.
Then, however, the problem for the Jets becomes getting him that ice time. Who do you take off when your top six is, on paper, already one of the NHL's best and your fourth line is humming along? Somehow, you have to make it work.
Jets Must Find Roslovic Time
The ceiling on Roslovic is high enough that he deserves a bit of breathing room. You get what you earn in the NHL, undeniably, but at some point, the Jets have to give Roslovic a chance to earn it.
Unfortunately, that's going to mean either an injury up front or stepping on the toes of an established member of the top-six. Bryan Little is the man most often cited as a candidate to move down.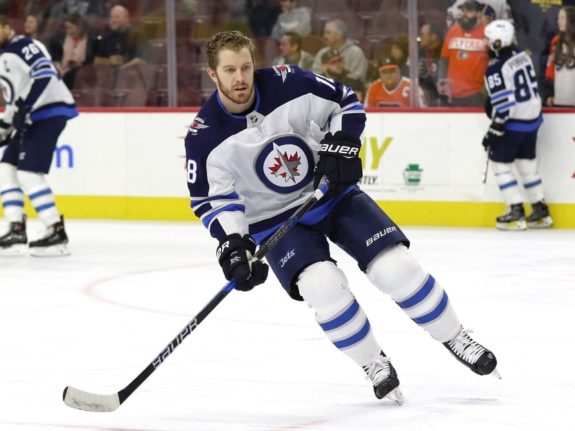 To be clear, this is not a knock on Little. As we've explored in the past, Little is at his best playing with a certain style of player. Connor and Patrik Laine don't particularly play that style. They need someone who can play east-west just as they do.
Little showed last year he can be effective in third-line minutes, even though the points weren't there. His defensive acumen is that of a seasoned veteran, and if you put him and Perreault together you have a 200-foot capable line you can match up against anyone with confidence.
Then you factor in the speed Roslovic brings to the Connor-Laine pair, and the extra weapon other teams have to respect, and it seems a no-brainer. It potentially gives the Jets yet another offensively dominant line
It's true this looks like a demotion for Little. But since Laine's rookie season, he and Little haven't had much chemistry. There's a reason most of Laine's goals this year have come away from Little. The two just don't seem to be clicking and the Jets do not need that problem in Laine's contract year.
Patrik Laine has only one even strength goal on the year. There are games when he hardly sees legitimate ice time at even strength. Hearing this is becoming an issue for the soon to be RFA. #gojetsgo

— Andy Strickland (@andystrickland) November 15, 2018
This is not, to be clear, necessarily Little's fault. Good players don't automatically find chemistry, and Little is undeniably a good player. Ask the Pittsburgh Penguins how easy it is to find the perfect linemate for a superstar.
There's always the possibility that, despite their compatibility on paper, Laine and Roslovic won't find chemistry either. Yet right now, the Jets are showing no inclination to find out. You hope it doesn't take an injury to Little for them to try something new.
One of these games, if the Jets are in the midst of a blow-out, it would be nice to see Paul Maurice's famous line blender put those two together. It just might take Laine to new heights, and bring Roslovic to the stardom he seems to be on the cusp of.
Because while the Jets don't need another superstar forward, no team should ever turn one down. Somewhere in Roslovic's game is a superstar ready to be discovered.