For Nikolaj Ehlers, everything that can go wrong this season with the Winnipeg Jets has. That's why, entering play on Monday, Oct. 22 against the St. Louis Blues, Ehlers had no goals and a paltry three assists in eight games.
For a scorer like Ehlers, that stat line is not acceptable. Ehlers is one of the most skilled Jets with a wicked shot, good vision, quick hands, and underrated cleverness. Yet the results are elusive in the early going.
Theories vary on what exactly is holding Ehlers back. Many have wondered about Ehlers's lack of chemistry with centreman Bryan Little. Our own Declan Schroeder would dispute that claim of late.
Others point to poor puck luck. It's not as if Ehlers isn't shooting, as he put up 15 shots in his first eight games. That said, he could be shooting a lot more as those 15 shots had him eighth overall on the team, just behind shooting machine Brandon Tanev.
There aren't many snake species in Manitoba but it looks like Nikolaj Ehlers spent some time in Narcisse cause he is snakebit. #NHLJets

— Dave Minuk (@ICdave) October 23, 2018
Then you might look at his ice time, which has been undeniably low this year. He's averaging just 13:28 at this point. Early on in the season, Ehlers was playing only a handful of minutes on a third line that was used like a fourth.
Ehlers struggles in the offensive zone actually go back to the preseason. Further back, Ehlers didn't score once in the playoffs either. Whatever is wrong with Ehlers has been wrong for some time.
So what is the answer? The Jets need to find one quickly because no team flourishes when their third-leading goal scorer from the previous season isn't putting the puck in the net.
Separate Ehlers from Laine?
As we've discussed in the past, Ehlers is a tremendously versatile shooter. Whether he's winding up and leaning into a slap shot or unleashing a quick wrister, he can shoot from anywhere with precision. He's not shooting as much as a man with his talent should be.
Part of that may be that he's attached at the hip to an even deadlier shooter in Patrik Laine. Ehlers's longtime linemate and best buddy has one of the best shots in the NHL, and everyone he plays with seems to defer to him when it's time to shoot.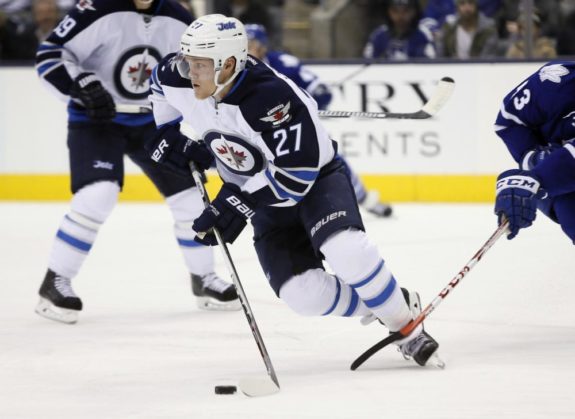 We see shooters pass off to Laine all the time, and it's understandable. After all, his shot is almost like a video game cheat code when it's good. Even when it's not his best, it's one of the best in all of hockey. So Ehlers looking to him isn't crazy.
It is, however, robbing Ehlers of chances to pile up some goals of his own. Ehlers is perhaps selling himself short with his shots when you consider that his first NHL goal looked like this.
The highlight reel of Ehlers's shots since then is nearly as impressive as Laine's. Goaltenders learned to fear his shot as he amassed 25 and 29 goals after scoring 15 in his rookie year. When he's shooting less than twice a game, that fear is diminished.
It also makes both Ehlers and Laine tougher to cover. Ehlers should be told to trust his shot more if only to keep defenses on their toes. If he won't occasionally look off his friend on his own, perhaps the coach should put him in a spot where he has no choice.
As much as Ehlers has struggled, it hasn't been a banner year for Laine so far either with five points in his first eight games. His lack of chemistry with his centreman has been a focal point of that so far. Maybe it's hurting Ehlers too (put a pin in that point, we'll be returning to it) but at some point, you have to switch something up.
If nothing else, splitting up the dynamic duo might serve as a wake-up call for both parties. It's easy to forget that both Laine and Ehlers are still young players and are accordingly streaky.
Then again, Ehlers and Laine may be plagued by the same problem we've already discussed, and it might be that providing them some fresh blood up the middle is what bursts the dam.
Ehlers Also Needs a Centre
The need for a top-flight goal-scoring winger to have a complimentary centreman is well documented. We know Laine is such a winger, but so is Ehlers. If Laine needs a suitable linemate, Ehlers does too.
Bryan Little is not a poor centreman, far from it. His caliber of play is not the issue. His style, however, a very north-south game, doesn't seem to suit the more meandering route his young wingers like to take to the scoring areas.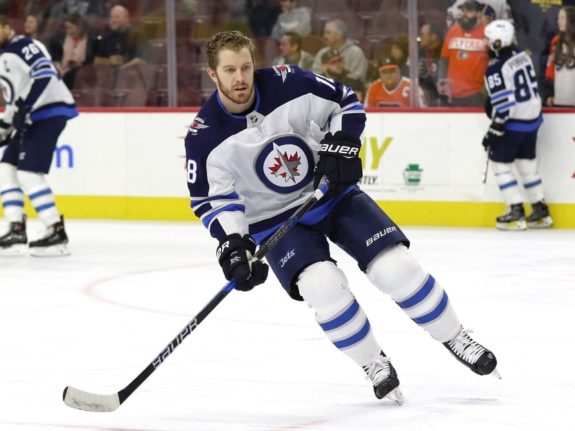 Meanwhile, the Jets have a speedy, youthful centreman in Jack Roslovic that at the moment they're barely using. Roslovic torched the AHL last year and has, in his limited ice time, shown the talent to keep up with the dynamic duo.
The NHL forces young players to earn their ice time. Kyle Connor found that out the hard way last season as he started in the AHL, and last year's AHL defenseman of the year, Sami Niku, is finding it out now as he begins with the Manitoba Moose.
Roslovic isn't being given much of a chance, however. He's playing, on average, 8:44 per game. It was somewhat less than that against St. Louis as he didn't play much in the third period.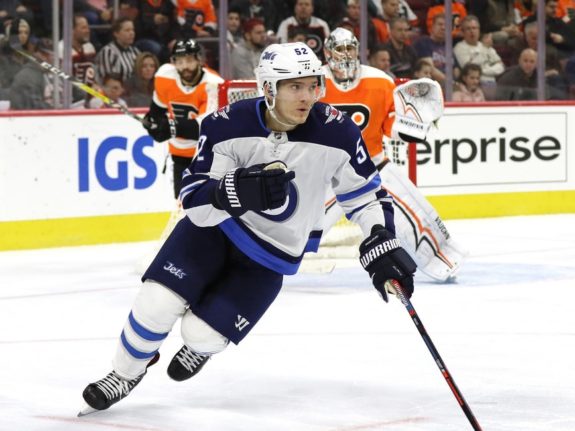 Perhaps it's time for the Jets to try Roslovic in a larger role. With Ehlers and Laine both off to cold starts, there's not much for the Jets to lose. There seems to be nowhere for the second line to go but up.
Whatever the Jets do, either they or Ehlers need to figure this slump out. The Jets aren't a complete squad offensively until Ehlers is rolling. When he is, they're one of the deepest forward groups in the NHL. When he's not, there's a gap in their offense that isn't conducive to winning.
Then again, maybe patience will pay off. As mentioned above, Ehlers is young. He could just be going through a down spot all young players suffer through. But it can't hurt to give him a boost in this tougher time.
A long time hockey fan and player from Winnipeg, Manitoba. Play-by-play man with the SJHL's Estevan Bruins. Graduate of Red River College's Creative Communications program with a major in journalism. Former PxP man for the University of Manitoba Bisons. Lover of all things Jets and Avs related and always looking for a good hockey debate.