As the offseason draws on, the Winnipeg Jets continue to retool and restructure their lineup in anticipation of hockey's return, whenever that may be. While they have made some meaningful transactions that seem poised to pay off down the road, one big question still looms large over the organization.
That question being the mystery surrounding Patrik Laine. As many hockey fans have noted over the past few weeks, trade rumors surrounding Laine continue to heat up with no conclusive end in sight. And as more free agents slowly drop off the board, the Jets will soon be faced with the tough decision whether to hold on to the 22-year old or move on completely.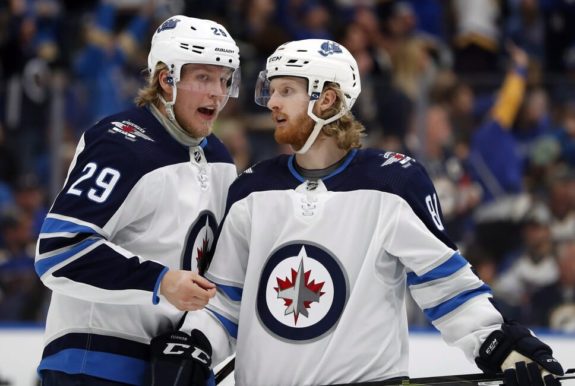 While trading a former 2nd overall pick who, despite falling short of expectations thus far, is still on the cusp of stardom might not seem like a wise idea, the Jets may soon be forced to show their hand and perhaps entertain a trade offer from one of the many teams said to be involved.
General manager Kevin Cheveldayoff continues to remain relatively quiet on the Laine front and as we've previously broken down Winnipeg's best trade partners for a Laine deal, here are 5 potential returns the Jets could receive should they elect to move on from the young Finn.
The Frontrunners
Philadelphia Flyers
Flyers Receive: Laine (F)
Jets Receive: Joel Farabee (F), Travis Sanheim (D), 2021 2nd Round Pick
If the Jets decide to go this route, it'll be crystal clear that the front office has full confidence in their offensive group as Winnipeg won't be receiving any immediate top-six talent in return.
With that being said, that doesn't mean they aren't receiving any talent at all as the main part of this deal would consist of 24-year old defenseman Sanheim. With two full seasons of NHL experience under his belt, the Manitoba-native has shown clear signs of improvement, playing a much more prominent role with the Flyers this past season and contributing an impressive seven points in 16 playoff games.
For Winnipeg, this would be a massive boost defensively, as Sanheim is already showing potential to become a top-pairing defenseman. At worst, he'll be a fantastic partner for Neal Pionk, who has also taken a big step forward since joining the Jets.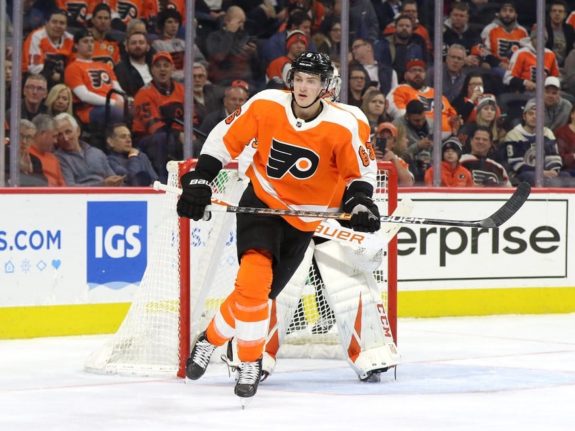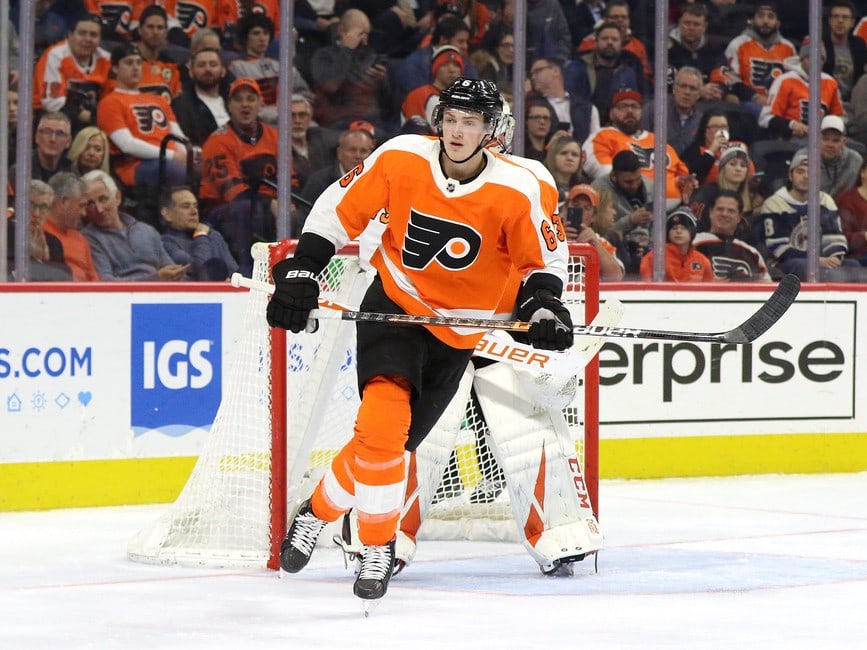 Farabee is no slouch either, as the former 14th overall selection was the first 2000-born player to lace up the skates for Philly. Playing primarily on the third line during the 2019-20 season, Farabee holds tremendous upside as he's shown flashes of top-six production at times. Pair a 2nd-round pick with the 20-year old and the Jets are looking at a quality return for Laine.
This deal also makes sense for the Flyers as they would be establishing a primary source of offense to assist Claude Giroux and Jakub Voracek. Giving up a part of the future in Farabee, along with a 2nd round pick, is a fair price to pay considering it wouldn't affect Philadelphia's existing offensive structure. The loss of Sanheim would be felt a lot more, however, with Ivan Provorov poised for stardom and Samuel Morin determined to crack the roster, the Flyers have options on the backend.
Columbus Blue Jackets
Blue Jackets Receive: Laine (F)
Jets Receive: Liam Foudy (F), Alex Texier (F), Vladislav Gavrikov (D)
Personally, I don't see Jarmo Kekäläinen pulling the trigger here but then again, he has been known to shock the hockey world, most recently drafting Yegor Chinakhov 21st overall in this year's draft.
Columbus certainly isn't a team with a high prospect capital, but they do have the pieces to make it work. Foudy would be the centerpiece of the deal, especially after blossoming into a top-nine role during the playoffs. Just scratching the surface of his full NHL potential, the former London Knight would have a star-studded leadership group in Winnipeg as he continues to grow into an everyday NHLer.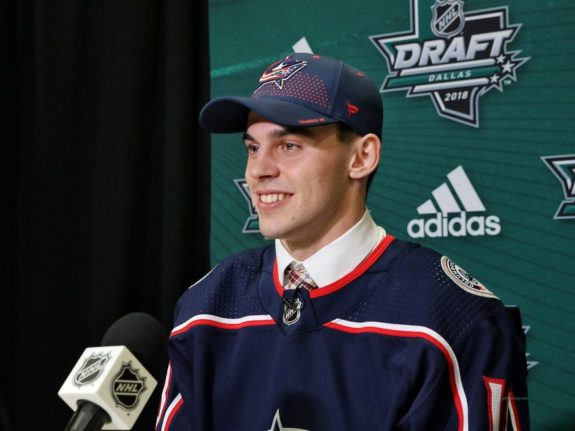 Texier is another name that could be on the move should Columbus look to overpower their forward group. He has yet to spend a full season in the NHL, but that shouldn't discourage the Jets from including him in trade talks as he's been an effective two-way presence within the Blue Jackets' bottom-six.
A top-four defenseman, like Vladislav Gavrikov, would be a must in a trade like this as Foudy and Texier wouldn't be considered full-time NHL options. Because Winnipeg would be needing at least one NHL-ready player in return, Gavrikov fits the bill of fulfilling a top-four role in Manitoba and further solidifying the Jets blueline.
Related: Jets Need To Do More This Offseason
For the Blue Jackets, Laine would put their team over the top as he would join an already improved Columbus offense. With the addition of Max Domi, Kekäläinen's Finnish connection, and the core of Seth Jones and Zach Werenski still around, it would be hard to ignore the Jackets come playoff time should Laine move to Ohio.
New York Islanders
Islanders Receive: Laine (F)
Jets Receive: Ryan Pulock (D), Oliver Wahlstrom (F), 2021 2nd-Round Pick
Similar to the Flyers deal, a trade with the Islanders would follow the same structure of a top-four defenseman, prospect, and future draft pick with the difference here being the distribution of talent across the returning assets.
Pulock is an older, more experienced, and overall better defenseman compared to Sanheim, and he would immediately fill the defensive void that Winnipeg is currently dealing with. After recording 35 points in 68 games this past season, Pulock would be a shoo-in candidate to play alongside Josh Morrissey on Winnipeg's top pairing.
With nearly five seasons of NHL experience, Pulock would bring a stable, veteran presence that the Jets have been lacking ever since the departure of Dustin Byfuglien. A well-rounded, two-way defenseman, the former first-round pick would put any of the Jets doubts on defense to rest.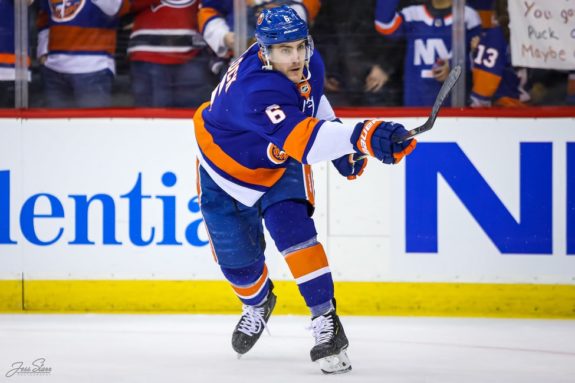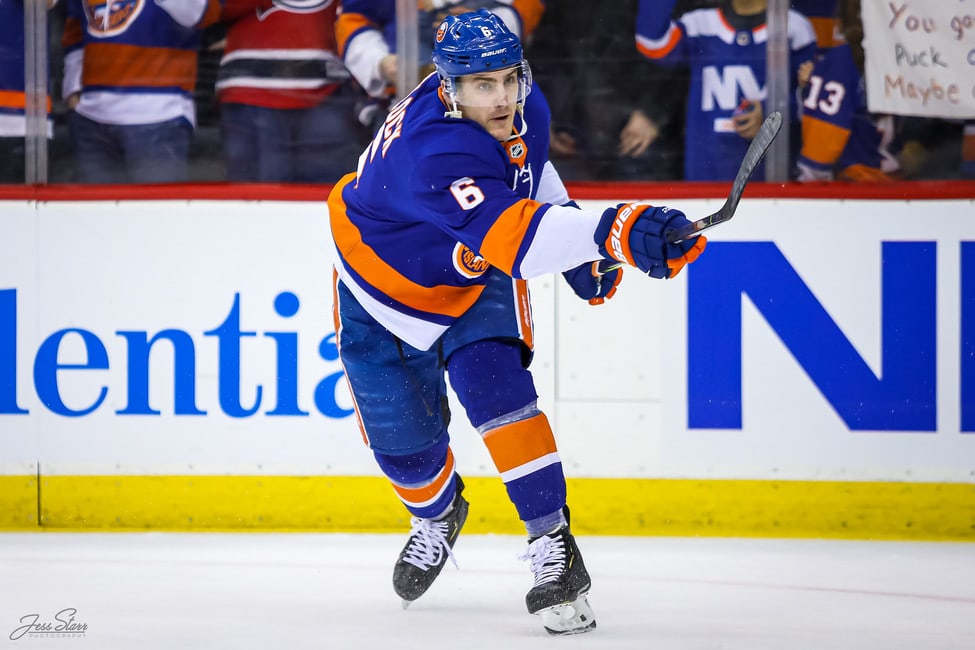 In addition to Pulock, Wahlstrom is an intriguing piece as the former 11th overall pick has suited up in just nine games for the Islanders so far. Despite not having a point in his young NHL career, Wahlstrom has been showing signs of progression with the AHL's Bridgeport Sound Tigers, notching a respectable 22 points in 45 games as a 20-year old.
Related: Jets Get Their Future Top-Six Forward with Perfetti Draft Pick
Similar to almost every team, Laine would put the Islanders' offense over the top, as he'd drastically improve Long Island's existing trio of Mathew Barzal, Anders Lee, and Brock Nelson. What makes this even more interesting is the cap situation that Isles' GM Lou Lamoriello finds himself in. Already shipping out a top-four defenseman in Devon Toews, pulling the trigger on a Laine deal would simply add to one of the most unexpected offseasons in recent memory.
Dark Horses
Carolina Hurricanes
Hurricanes Receive: Laine (F), 2021 3rd-round pick
Jets Receive: Brett Pesce (D), Vincent Trocheck (F), Jake Bean (D)
In what might be the boldest mock trade on this list, the Hurricanes have been constantly mentioned in Laine rumors ever since they started. Reuniting Laine with his former World Junior linemate Sebastian Aho would certainly be an attractive option and with Carolina's steady stream of prospects now transitioning to the NHL, the "Bunch of Jerks" would become that much better with the addition of Laine.
What makes this deal even more interesting is that Carolina has the personnel to get this deal done. Pesce, who's been one of the many Carolina d-men that have been in constant trade rumors, would all but certainly be a preliminary asking price for the Jets. The 25-year-old has enjoyed some productive seasons in Carolina, hovering around 20 points over the last 4 seasons. Partner him with the likes of Morrissey or Pionk and Winnipeg's blueline is looking scary good.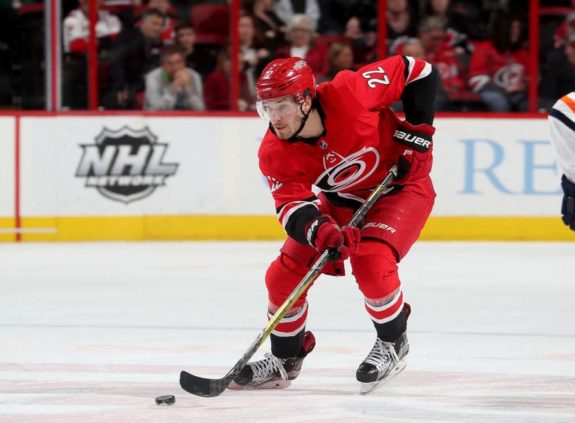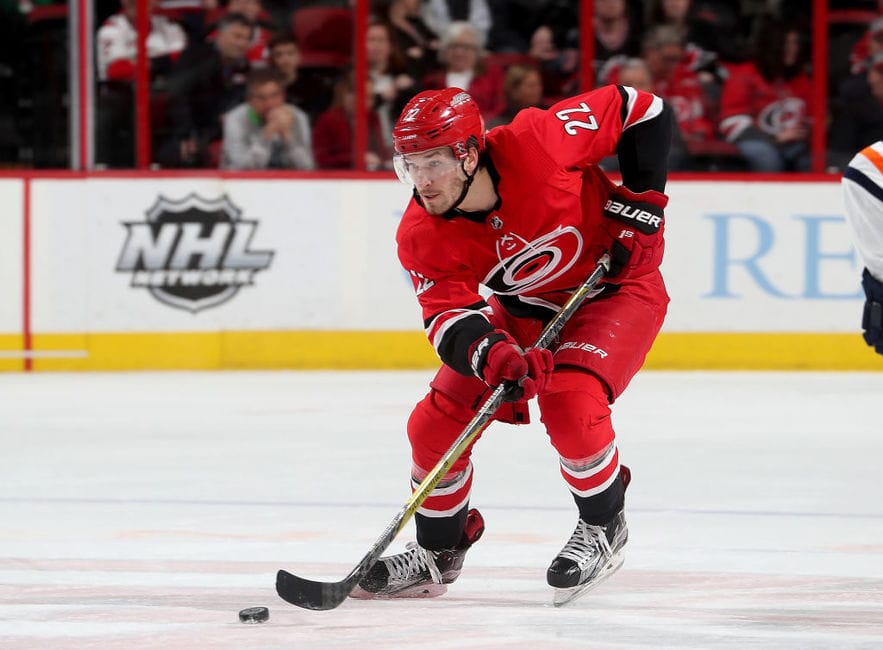 Trocheck makes this transaction all the more compelling for Winnipeg, as he showed consistent signs of top-six production during his days in Florida. While his production and games played have taken a bit of a hit since joining the Canes, he still has plenty left in the tank and a change of scenery might be just what he needs to get his offensive game going again. Most likely finding a role alongside Paul Stastny, Trocheck will have plenty of offensive resources in Winnipeg.
Related: Jets' Best Trade Partners for Patrik Laine
Lastly, Bean is another quality name who just hasn't found his place in the NHL. Stuck behind Carolina's abundant stockpile of defensemen, Bean has spent some productive seasons developing in the minors. As the 22-year-old has been argued by some to be a member of the Seattle Kraken in the coming years, the Hurricanes could opt to leverage him in trade talks instead of surrendering him for nothing in the upcoming expansion draft.
Florida Panthers
Panthers Receive: Laine (F)
Jets Receive: Aaron Ekblad (D), Owen Tippett (F), 2021 4th-Round Pick
Once you get past the initial shock of seeing Ekblad's name here, the reasons as to why this makes sense become more clear. Aside from being another team with Finnish connections, the Panthers could certainly be another smaller-market team ready to make a big splash.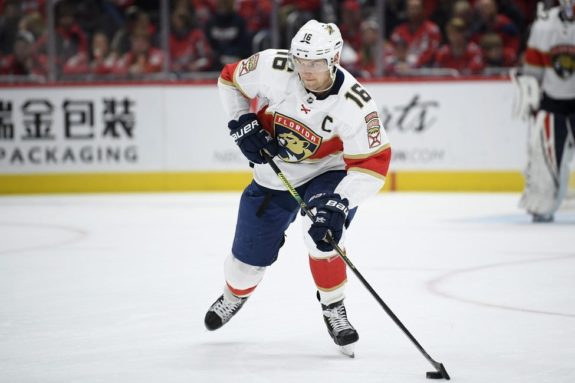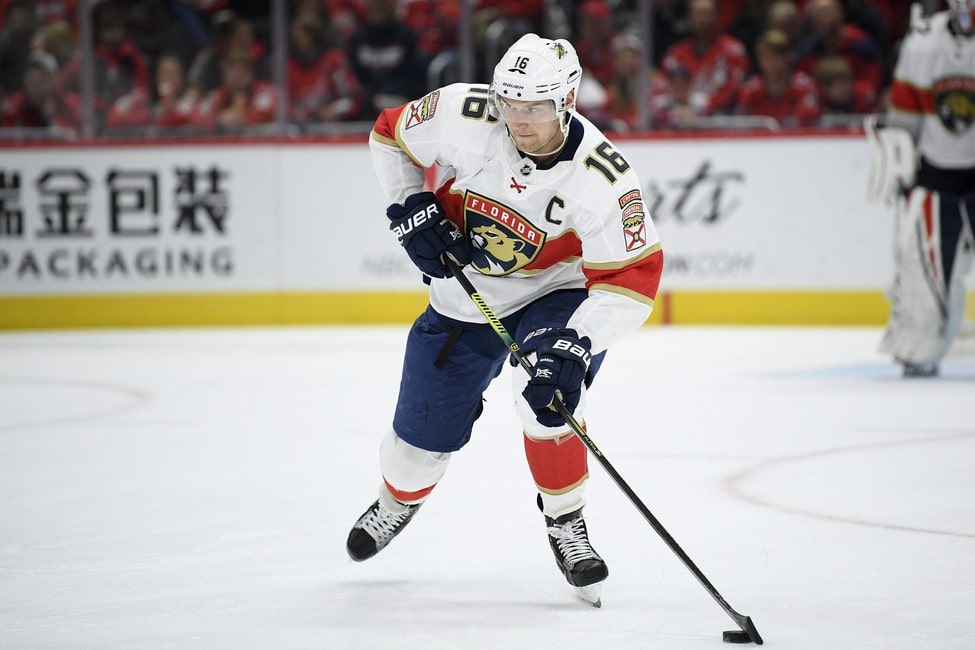 Whether you agree or not on the premise that Ekblad is a bust, it's quite easy to see why some fans think that way. After winning the Calder Trophy in 2014-15 and making an All-Star appearance in 2015-16, Ekblad has struggled with consistency. Ever since the departure of veteran Brian Campbell, Ekblad has seen his role with the franchise change, as he's been forced into a more defensive role, something that he isn't entirely used to.
Following Florida's Atlantic Division crown in 2015-16, the Panthers have been a revolving door of coaches, as Ekblad has passed through four so far in his young career. On top of the fact that the Windsor-native hasn't had a consistent partner since Campbell's departure, Ekblad has nearly doubled his giveaway amount over the past three seasons while seeing little improvement in his offensive numbers (aside from this season).
Related: Jets Have Options for Morrissey's Partner on the Blue Line
All signs point towards a change of scenery. Ekblad is a player that thrives on stability, something that the Jets can provide. Having a wide range of "stay at home" defensemen for Ekblad to partner up with will give the 24-year-old his best chance at success.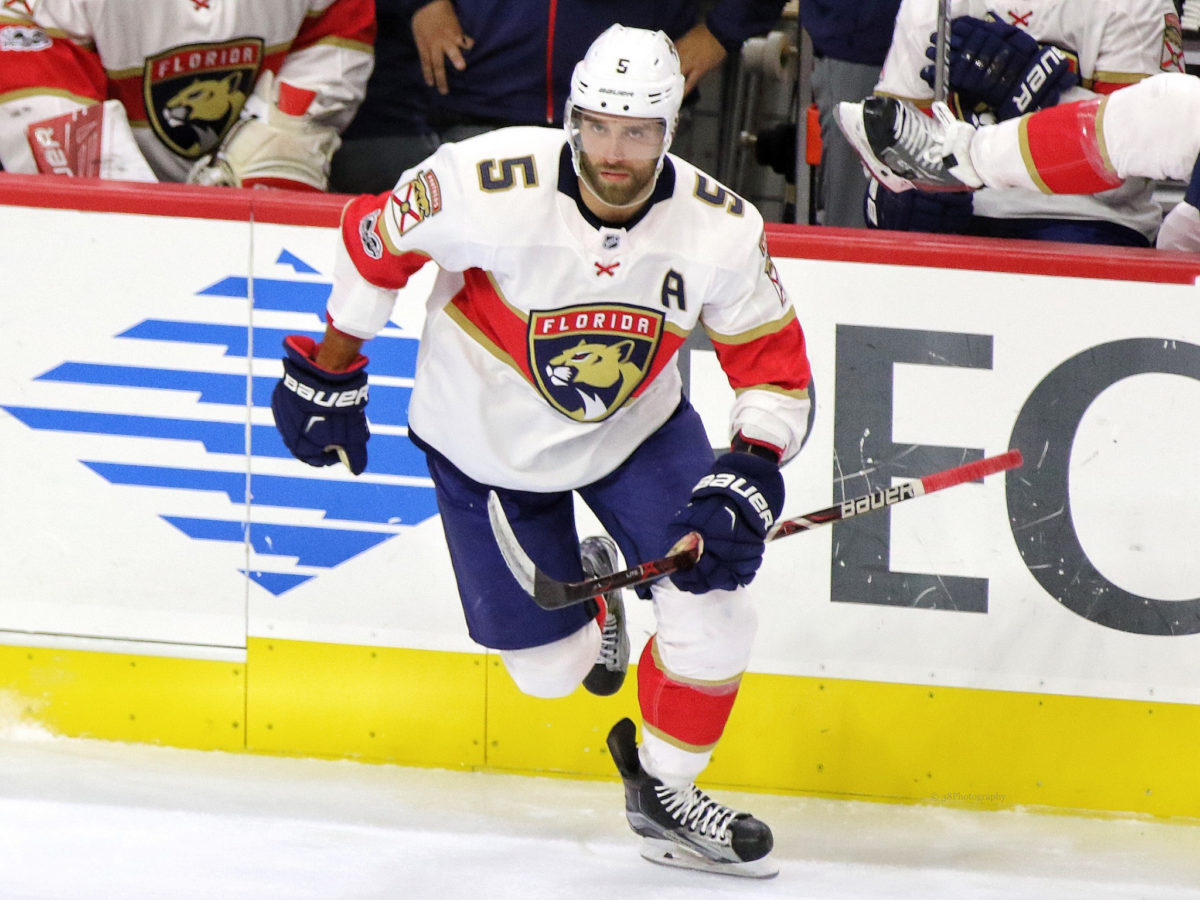 With Laine being the younger and more consistent of the two, I believe Florida will have to toss in a sweetener in order for the Jets to roll the dice with Ekblad. Tippett, one of the Panthers' top prospects, seems to check all the boxes for Winnipeg. Averaging nearly a point-per-game in the AHL this past season, the former 10th overall pick would certainly be a welcome addition to a defensive-heavy prospect pool.
What Lies Ahead in the Laine Saga?
As it stands, Patrik Laine is still a Jet. However, that might not be the case for much longer. Since we've already analyzed the Jets' best trading partners, it's always fun to take it a step further and speculate the possible trades that are yet to take place.
While it's hard to see how Winnipeg comes out on top in a Laine trade, Cheveldayoff does have options when it comes to maximizing the return. Will those assets compensate for the loss of Laine? That remains in question. But one thing is for certain; should the Jets move Laine, it'll perfectly encapsulate the unpredictable year that has been 2020.
Do you agree with these mock trades? What other teams are in the running? What would be a satisfactory return in exchange for Laine?
---
---