Following a disappointing loss at the hands of the Toronto Maple Leafs, the Winnipeg Jets travelled east to close out the second half of a back-to-back, squaring off against the Ottawa Senators on Tuesday night. In much need of redemption, the Jets continued life without Patrik Laine, who missed his second straight game with an upper-body injury.
Drawing many parallels from their game against Toronto, the Jets were on their heels for a good part of Tuesday's contest. Giving up a handful of high-quality scoring chances, being badly outshot, and falling victim to an aggressive forecheck allowed Ottawa to establish their agenda early and control the pace of play.
Yet, much like Monday, the Jets hung around and kept it close, eventually managing to escape with a surprising victory. While many would say that they weren't the better team as Tuesday's action concluded, a win is still a win, as cliché as it sounds.
Credit where credit is due, Blake Wheeler and company never let the game slip too far out of reach, and thanks to Laurent Brossoit's brilliance between the pipes and the continuation of Kyle Connor's hot streak, the Jets can now move forward and build off of a victory that, although lucky, was a confidence boost more than anything else.
Without further adieu, here are three of the biggest takeaways from Tuesday night's tilt.
1. Brossoit Shines in Season Debut
While Laurent Brossoit probably won't see a ton of games this season, he definitely made a great first impression during his season debut. Making 38 saves en route to an overtime win, the Port Alberni-native was instrumental in keeping the Jets within striking distance.
Facing a flurry of shots through the first half of the game, Brossoit's calm demeanor between the pipes seemed to provide the Jets blue line with some much needed confidence in their own zone. In a seemingly endless battle with Brady Tkachuk and Josh Norris in the blue paint, Brossoit fought through deflections, rebounds, and chances off the rush to limit the effectiveness of Ottawa's offense.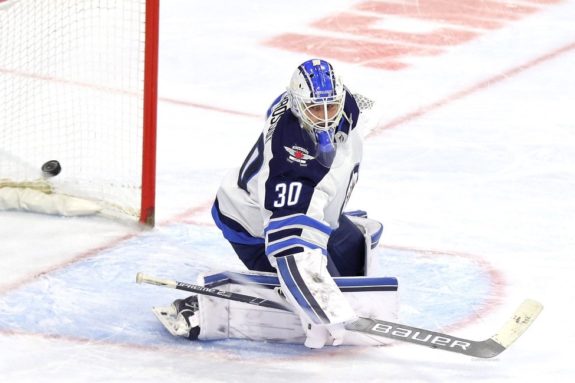 While Brossoit's numbers did take a hit during the 2019-20 season, the Jets can't ask for much more than they got on Tuesday night. With a condensed schedule already providing plenty of adversity, stability in any capacity is a welcome sight for any team. Although I don't expect Brossoit's latest performance to become the new norm, Tuesday night was a promising indication that he can carry his weight behind Connor Hellebuyck.
2. Niku Struggles on Jets' Top Pairing
In one of the more surprising revelations of this young season, Sami Niku has been partnered with Josh Morrissey on Winnipeg's top pairing for two out the three games that the Jets have played. The absences of Tucker Poolman (COVID-19) and Dylan Demelo (birth of daughter) gave Niku the perfect opportunity to showcase his top-four potential.
In short, it has not gone well.
While I predicted that Niku would be one of Winnipeg's top breakout candidates this season, he has struggled mightily in a role that he's been working towards for the past two seasons.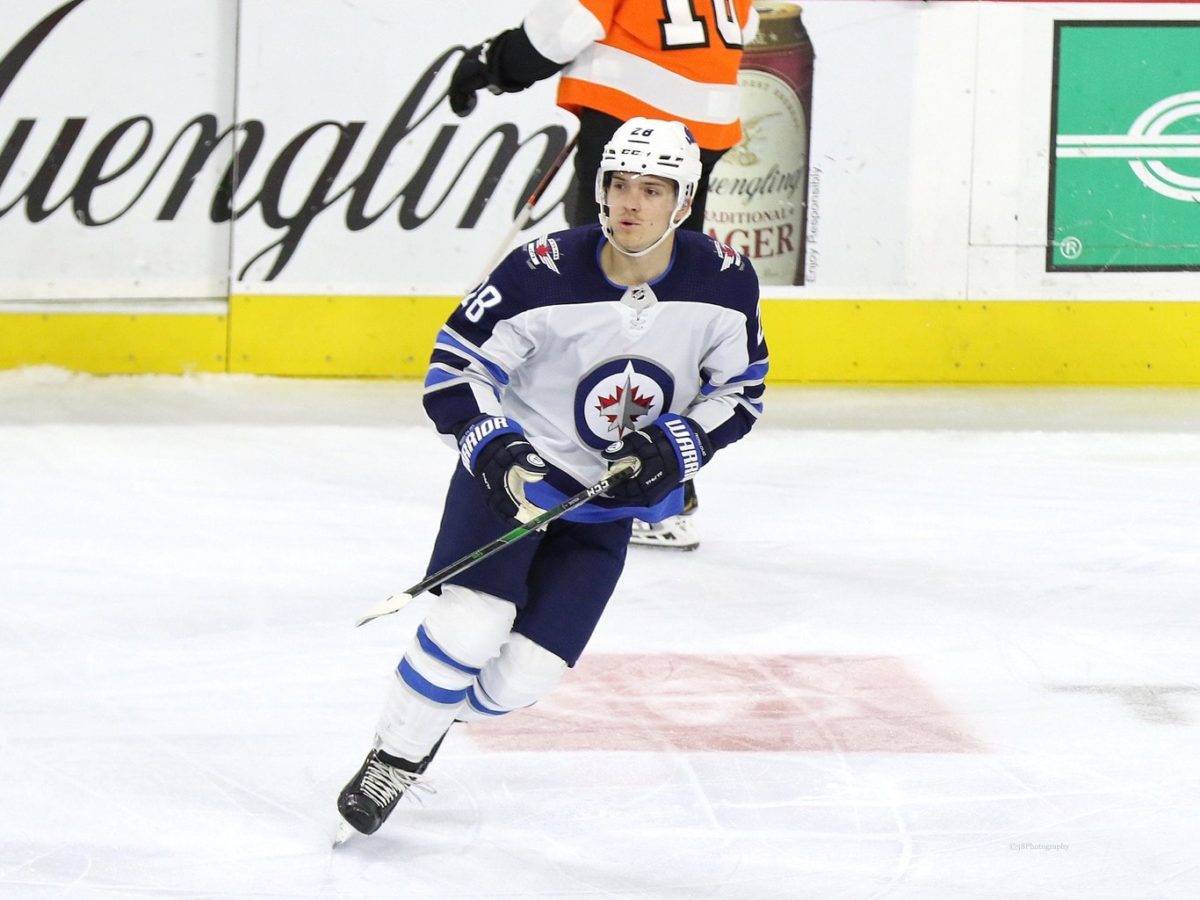 His performance against the Senators was stagnant at best. Taking two penalties in the span of six minutes, both of which were direct results of turnovers in his own zone, are numbers that nobody should be proud of. And while defense was never Niku's strong suit, the young Finn made no impact offensively either, logging just 10:14 of ice time and watching the power play and penalty kill from the bench.
Before Jets fans panic, it's still very early. Niku has proven that he can find his game at a moment's notice and with Poolman and Demelo all but certainly missing Thursday's game, Winnipeg will have to be patient with Niku as he finds his footing in a consistent NHL role.
3. Connor's Hot Streak Continues
Building off of a 2019-20 campaign that saw him net 38 goals, Kyle Connor has picked up right where he left off in 2021. Putting his name on the scoresheet for the third straight game is impressive enough, but there's something even more unique to the way he's done it.
Looking across Winnipeg's first three games, all of Connor's goals seem to follow a similar formula: finding open ice en route to finding the back of the net. Against the Calgary Flames, he was lost in coverage before rifling one past Jacob Markstrom on the power play. Against Toronto, Connor found a seam and snapped a quick shot under the arm of Frederik Andersen. Against the Senators, it was more of the same.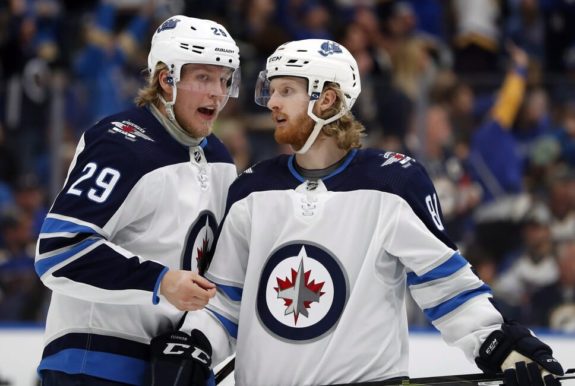 Putting his ability to find open ice aside for a moment, Connor's release has seemingly improved compared to last season, something I didn't even think was possible. Becoming a staple on the Jets' top power-play unit has allowed him to continue to exploit his explosive one-timer, while Connor's agility and offensive awareness makes him a threat from anywhere in the offensive zone.
Earning a promotion to the top line midway through Tuesday's contest, Connor hasn't missed a beat despite Laine's absence. Already shouldering the majority of Winnipeg's offensive responsibility, Connor's early season success is a big reason why Winnipeg has been able to remain competitive in the early going.
What's Next for the Jets?
The Jets square off against the Senators again on Thursday, before flying back home to begin a seven-game homestand that will see Canada's western teams all make the trip to Manitoba.
Laine could make his return to the lineup on Thursday, while the status of Poolman and Demelo remain doubtful. Hellebuyck will all but certainly be back between the pipes, as the Jets look to improve moving forward.
What do the Jets need to do in order to improve? What stood out to you following Tuesday's win? Let me know in the comments.
---
---
Currently a sport media student at Ryerson University in Toronto, Josh Kim is a freelance photographer and journalist with The Hockey Writers. Having worked within the ECHL, PWHPA, and OHL in a variety of content-based roles, Josh has been working in sports for the past 5+ years and currently finds himself working with Ryerson athletics as a sports photographer. With The Hockey Writers, Josh chases feature stories while also covering the Winnipeg Jets, the World Juniors, and the NHL Entry Draft. While hockey continues to be his main focus, Josh is also a fully credentialed WNBA writer and the host of the Get Your Head in the Game podcast, which emphasizes the connection between mental health and sport. If you're interested in seeing a full display of his work, if you've got a story tip, or just want to get in touch, please find Josh's socials linked below his articles and visit his website: joshkimphoto.com